Choice nightlife and dance floor affairs, Thu/12-Mon/16.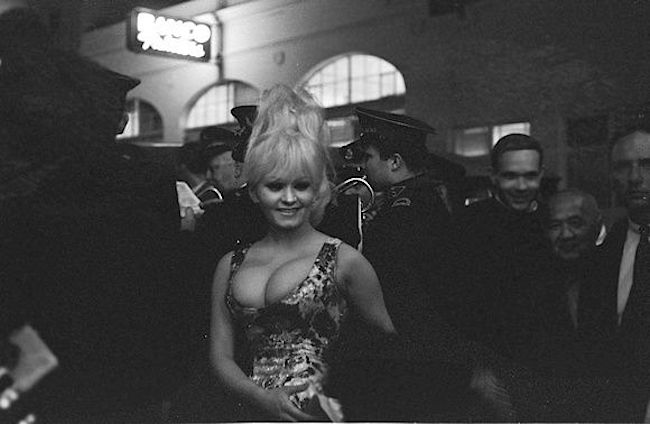 By Marke B. 
PARTY RADAR First off, the sad news: By now you've probably heard that nightlife legend Carol Doda — the first renowned topless (and, briefly, bottomless) dancer has passed away. If only my own epitaph could read "the new Twin Peaks of San Francisco"! Truly, she scaled the silicone heights of fame — in no small parts to her gleaming personality and killer commercial instinct.
Two big cheers for Carol, for loosening up those stiffened days of yore a little. As the Times points out in its obit, "To understand the scandalousness of Ms. Doda's precedent-setting impromptu performance in San Francisco, on June 19, 1964, consider that it was followed less than a month later in that same city by the Republican National Convention that nominated the conservative Barry Goldwater. Delegates flocked from the Cow Palace convention hall to the Condor Club in the North Beach neighborhood to see her act."
(Fashion history tidbit: Carol "made her topless debut after Davey Rosenberg, the club's publicist, proffered a 'monokini' swimsuit by Rudi Gernreich, the avant-garde designer, and suggested, 'Try this in the act.'")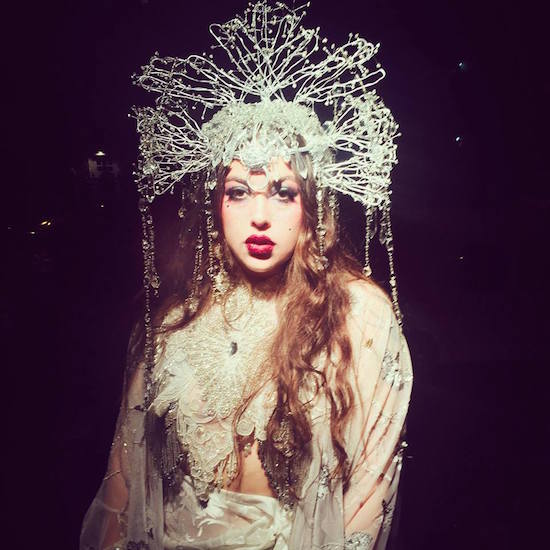 More sad news: Young local club goddess, muse, and designer Domonique Echevarria, who left several years ago for New York and huge success as part of Susanne Bartsch's glamorous party machine, was grievously injured when struck by a subway car, and is in need of serious care. The news has shocked the party underground (myself included — Domonique is a dear friend who brightens up every party with a gush of love and laughter), which has come to the rescue in the form of fundraising, prayers, and touching social media posts recalling personal stories. We miss you Domonique, heal quickly!
NOW some great news.
The new SF venues just keep coming. (And maybe a slowdown in closures of older one, especially with overwhelming passage this month of "legacy business" protection Prop J., which offers landlords incentives to retain approved businesses that are over 20 years old.) Next up? Codeword, a sorely needed 18+-able  space from the DNA Lounge folks in the old Covered Wagon/Annie's/Cherry Bar space. And it's throwing open wide its doors on Friday with Cherry (in honor of the space's former name), a new weekly 21+ joint from those crazy Bootie party kids, Adrian and Mysterious D.
"We're super-excited to try something new in this really cool venue," D told me. "And we can change it and modify it as it goes. All we know if that we want to get the freaks out!" This Friday will be a great time to check it all out and see.
>>>FRIDAY, NOVEMBER 13
One of my favorite DJ/people of all time, Mike Servito, hits the As You Like It party with visceral, banging techno Berliners Function and Kangding Ray. New Yorker-via-Detroit Servito, whose acid house excavations have been the toast of the international scene, will add some soulful depth and low-key, ki-ki humor, but keep the pressure steaming.
Longtime local techno/house/disco edit hero Garth gets to play Monarch all night long — he's been decking for 25 years or so, so come hear some real chops from this original Wicked crew member. On the deep-bass end of the spectrum (with an ethereal bent), Hyperdub label founder, moody intellectual, and excellent DJ Kode9  takes over 1192 Folsom, aka f8, touring for his new "Nothing" album.
Or just chuck total-electronic music altogether (kind of, anyway) and hit up Last Nite,  the retro-2000s indie dance party (yes, it's a thing), and twist the night away to the Knife and the Strokes and Interpol and all those bands you remember almost clearly. You can also chuck dance music altogether — except the screeching wind-chimes of your ever-billowing shame — and attend Mortified's "Best of 2015" show. "Witness adults sharing their actual, embarassing, and hilarious teen diaries, poems, letters, and more! Featuring our house band: The improv comedy/freestyle rap/singing assassins known as THE FREEZE!" I am not ashamed to say…. I love THE FREEZE.
>>> SATURDAY, NOVEMBER 14 
Let's flip all the way into darkness right away with driving noise techno from the Nostilevo label, making an evening instore appearance at Tenderloin record store RS94109 (yes, it's back after a remodel) with artists Granite Mask, Harmaline, and Snakeland DJs.  Or let's flip all the way in to sweetness and melancholy light with Smooth Operator, the great happy hour at QBar in the Castro from Hoku Mama Swamp and friends, which delves into slow jams and light rock faves. Why not?
One of the great godfathers of house, Tony Humphries, is coming to Mighty for the Salted party with Miguel Migs and Julius Papp. You may have to dodge a few flying fedoras,  but it will be oh so worth it. Listen to this classic Humphries mix from 1993 to get into the spirit.
It's very rare you get to see drag based on the 1930s — which, can we be honest, is really the only kind of drag at this point that anyone might be clamoring for. Luckily Juanita More and her House of More are happy to provide at this week's Mother show at Oasis. Expect a whole lotta flapperin' and some beaded tassels in your face. Also on the gay (and straight-friendly) tip: Awesome party Pound Puppy — it is a dance party for gay pups and curious friends, which is also one of the coolest in the city – goes all wags and shags for its second birthday, with techno DJ Mozhgan at the helm. I just heard Mozhgan at a recent gig, and she really turned it out. Look for more of her everywhere.
Rounding off: Groovy, trippy big-room techno can be had until 4am courtesy of the Direct to Earth party with guest Heiko Laux  at 1192 Folsom, while over in Oakland fabulous deep, soulful house and Afro-disco party Skin celebrates two years of excellent, diverse vibes.
>>> SUNDAY, NOVEMBER 15
What can I say? Say, "Le Freak, c'est Chic!" Wrap up your weekend at Disco Daddy's Chic tribute. DJ Bus Station John will light up the Eagle with Nile Rogers and Co.'s eternal slick-disco arrangements from 7pm-2am. Now Freak.
Also on the freaky dance trip, DJs David Harness and Ruben Manias bring back the classic Endup Sunday '90s house vibes at Oasis with their party Spillin' Tea (3pm-9pm), and the always-of-the-moment Aquarius Records celebrates its 45th birthday 11am-9pm with bands and DJs, giveaways and surprises, plus some real cool folks to feel all real SF with.  Then, as always, cool down/heat up at Dub Mission, one of our longest running parties, where DJs Sep and Mannish the Twister bring the deep reggae and future-dub vibes.
>>> MONDAY, NOVEMBER 16
We have a Monday entry! For some hilarious musical stylings, come on down to the Stud for "Tits and Sass: A night of song and sobs." Promising "a gay cabaret by a straight woman (wink wink)," it stars Lauren Weedman (she plays the hilarious Dorris on "Looking," and for me is the only really interesting person on that show — which has just finished filming it's finale special here.) The stream-of-consciousness show "will include cover songs from such artists as Helen Reddy, Loretta Lynn, Fiest and Pitbull as well as personal stories about heartbreak, gay boyfriends and coffee enemas." plus special guests!