Golden Girls, Alternative Tentacles, Man Candy, Heron Oblivion, Jingletown Art Walk, and more this week. By Marke B.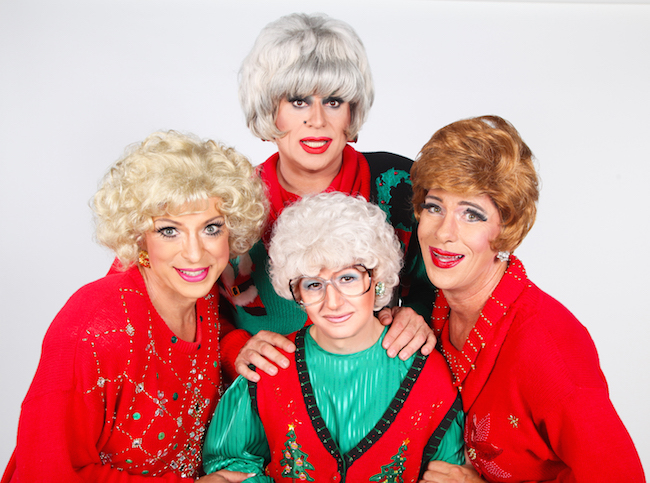 GOLDEN GIRLS: THE CHRISTMAS EPISODES This one's gonna be hilarious yet bittersweet — the golden quartet of drag queens who embody everybody's favorite TV residents of Miami is missing one perennial favorite: Cookie Dough, the ultimate Sophia, passed away earlier this year. But she would be tickled pink — and dive right into drag heaven cheesecake — to know that the legendary Holotta Tymes (of groundbreaking SF drag club Finocchio's) is stepping into her orthopedic shoes. Matthew Martin, D'Arcy Drollinger, and Heklina round out the feisty foursome, in this reenactment of key holiday episodes. Get your tickets quick! Thu/3-December 20, Thu-Sat at 8pm, Sun at 7pm, $25. Victoria Theatre. Tickets and more info here.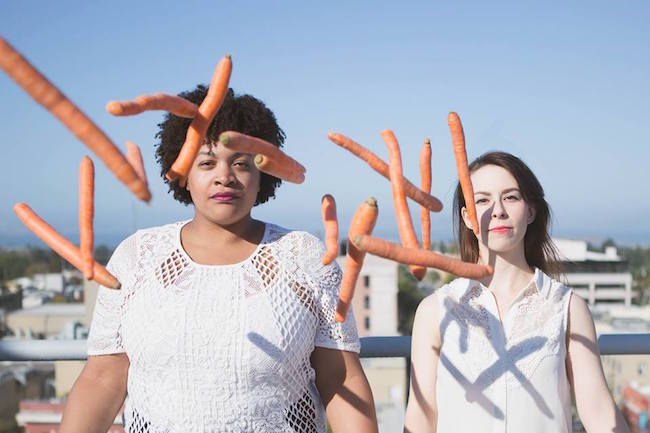 THE HORSE'S ASS AND FRIENDS Awesome playwright Megan Cohen and director Ellery Schaar team up with theatrical friends for "a painfully funny night of postmodern vaudeville that finds the ticklish spots between feminism, love, and shadows." This includes "a pair of conjoined twins with one major dilemma, a pageant of the seasons complete with snowflake operetta and a shadow puppet show about death and monsters. And for a grand finale, Cohen saddles up history's greatest half-human, half-equine metaphor for a ride through power dynamics and carrots." Neeeeeigh. Thu/3-December 19, Thu-Sat at 8pm, $10-$30. Tickets and more info here.
LA POSARELA This is such a sweet community event that I have to recommend it even if you are totally over Christmas at this time! The great Community Music Center joins with its Mission neighborhood to present this huge, colorful, bilingual, ninth annual pageant. "La Posarela incorporates the Mexican folk traditions of Las Posadas and Las Pastorelas to tell the nativity story through a mixture of music, humor and social commentary about San Francisco." A great family event whose cast includes members of several musical groups, ranging from the Children's Chorus and the Mission District Young Musicians Program (MDYMP) to the Latin Vocal Workshop, 30th Street Chorus and the Solera Singers. Fri/4 and Sat/5, 7pm, $8-$12. Brava Theatre, SF. Tickets and more info here.
HERON OBLIVION AT THE CONSERVATORY OF FLOWERS Wait, the Conservatory of Flowers is hosting concerts now? That's right, it's an all ages affair — don't worry there'll be alcohol — when budding local psychedelic folk rockers Heron Oblivion team up with beloved SF danceable dub-psych groovers Extra Classic. It all goes down in the Orchid Gallery, let's rock among the blooms. Fri/4, 6:30pm-10:30pm, $22. SF Conservatory of Flowers. Tickets and more info here.  
GIORGIO MORODER The enduring Italian maestro who fused electronics to funk and created a new kind of ecstatic disco has recently taken an unnerving turn toward pop-EDM styles, but this epic DJ set will bring all generations of dancers and lovers to the floor. Opening for him is a dream-team that includes our own legendary Steve Fabus of seminal discotheque the Trocadero Transfer (he was spinning Moroder records when they were new!), soulful houser David Harness, young techno phenomenon Mozhgan, funkateer Motion Potion, bass king DJ Dials, and many more. We feel love. PS — If you're looking for the real real thing, hit up DJ Steve Fabus and DJ Sergio's monthly party GO BANG! this Saturday for its grand 7th anniversary of dance floor debauchery.  Fri/4, 9:30pm-late, $25-$35. 1015 Folsom, SF. Tickets and more info here.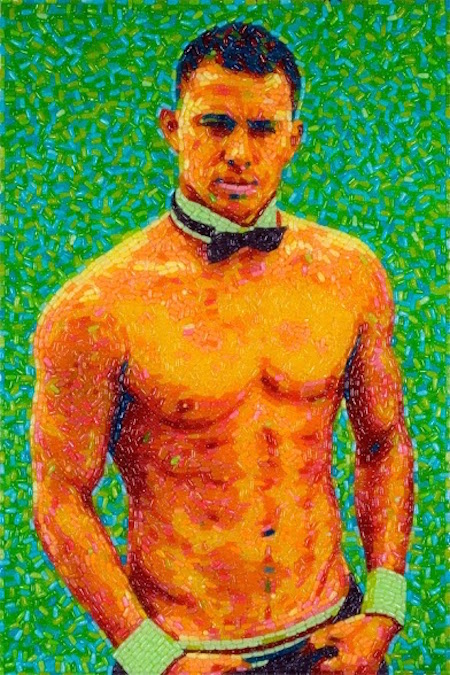 MAN CANDY Fantastic artist and subculture hero Jason Mecier makes super-crafty, super-campy portraits of celebrities and people of note out of household materials and trashy edibles. It's like bean-and-noodle pictures run amok through our cultural subconscious. his latest opening will be a real hoot (and perfect people-watching) as he immortalizes the hunks and alphas of our time (Magic Mike, Heisenberg from "Breaking Bad," Joe Manganiello from my dreams) in the sweetest way possible — with candy, of course. Opening party Fri/4, 8-1opm, free. Show runs through December. More info here.  
SARA SHELTON MANN: ERASING TIME If San Francisco has anything close to a magus in its art ranks, its Mann — choreographer, writer, healer, GOLDIE lifetime achievement recipient, and dance prophet. This five-hour "durational event" will feel anything but long, with dozens of local artists participating in what essential amounts to a dance career retrospective. Featuring design direction by long-time collaborator David Szlasa and musical direction by Norman Rutherford. Fri/4 and Sat/5, 5pm, $25. YBCA, SF. Tickets and more info here.  
JINGLETOWN ART WALK Oakland is the place to be on the first weekend of every month for art fans — from the thrumming Art Murmur on Friday (with its "100-Foot Tall Movie Night" to the chiller Saturday Art Stroll, for those who don't art-party so hard. But once a year, you also get to add historic Jingletown to your picture-perusal list. The 10th Annual Jingletown Art Walk features a great bunch of galleries you may not have visited before, in a part of town that deserves more attention. Plus open studios, food trucks, beverages and more. Fri/4 and Sat/5, 11am-6pm, free. Jingletown district, Oakland. More info here.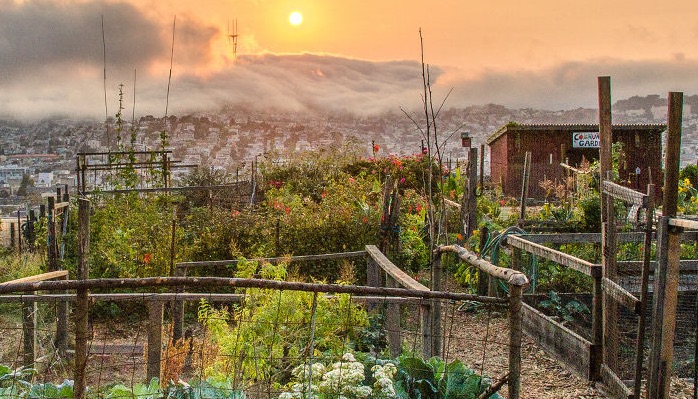 PEOPLE'S HARVEST FORUM Food justice and food sovereignty are on the menu at this first annual forum in the Mission. Learn about grassroots alternatives to the corporate food model, examine the role of animal agriculture in our current food system, explore urban strategies for food justice (especially in light of displacement, and ask, What would alternatives to our present day system look like? A very intriguing question. Sat/5 and Sun/6, 10am-5pm, $10-$50. Centro del Pueblo, SF. Tickets and more info here. 
KRAMPUS NIGHT WITH ALTERNATIVE TENTACLES How about a little punk down your chimney? SF's classic label showcases its "ballsiest bands" — Jello Biafra and The Guantanamo School of Medicine, ArnoCorps, Fleshies and Death Hymn Number 9. "Wear your most heroic alpine attire! " Seeing as Krampus is all the rage this year, this will be a holiday madhouse, surely. Sat/5, 8pm, $18-$20. Slim's, SF. Tickets and more info here.  
ENCUENTRO DEL CANTO POPULAR This 34th annual musical fiesta from Accion Latina celebrates the sounds of Cuba Libre — especially now that trade and travel barriers are falling. Expect colorful, exuberant sounds (and quite a bit of dancing) from the great John Santos and the John Santos Sextet with special guest Roberto Hernandez; fabulously psychedelic La Mecánica Popular (making their San Francisco debut!); Bay Area 10-piece ensemble Soltrón SF; and DJLeydis. Sun/6, 6pm, $18. The Chapel, SF. Tickets and more info here. 
BONUS: Our good friend Johnny Funcheap has an awesome rundown of Holiday Block Parties and Tree Lightings.