It's Saturday, January 31, and protesters are gathered at Union Square to demand justice for Mario Woods, following a call from Justice for Mario Woods Coalition.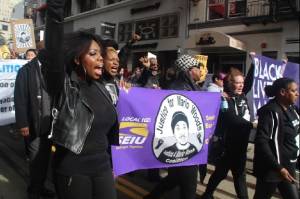 At 11 am, dozens are gathered to bring attention to the case amid strong police presence. Today's protest is one of the many actions planned ahead of the Super Bowl celebrations to bring attention to growing civil rights issues in the city, most importantly the Black Lives Matter movement and the growing number of homeless people in the city.
Although Mayor Ed Lee made headlines calling for a federal investigation of the Woods shooting, Daniel Landry, activist leader with the Justice For Mario Woods Coalition, says that's not enough.  "We are gathered here today as a peaceful protest to demand justice" he says "We want Ed Lee to understand that justice can only come if there's trust between the people, the officials, and SFPD."
San Francisco police are still expected to handle the homicide case and determine whether charges are warranted for the officers who killed Woods,  a step protesters staunchly oppose. "Lee's request means nothing, this is yet another antic," Landley remarks.
Amy Farrah Weiss, Founder of Neighbors Developing Divisadero and former mayoral candidate, addresses the crowd: "Last year, at Martin Luther King Day, Ed Lee hosted a screening of the film Selma and while addressing the crowd of young African American children he urged them to demand change. At his inaugural speech he asked to be judged by his actions. It is time for us to demand action, it is time for us to hold him accountable."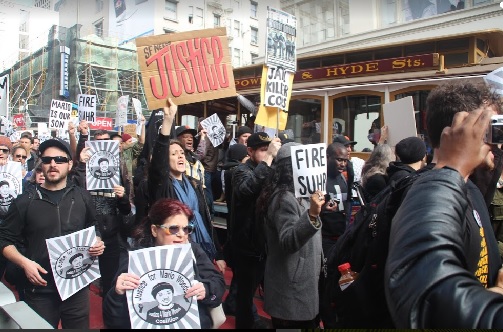 Chants ensue. "What do we want? JUSTICE, when do we want it? NOW." Hundreds of police officials gather around Union Square and Powell Street, an odd sight when only a few dozen protesters try to make their way towards Market street.
Just as the rally is about to begin, Felicia Jones, leader with The Mario Woods Coalition, takes the mic and urges: "We must protest peacefully, we must show our strength and respond to the murder of Mario Woods by a firing squad."
Demands are repeated as the crowd begins to move, "Our demands are simple: Fire Chief Suhr, indict the officers involved in the killing of Mario Woods and conduct an independent investigation into the incident."
By now the crowd is more than 200 strong. There are dozens of people representing different causes. In the corner, Luma Michael, 63, is giving away flyers for an event to honor black lives. "It is important that everyone stays together, that we all protest and stand up for people of color. This needs to stop, the targeting of homeless people and of people of color this must end," she says. Beside her a volunteer from the Alliance of Californians for Community Empowerment, ACCE, is giving away vibrant yellow "We Won't Go" badges.
Chants grow stronger: "Indict, convict, send the killer cops to jail. The whole damn system is guilty as hell," and as the rally crosses the entrance of the Powell BART station, dozens of passersby join in while others document the protest through their mobile phones. A man in his 70s shouts back at the crowd: "Get Ed Lee, Fire Ed Lee."
As the rally enters Market Street, police start to blare sirens and announcements begin: "Please clear the roads, get on the sidewalks, anyone blocking the road will be arrested." Several protesters stop and shout back, "Whose streets? our streets!" The crowd is now more than 400 strong, and as police cars move in, someone in the crowd mentions that the riot police have blocked entrance to Super Bowl City, which is open for the first day. The news does nothing to dampen the momentum.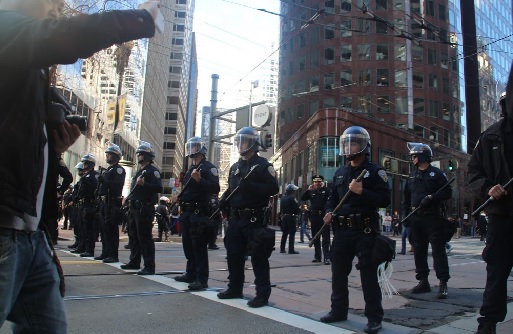 A few minutes later, the protesters are head-to-head with the riot police. Some quickly move to the sidewalk while others stand in front of the police wall, facing batons. "You should join us too," a protester says, trying to engage with an officer, who doesn't bat an eyelid as the crowd continues to chant "No justice, no Super Bowl." An organizer moves forward to stop an angry protester from shouting at police officials: "Stop, do not do this, we will all get beaten up, just stop".
Felicia Jones moves quickly through the crowd to speak to an officer who would identify himself only as K. O'Sullivan. "You cannot stop us from a peaceful protest" Jones says; the crowd did not receive any orders for dispersal, and no one from the police department got in touch with the organizers.
O'Sullivan is determined. "We made several announcements through the loud-speaker," he says. "This rally is not permitted. You are welcome to continue on the sidewalk but you can't walk on the roads."
Jones is not satisfied. "Is this the color of my skin? because there's many protests and marches that happen here all the time and you don't stop them. Is it because I am black?"
O'Sullivan quickly withdraws from the conversation "All right now, I am stepping back. As I said, you are welcome to walk down the sidewalks but you can't walk on the roads. This is a dispersal order," he says.
Jones not one to give in easily "You are herding us, like one herds animals. Like you killed Mario Woods as if he was an animal," she says as she moves back to speak to her the organizing team.
Instructions from the organizers come quickly and are on point: "We are here to make a statement and we made a strong statement. We are here to say that we demand justice, that we will keep coming back until our demands are met. We are peaceful. So we request everyone to come to the sidewalk, do not do anything violent and we must not be arrested."
The organizers ask everyone to remain peaceful and to get rid of their placards before entering Super Bowl City. The crowd disperses into small groups into side streets, and it doesn't take long for the police to block Mission Street as well, this time with even more police officials in riot gear blocking all entrances on both ends of the streets.
Minister Christopher Muhammad, of the Nation of Islam, is the one to speak to the police now. He's quick and effective; the police agree to let protesters march to Super Bowl city to a public event, but only if they walk through a police corridor.
It's a bizarre sight, as hundreds of police officials march on both ends of a small group of protestors. A group of black teens starts to join, but turns away for another route after looking at the heavy police presence.
It's not long before tourists in their NFL jerseys start snapping photos as some remark "So many police officials for a handful of protesters." And for an event that is open to public. Nevertheless, as the crowd enters Super Bowl city, with police officials on each side, it's apparent they are not giving up. If anything, they've already made their presence felt at the grand opening of the NFL's big hype event. "We won't go away, we will haunt you, haunt you in your sleep" the chants faint as protesters disperse.
It could be a sign of things to come.