District 11 Supervisor Ahsha Safai announced his intention to introduce a resolution opposing President Trump's Muslim ban at Tuesday's board meeting.
Safai's resolution is backed by Mayor Ed Lee and comes at a time when hundreds have rallied against President Trump's immigration ban on refugees, migrants and foreign nationals from entering the U.S.
Safai's office worked with a coalition of supervisors including President London Breed, Sup. Malia Cohen, Sup. Mark Farrell, Sup. Aaron Peskin, Sup. Norman Yee and Katy Tang and community advocates to oppose President Trump's executive offer scapegoating refugees and halting immigration of Muslim majority countries. 
You can read our full coverage on the protests over the weekend
The ban saw several people detained for hours on end as their families were left in limbo. There's no clarity on how many individuals were detained and no details have been revealed about their immigration status. At least three cases we reported on were long term green-card holders that were detained for more than six hours. 
"Despite what Donald Trump says despite what the Federal Government says this is a Muslim ban,"  Safai said. "The key aspects of this resolution today is that we are asking the private sector, the philantrophic community and the business community to step up and match the money reserved for fighting for immigrant rights."
"In own week our President has taken a wrecking ball to the Statue of Liberty and to the very foundation of our country," he said.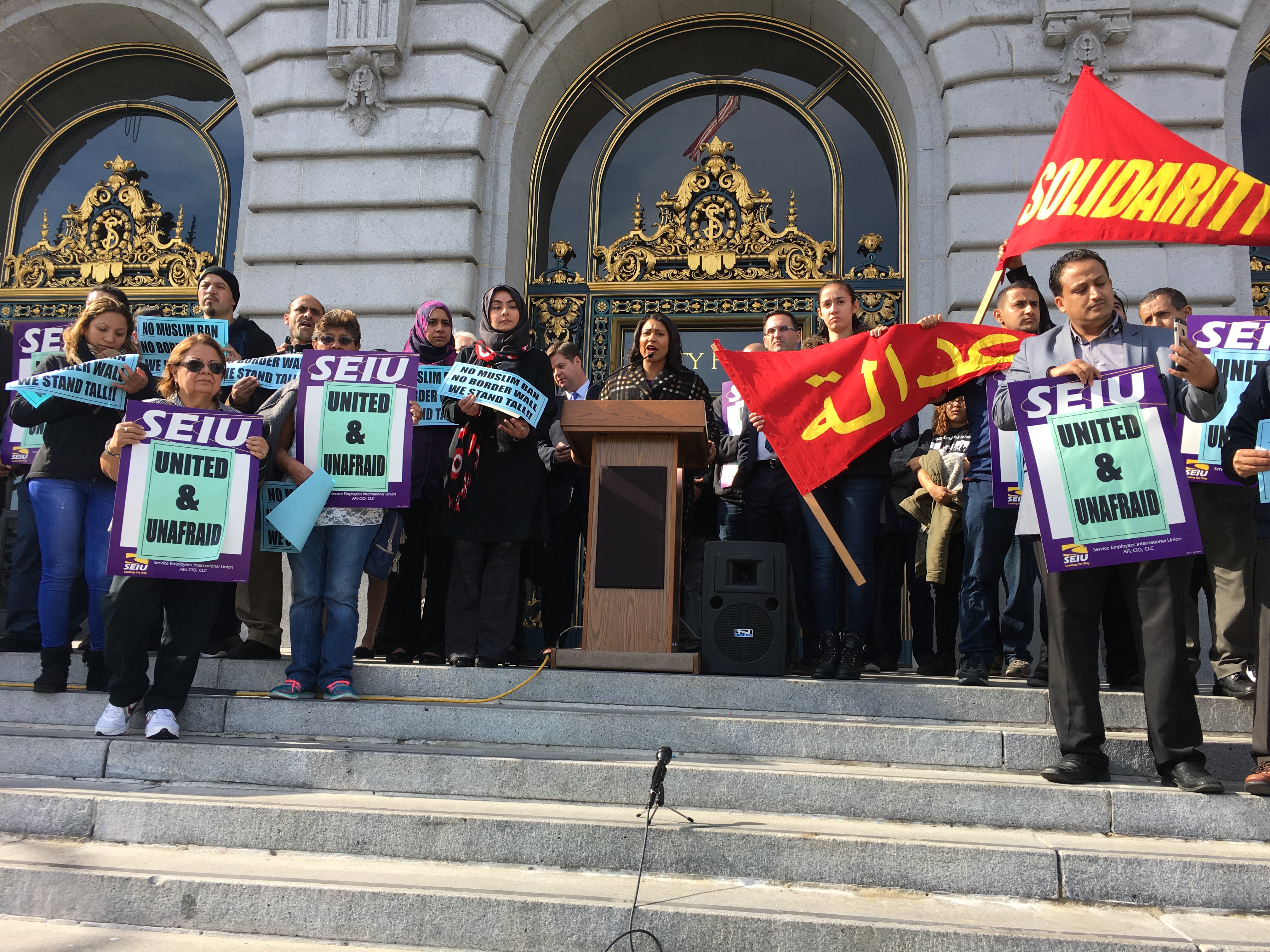 "We've a lot of work to do. We knew things would get bad with this new president and I don't know if we are really prepared for the amount of hate that's coming out of Washington right now," said Breed.
"Here in San Francisco we stand united and we won't back down," she said.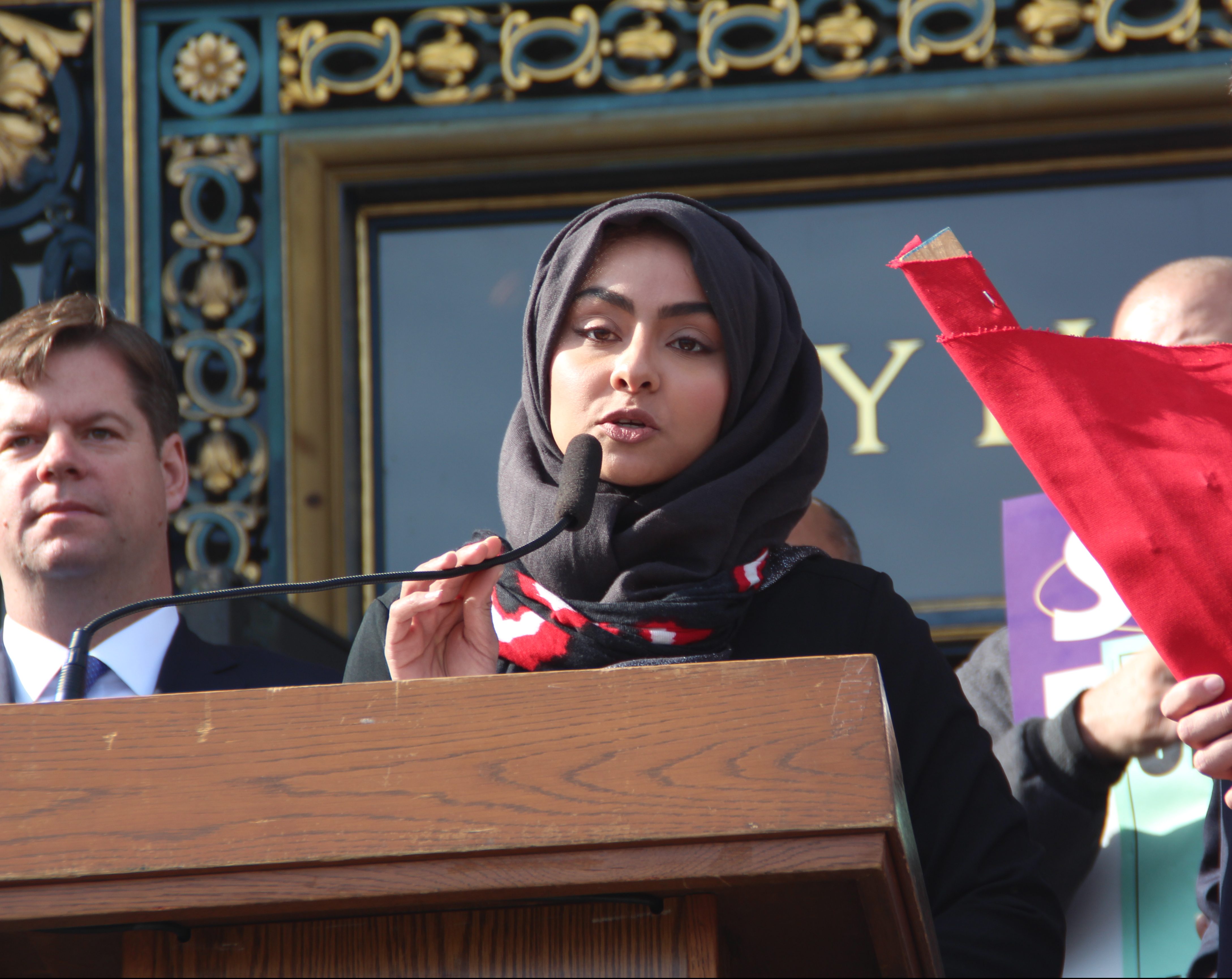 Jehan Hakim, community activist with the Asian Law Caucus, said the president's executive order violate the constitutional right to freedom to practice religion.
"My family is from Yemen, the war torn and impoverished country whose citizen face a 90-day ban," she said "They didn't leave their country and escape war to live in fear. This is a ban on our identity as Muslims."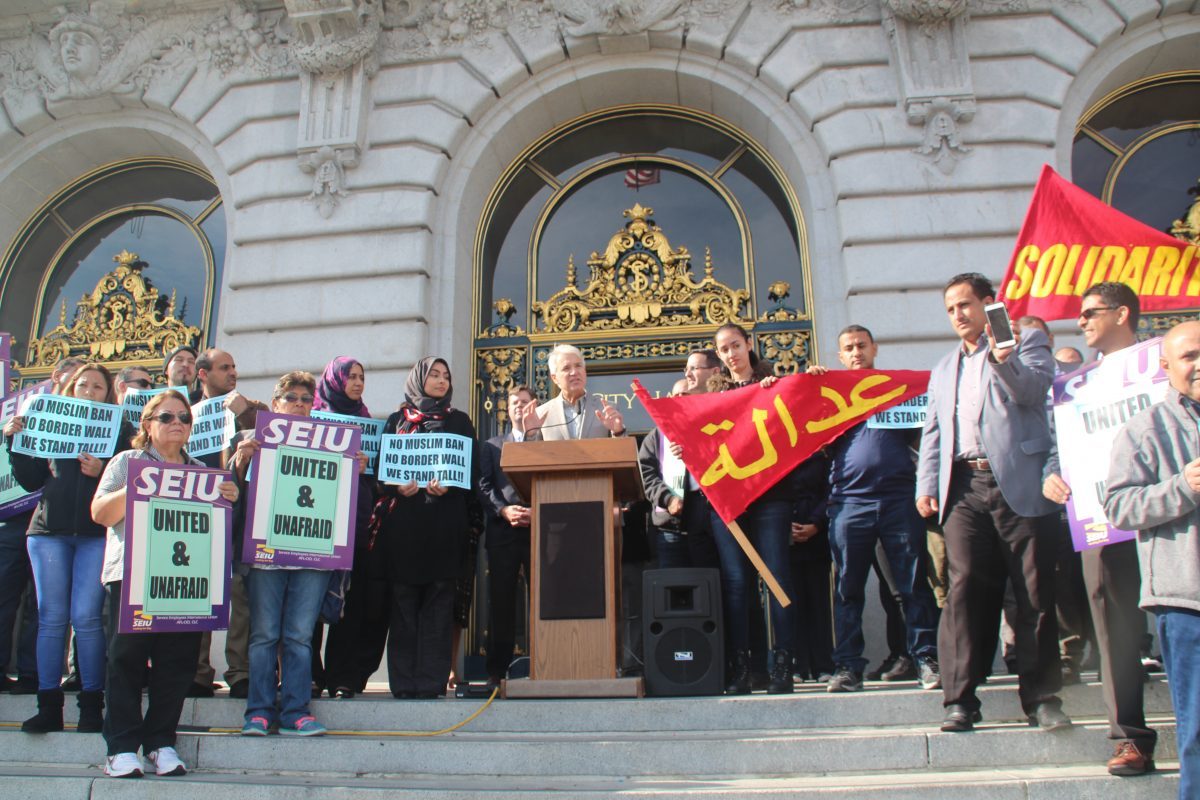 "Today we are going after Muslims, a week ago we were going after Mexicans prior to that we were going after rights of women. If we don't step up today we won't have anyone to step up for us tomorrow. I can assure you as a District Attorney that under my watch they'll be zero tolerance for hate speech," said District Attorney George Gascon.
Sougol Shooshtarian, an attorney from San Francisco was detained for over three hours at SFO pic.twitter.com/5HhlCKaG1q

— Sana Saleem (@sanasaleem) January 31, 2017
Sougol Shooshtarian, a San Francisco based attorney, said she was detained with three others: "Two elderly couples from Iran and one man with Iraq we all had permanent residency we all had green cards. I am a lawyer who lives and works in San Francisco. It took three hours until they helped us and released us,"  Shooshtarian said she helped the elderly couple because they didn't speak English and didn't know how to respond to questions. 
There has been no clarification from Department of Homeland Security regarding the number of people detained since the executive order fueling fear and anxiety.