PARTY RADAR Even though it sounds like something that should be done in the privacy of one's own mother's basement, I am a proud partaker in "vinyl enthusiasm." And the explosion of interest in vinyl — even evil Airbnb suggests adding a record player to increase interest in your property — has pleased me to no end.
I'm totally one of those dickheads who gave away a collection worth $1000s (and priceless memories) to a friend so I could move here with a single backpack full of rave clothes and a banana-yellow Walkman in the early '90s. But, hey, it's been a moral, philosophical, and physical journey on par with the Odyssey to attempt to reconstruct my collection 25 years later, so I guess I should thank the Fates or Zeus or Euterpe, Muse of Vinyl Fetishists, for the eternal life lesson: Never give away your shit.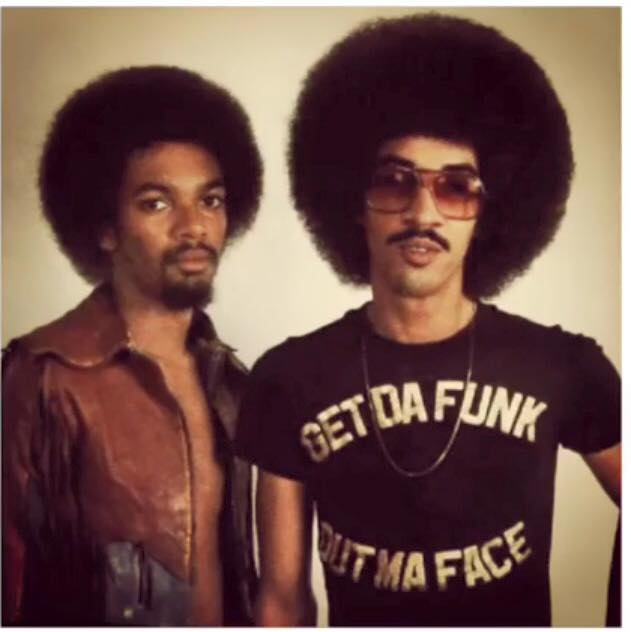 One thing that makes record shopping fun and easy is living in the Lower Haight – I'm within five minutes' walking distance of five different record stores, and 15 minutes' of several more. I am drowning in black gold, and my bank account echoes with the high-fidelity hollowness of sonic gratification. (Don't even ask me about comic book addiction, please.)
While new shops like RS94109 and Originals Vinyl are popping — and ghostly legends like Jack's Vinyl Cellar still command a hushed awe — the classics are always in my bag, including Groove Merchant, which is celebrating 25 years of slinging jazzy sleeves Fri/21 at Elbo Room.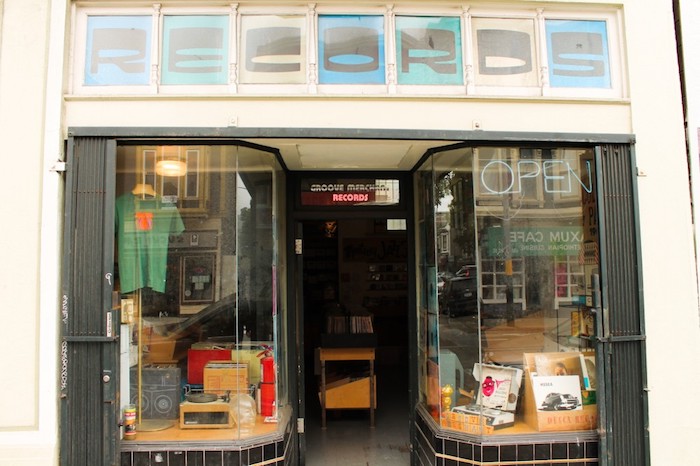 Groove Merchant, selling a wealth of used vinyl (and some new) is my go-to for rarer jazz, reggae, and "world" cuts — but it's also a lively learning center, its Facebook posting remembrances of soul and dub legends and turning me on to new/old music constantly. It's truly a crate-digger's paradise. Be warned though, despite vinyl's current faddishness, retail stores still face an uphill climb. Shockwaves hit the vintage-media internet this week when it was announced that the awesome Logos book and music store in Santa Cruz was closing after 48 years. So support these spots, babes.
Groove Merchant's 25th bash (they've actually been around for 28 years, but who's counting) features a performance by classic Lower Haight skater-musician Tommy Guerrero, with DJs from the store playing eclectic selections all night. Groove on.
>> Need a car to get there? Rent one in your neighborhood on Getaround. Sign up today, and enjoy $50 off your first trip: http://get.co/48h. [Sponsored]
SPECIAL NOTE: This weekend is also the inimitable Sunset Campout, now in its umpteenth year of Bay rave family fun. If you aren't headed into the woods, please consider the following recommendations:
FRIDAY, JULY 21
MOTOR CITY DRUM ENSEMBLE Motor City Drum Ensemble is a single Berliner named Danilo whose incredibly deep knowledge and love of funk, disco, house, and groovy techno that comes though in his sets as a tribute to the sounds of Detroit. (He also grew up in Stuttgart, Germany's own Motor City, so there's that as well.) He'll be joined by one of my all-time fav musicians, LA's future-funkist Dam-Funk for a gonzo night — including a lounge run by the awesome Sweater Funk folks — at 1015. Bring on the flavors! Fri/21, 10pm-5am, $20. 1015 Folsom, SF. Tickets and more info here. 
PRINCESS NOKIA ""As Princess Nokia I can project the multi-dimensional aspects of myself that I could not express with the name Wavy Spice. I can venture into any realm of music or character of my choosing without confusion." True! The neo-hip-hop Princess will grace the 120 Minutes party seven-year reunion with portal-opening aplomb. Fri/21, 9pm-2am, $25-$50. Mezzanine, SF. Tickets and more info here. 
BRAZA! BAILE FUNK The long-running Braza! party is a true Bay gem, bringing sizzling sounds from the south to our chilly little summer. This joint at the Chapel with burst into color with DJs Antonio Guedes, Elan Kamesar and Paulo Presotto getting baile funky with cuts direct from the Rio favelas. Fri/21, 9pm-2am, all ages. The Chapel, SF. Tickets and more info here.  
AM ER AH SU One of our biggest up-and-comers, this Oakland based singer, composer and performer, with take the Swagger Like Us queer hip-hop party into the stars. Fri/21, 10pm-3am, $10. Oasis, SF. Tickets and more info here.  
CREATURE Gender is so confining! Why not just identify as a creature and let your imagination roam free — this time under the sea, as the raucous party takes on H2OHH! as a theme and features a raft of uncategorizable performers and DJs. Fri/21, 10pm-4am, $10. The Stud, SF. More info here. 

SATURDAY, JULY 21 
CMYK WITH DJs VIN SOL + ROLO Oh hey! This is my party, and its the last monthly installment for a while, so I'm giving myself permission for some shameless permission. We're turning the Stud's dance floor into a electro-techno-acid-house spaceship blasting off into unknown realms. All are welcome. And we go all night, so there's plenty of time to party-hop to the parties below. 🙂 Sat/22, 10pm-4am, $10. The Stud, SF. More info here. 
PLAYA IN THE GROVE Oh yes, Burning Man season is upon us — how about some fun in the sun with a burner vibe, some great music, and of course some crazy art? Queer camp Comfort and Joy take over the National AIDS Memorial Grove in Golden Gate Park for this extravaganza. Sat/22, noon-5pm, free. Golden Gate Park, SF. More info here. 
SOULSTICE 2017 Big bass, bangers, and breakdowns are all on tap for this huge event, with DJs Mr. Carmack, Sam Gellaitry, AC Slater, Hotel Garuda, Christian Martin, and tons more. Sat/22, 5pm-2am, $40. The Midway, SF. Tickets and more info here. 
POLYGLAMOROUS The wonderful queer monthly underground techno party brings in Ash Lauryn from Atlanta's Deep South crew for good tunes and good times. Sat/22, 10pm-4am, $12. F8, SF. Tickets and more info here.  
DAVE DK He's been releasing records since 1998, and lately the Berliner has been getting more recognition for his spacious techno productions and ace sonic intuition. (Recent album Val Maira is absolutely lovely.) At the ever-forward-thinking Modular party with Pedro Arbulu and Emanate. Sat/22, 10pm-3:30am, $10-$15. Monarch, SF. Tickets and more info here. 
LE YOUTH "'90s sounds refracted through a thoroughly modern aesthetic. Breezy California vibes touched by a twist of European flair." The, yes, young Wes James brings his breath of fresh air to Audio's killer sound system. Sat/22, 9:30pm-2am, $15-$25. Audio, SF. Tickets and more info here. 
>> Need a car to get there? Rent one in your neighborhood on Getaround. Sign up today, and enjoy $50 off your first trip: http://get.co/48h. [Sponsored]