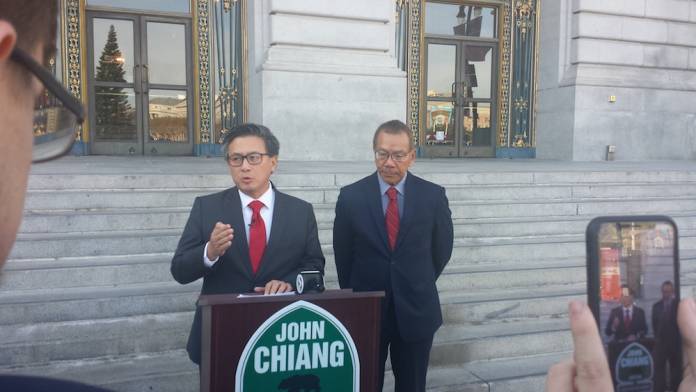 State Treasurer John Chiang brought his campaign for governor to San Francisco today, and in front of a fairly modest media crowd accepted the endorsement of Sup. Norman Yee.
Earlier, Chiang joined striking Oakland workers on the picket lines.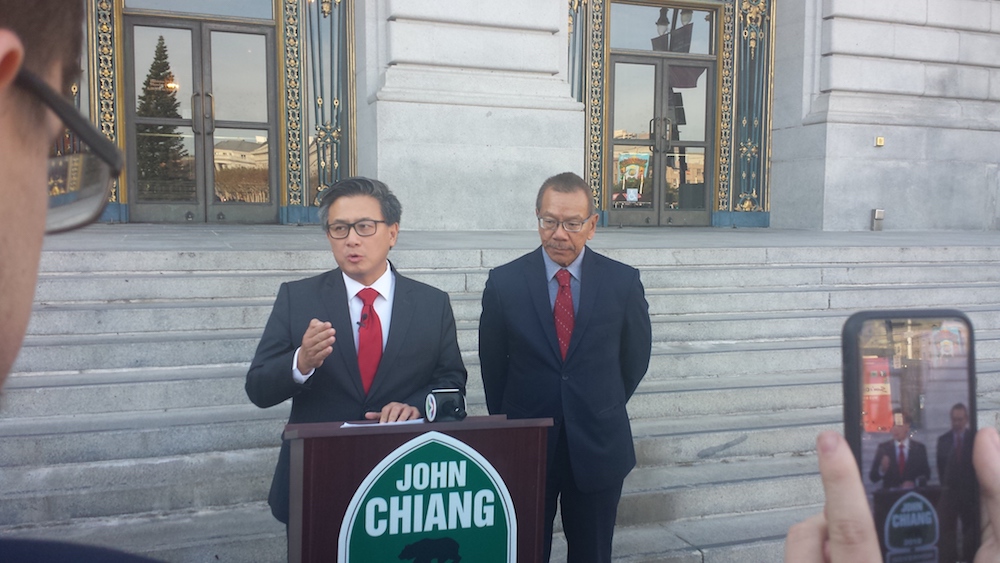 The news media pundits typically put Chiang a distant third, behind the former SF mayor, Gavin Newsom, who is now the lite guv, and the former LA mayor, Antonio Villaraigosa. But Asians are the fastest-growing voter group in the state; the smart money says not to write Chiang off.
(Villaraigosa tweeted support for the strikers. Newsom has been silent.)
I've never met Chiang, so I made a point of going to the press conference and asking a few questions. I didn't get a lot of clear answers.
Chiang portrays himself as a "progressive who knows how to balance a checkbook." That's a well-crafted political stance; Newsom and Villaraigosa have put forward a lot of big ideas (which they should), but Gov. Jerry Brown's tight-wad policies in a boom era seem to be pretty popular with swing voters.
The treasurer talked about housing and homelessness, and said that he wanted to use tax credits to help build more affordable housing. He said that developers who agree to build 20 percent affordable units would be eligible for property tax breaks.
San Francisco already requires developers to build close to 20 percent affordable units, and they get no tax breaks. In some cases, developers have agreed to 30 percent – because building luxury housing in this city is so immensely profitable.
I asked him about the other side of the housing crisis – the fact that 70 percent of the homeless people in San Francisco used to have a place to live in San Francisco, and were forced out by some type of housing loss or eviction. Does he support repealing the Ellis Act and Costa-Hawkins?
Chiang said that he supports "reform," and the "we have to stop the bad actors," presumably the speculators who are buying, clearing, and flipping buildings.
Fair enough. But what about repeal?
"I'm not sure about the single-family house issue," he said, referring to the fact that Costa-Hawkins exempts single-family dwellings from rent control. That's not the real issue – the issue is allowing cities to impose rent controls on vacant apartments.
What about repealing the Ellis Act? "I'm getting there," he said.
Not exactly a strong statement in favor of tenant rights on the most critical statewide issues we're facing today.
There weren't a lot of reporters asking questions, so I kept going: What about Prop. 13?
"We need revisions," Chiang said.
One of the most popular revisions, which may wind up on the ballot soon, is a "split roll," allowing cities to charge higher taxes on commercial property. "It depends what form it takes," he said.
Single-payer health care? First, Chiang said, he wants to protect community clinics (good idea). But in the end, "I support universal health care and single-payer health care."
Local control over land-use policy? Chiang supports SB 35 and thinks that it's a good idea for the state to take a larger role in mandating housing development in local areas.
He likes high-speed rail, but only if there is private-sector money. He thinks we need a lot more environmental review before we decide on the Delta tunnels.
This was all from a few minutes of questioning at a press conference. We will spend time in the future going much deeper into the positions that the candidates for governor are taking.
California is in such an amazing position to change the direction of the national debate on so many key issues. And a lot of voters are going to be looking for the candidate who can do that job.