Art can lead to social change. Belief in this power is what emerging artist Rivka Louissaint discovered at a young age, and what continues to drive her to create.
Louissaint was born in Port-au-Prince, Haiti. In 2003, she immigrated to south Florida with her mother and younger siblings due to growing political unrest. They arrived searching for stability and opportunity, but life in the United States wasn't easy.
"As a Black working-class immigrant family, we struggled to afford and gain access to basic necessities," Louissaint told 48hills.
Upon graduating high school, she lacked the financial resources and the knowledgeable guide necessary to access higher education. But Louissaint enrolled in fine arts classes at Broward Community College, completed an associate's degree, and worked for three years as an early childhood educator and community organizer. She met people whose experience enriched her analysis of the world, and she began to understand how art can be a powerful tool in changing social perceptions.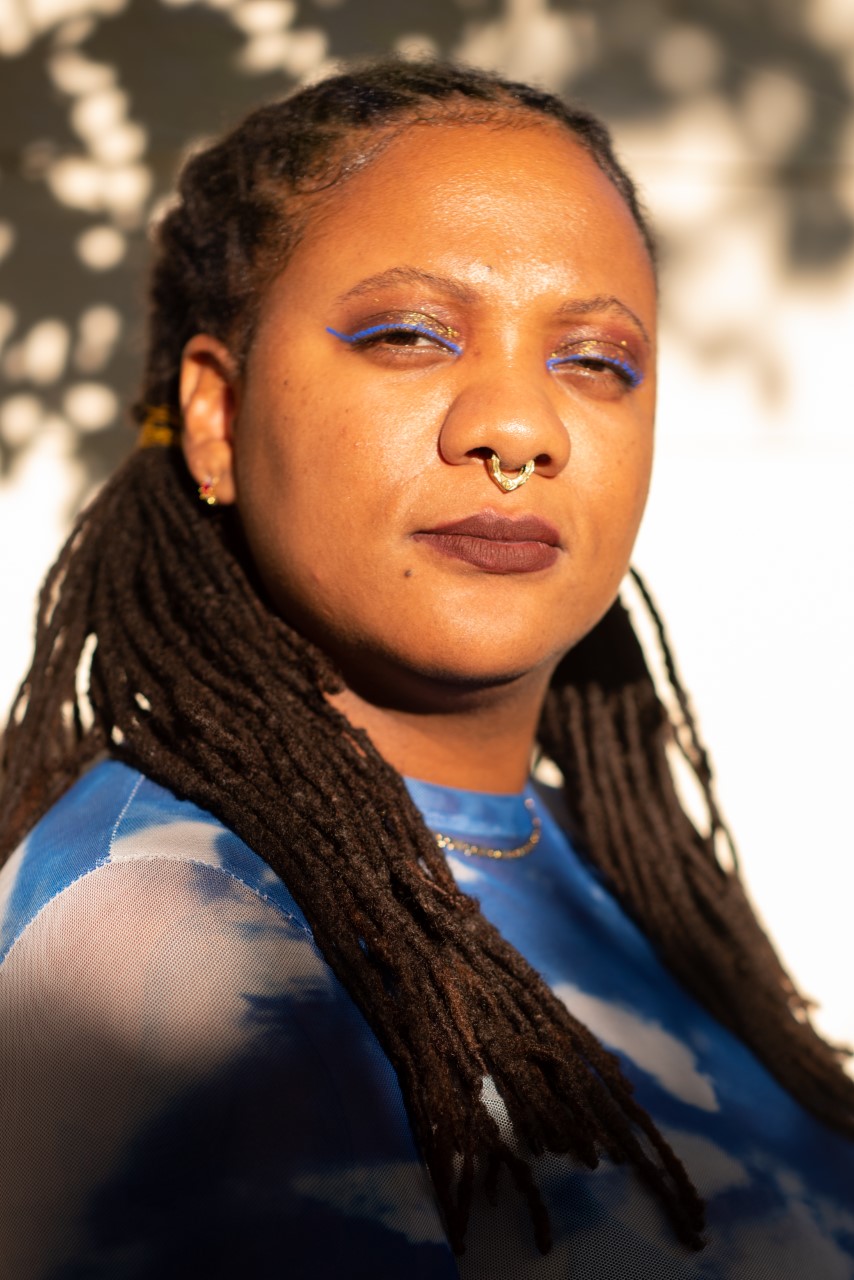 Friends and family encouraged her dream of pursuing an art career and in 2016, she moved to the Bay Area to attend Oakland's California College of the Arts, graduating in 2019 with a bachelor's degree in painting and drawing, with a minor in writing and literature. She now makes her home in North Oakland's Paradise Park neighborhood.
"My art is inspired by my experiences as a Black, queer, working-class, female Haitian immigrant," she said. "It's ignited by an interaction, thought, or reaction to what's going on in my environment."
Through a critical, class-conscious lens, Louissaint strives for a contextualized understanding of the relationship between art and society, and what she views as the world's present systems of oppression and exploitation: capitalism, racism, cisgender hetero-patriarchy, and imperialism. Her influences include the Black Panthers, Young Lords, Brown Berets, the Cuban Revolution and the May '68 global student movements. She also looks to artists Emory Douglas, Claudia Bernardi, Diego Rivera, Riva Helfond, Langston Hughes, David Siqueiros, and Ida Abelman for inspiration.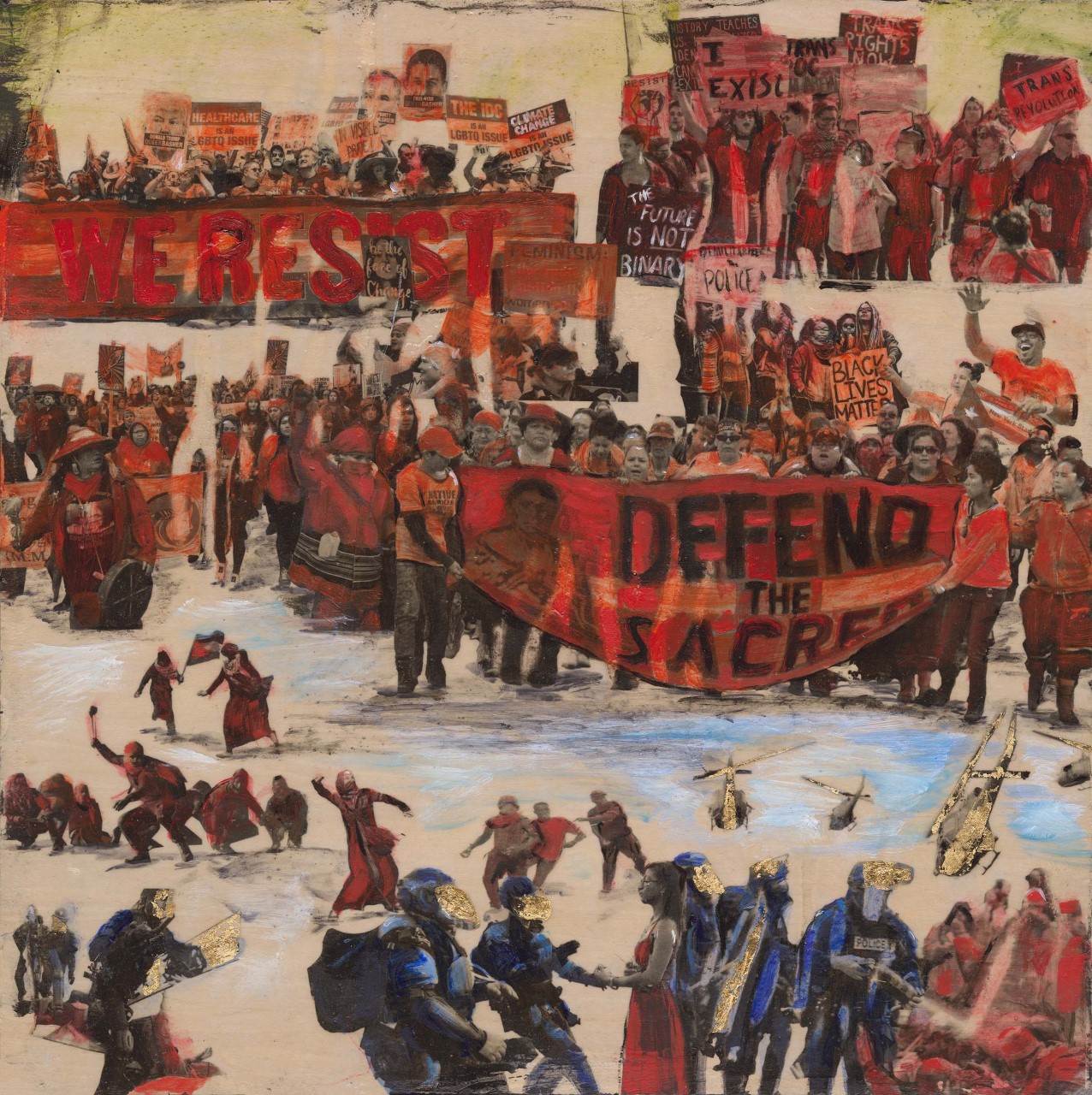 In 2019, Louissaint's solo senior exhibition at Hubbell Street Gallery in San Francisco made vivid images of the negative effects of capitalism, racism, and imperialism on people and the planet. In counterpose, she spotlighted the struggles of the oppressed masses who work to build a more socioeconomically and ecologically sustainable future.
"The work illustrates the deleterious nature of the current profit driven and alienative social relations, revealing them as critical engines of the present conditions," she said.
Combining mixed-media, sound, and written word on wood panel and canvas, this work held both narrative and figurative elements. Placing paintings directly in alignment with the viewer's sight lines forced her audience to consider themselves in relation to each scene and to question their own relationships to systems of oppression and exploitation.
An average day for Louissaint in her studio at the Richmond Field Station involves working on existing narratives, or focusing on the writing, research and development of new ideas. Her work is a collection of complex concepts expressed through visual communication, bringing to bear a class-conscious perspective on the struggle for basic human rights like adequate housing, healthcare, transportation, education, and jobs. Peering closely into how the world's present systems evolved, she encourages a dialogue to inspire people to organize and take action.
Louissaint was waiting to hear about acceptance for graduate school when the COVID crisis hit. Choosing to remain in the Bay Area, she joined the MFA program at UC Berkeley, exploring multiple mediums beyond paint. This period was by no means easy. Along with financial and housing instability brought on by the pandemic, both Louissaint and her partner had family members who suffered or died from COVID.
"I wasn't able to attend funerals for loved ones and my way of dealing with that was to bring familiar cultural symbols and stories into my art practice," she said.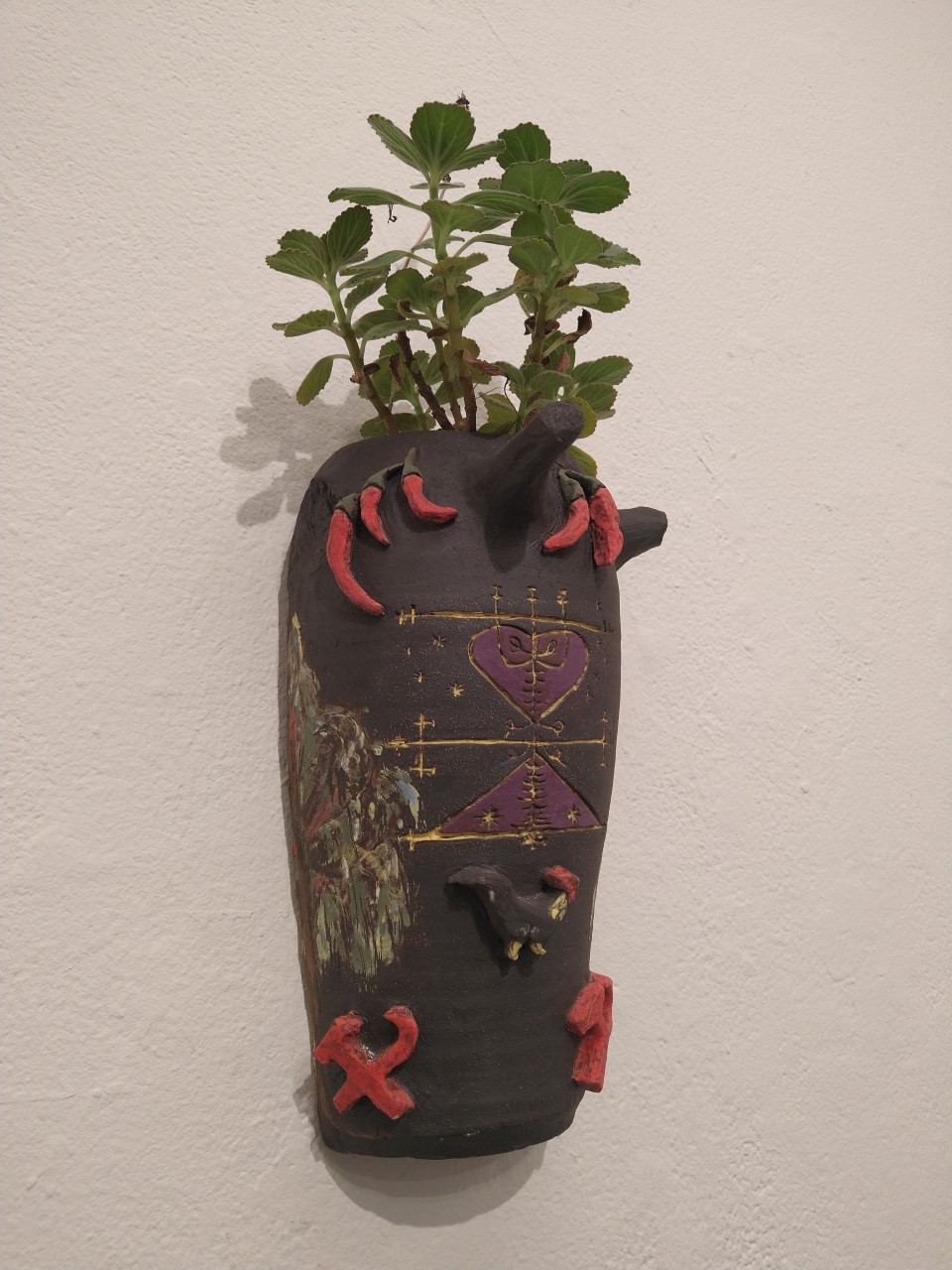 Utilizing the shapes of traditional Haitian rada drums to make functional, sculptural ceramic vessels, she combined images of veves — cultural symbols of the African diaspora — with the hammer and sickle, an international symbol of working-class unity and revolution. Her aim was to actively redefine the negative connotations usually associated with these symbols. Outside of a few murals, Louissaint did not paint during her time in the MFA program, and admits that returning to the practice has been tough.
"It's like going back to a country after living abroad and having to reacclimate to the language," she said.
In February, she took part in the first-year MFA UC Berkeley show, "When Things Get Back to 'Normal'" and in the ongoing Collective Architectural Intervention led by Caleb Duartec at Yerba Buena Center of the Arts entitled, "The Monument as Living Memory." As an award recipient, Louissaint will take part in the Murphy & Cadogan Contemporary Art Awards Exhibition in the fall, which will include paintings and a video project presented at SOMArts Cultural Center starting in September. Next spring, she will have her thesis show at BAMPFA.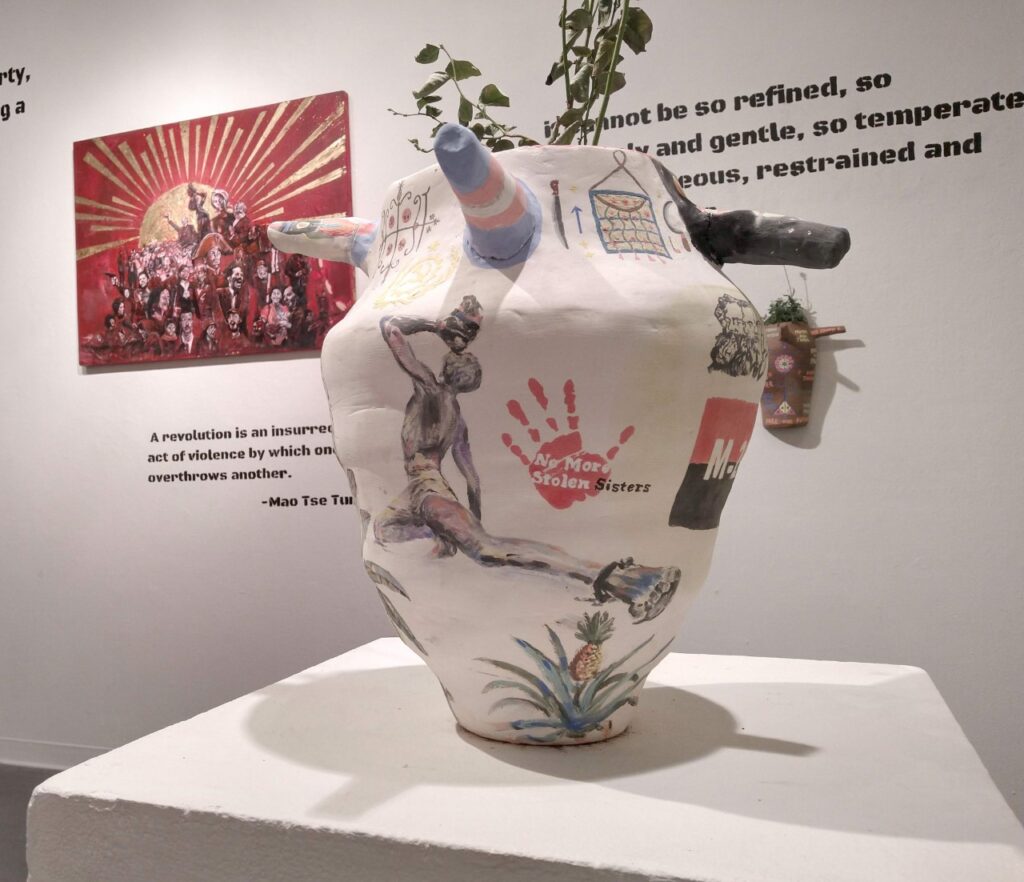 No matter the medium, Louissaint's work is rooted in a belief in the urgency of openly questioning and debating the violence, destruction, stratification, and inequality created by ideologies and powers-that-be.
"I hope my work can be a tool that helps us question, learn, reflect and take action to create the revolutionary change necessary to save life on earth," she said.
For more information, visit Louissaint's Instagram page.