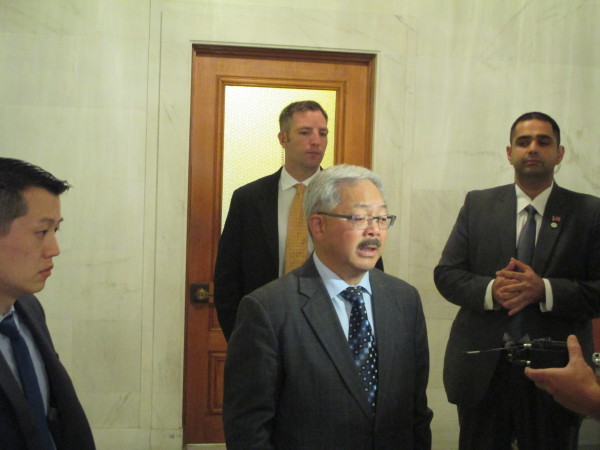 By Tim Redmond
JULY 15, 2014 — Over at the Haight Ashbury Neighborhood Council Thursday night, a group of political observers and activists (including, yes, me) were talking about the meaning of the November election, and an interesting thread emerged.
On panel were Corey Cook, USF political science professor; Connie Ford, longtime labor activist; Chelsea Boilard of Coleman Advocates for Children and Youth, and moderator Calvin Welch of HANC.
And as we batted around the extraordinary number of significant initiatives on the fall ballot, it became obvious that one of the major narratives of SF politics, 2014 is completely off base.
We hear over and over – from the Chron, for example, and the mayor, and certainly from the Assembly campaign of Sup. David Chiu – that the board and the mayor these days are a much more effective group.
The era of the crazy lefties, the time when the likes of Chris Daly and Aaron Peskin were running the show, gets dismissed as "divisive" and "dysfunctional."
But let's look at facts. Right now the single most important issue in the minds of anyone in town is the rising evictions and the lack of affordable housing – and the moderate, effective mayor and board president have utterly dropped the ball.
There's been one piece of critical housing legislation aimed at stopping evictions, and it came from the board's left flank, from Sup. David Campos. The mayor refused to sign it, even after it won a veto-proof majority.
Mayor Lee has insisted all spring that the only way to solve the eviction crisis is with state legislation – and despite the best efforts of Sen. Mark Leno, that failed. We all knew it would be an uphill fight; the state Legislature is generally terrible on tenant issues. But the mayor put off of his efforts in that one arena, ignoring local efforts, and lost.
So where's the housing agenda now? It's on the ballot.
Nothing wrong with ballot measures, but they tend to reflect a failure of policy makers to address critical issues. In this case, an anti-speculation tax and a housing balance measure are both going before the voters. And, in an odd move that I haven't seen since the Willie Brown days (wait, are they even over?), Lee has put his own measure up that would effectively repeal the housing balance plan.
Does this sound like "consensus" and "functional government?"
The anti-spec tax is actually an increase in the real-estate transfer tax based on how long a property is held before it's sold (and since it's a tax, it has to go before the voters anyway). The housing balance law would link permits for new market-rate housing to a city goal that 30 percent of all new units be affordable.
The mayor's answer: A ballot measure that would essentially remove all roadblocks to building market-rate housing and would prevent any mandates for more affordable units.
Chiu weighed in on the controversy in today's Chronicle, suggesting that both sides back off and instead work together for a "housing bond" in 2015. Of course, building new affordable housing is expensive; I'm not clear how big a bond he's talking about, but most estimates put the cost of a new unit somewhere between $300,000 and $500,000.
So let's say we put a $300 million bond act on the ballot. San Francisco officials have been trying to avoid issuing new bonds until we pay off existing ones, so that nobody's property taxes go up, but never mind – the voters will probably accept a modest tax hike for a good affordable housing plan.
That bond act would get you – at most, at the lowest price point – 1,000 new affordable units. Nice, good, everyone wants that … but if the mayor wants 30,000 new housing units in the city, and we use the city's own General Plan as a guideline (it calls for 60 percent of all new units to be below-market-rate), a sizable bond act would produce about 1/18th of what the city needs.
To meet the actual need, we'd have to have a bond act of $5.4 billion – and that's assuming that land and construction costs don't go up in the next 10 years, and that the city can build affordable units at the lowest possible price.
Just to meet the Housing Balance Act goals of 30 percent affordability, the city would need to issue more than $2 billion in bonds.
I somehow suspect Chiu isn't going that far.
During Question Time at the board meeting today, the mayor said that he wants to see 30,000 new housing units in the city, with 50 percent of them affordable. I ran the numbers on my notepad, and if we assume a (low) $300,000 per unit cost, we're taking about $4.5 billion.
I asked the mayor in the hallway if he was suggesting a bond act in the billions, or where else he could find that money. He said some of the money would come from the federal government and go to rebuild and expand public housing (but that won't be more than a few hundred million dollars, at best). Some of it will come from the 12 percent to 15 percent inclusionary housing that's currently required. Some of it will come from the $1.5 billion housing trust fund that the city's already put in place.
But there's still a huge shortfall – and the mayor's current ballot measure contains no new sources of funding. I kept asking: Where are you going to get to $4.5 billion? "Well," the mayor said, "we have a lot of time."
A lot of time could be, say, ten years. Fine: $450 million a year. I don't see where that's coming from unless we start seriously talking about new revenue.
So while lots of people would support a housing bond in 2015, there no way a single bond act will solve the problems facing this city. Which is why the voters will have a chance to put a dent in speculation and force (not ask, but force) developers to participate in building the needed lower-cost housing.
Remember: In a housing crisis, the most valuable (and cheapest) affordable housing is the housing that already exists, and protecting the rent-controlled stock from evictions and conversions to TICs is way, way less expensive and way, way more effective that trying to replace it.
By the way, if you think that we can build our way out of the problem, spend ten minutes learning why that's insane.
The New York Times had a classic piece of parachute journalism on City College today, an argument that the school is only being allowed to survive because it's "too big to fail" and has political support.
"Most of City College's problems have not been resolved," the story says. That's entirely wrong; pretty much everyone involved agrees that most of the problems have been resolved.
Nobody says that City College is an educational failure; in fact, there's almost nothing in the report to suggest that students aren't learning. The debate over accreditation is all about administration, structure, and the interest of the ACCJC in changing the mission of City College.
You'd think the New York Times could figure that out.