By Tom Temprano
DECEMBER 5, 2014 — It has been difficult, if not impossible, to focus on anything in the news besides the utterly demoralizing non-indictments coming out of Ferguson and New York over the past week and a half. Grand Juries in both these places have ruled that in 2014, being a black man is an offense punishable by death.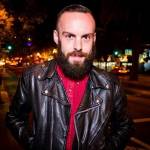 In the Bay Area, the response to these miscarriages of justice by protestors in Oakland, San Francisco and even Palo Alto has been swift, passionate and by most measures very effective in engaging communities and keeping local and national media focused on things infinitely more important than where you can score the best holiday shopping deals. Case and point: the shutting down of BART on Black Friday by protestors, including Alicia Garza, cofounder of the Black Lives Matter movement, which has become a rallying cry across the country, that was one of the most viral protests we've seen in the Bay Area in a decade.
On Wednesday evening, I joined a group of 20 or so people for a die-in by the Powell and Market Cable Car turnaround to protest the non-indictment in the death of Eric Garner. At around 6:30pm we formed a human chain across Market Street. And then something that I haven't witnessed ever in my years of protesting here in San Francisco happened: people joined in. Lots of people. What started as a small group quickly ballooned into dozens and ultimately hundreds of people filling Market Street as folks who had been either heading home from work or out doing some holiday shopping at the mall realized that something far more important was going on.
To see so many people so spontaneously engage in an act of civil disobedience, which I'm sure was a first for many, and join perfect strangers in the street to demand justice is something that this country needs a whole lot more of.
San Francisco's elected officials are usually quick to weigh in on issues of national importance (see: that time that nearly everyone in City Government showed up to Occupy SF) like what is happening in Ferguson and in New York. That said, reactions have been largely muted or silenced at the top over the past couple weeks. The League of Pissed Off Voters released a blog post this week comparing the reactions of Mayor Ed Lee and New York City Mayor Bill de Blasio to the Eric Garner decision, which can be surmised as: De Blasio cancelled his events, and addressed the city about injustice — while Ed Lee went shopping. Journalist Rebecca Bowe also noted in a Facebook update that a search of both Assemblymember David Chiu and Baron of San Francisco Ron Conway's Twitter feeds shows absolutely zero mention of Mike Brown, Eric Garner, Ferguson or really anything about what is happening. She pointed out that this is particularly surprising given both men's big-dollar efforts to make the accountability of a law-enforcement officer the central wedge issue in a nasty Assembly race.
There have been some elected officials who have spoken out about Ferguson and New York, most notably Public Defender Jeff Adachi who released powerful public statements about the lack of justice for Mike Brown and Eric Garner, and Supervisor John Avalos who introduced a resolution calling on the Department of Justice to expedite its investigation of the murder of Mike Brown and to reform the Ferguson and St. Louis County Police Departments. I spoke with Avalos' aide Jeremy Pollock, who let me know that his office is working with organizers like Alicia Garza to ensure that the resolution is in line with other Ferguson Action demands when it is heard at the Board this coming Tuesday.
On a different, but police-accountability related note, Supervisor Avalos is also working on ideas for civilian oversight of military-style equipment purchased by the SFPD using Federal Anti-Terrorism dollars. Similar equipment (including attempted drone purchases in Oakland) has been subject to some serious pushback in communities across the Bay Area so Avalos' efforts will likely spark lots of interest.
On January 8th, the San Francisco Board of Education will say goodbye to member Kim-Shree Maufus after eight years of service to San Francisco.  I served with her on the Harvey Milk Club's board several years ago and can say from experience that our school board will be losing a hell of a fighter for justice in our schools. I asked Kim-Shree what the most important work she helped to oversee during her tenure was and she said the Restorative Justice Initiative/Restorative Practices Implementation and bringing A-G Graduation Requirements for all SFUSD Students to be "generational game-changers" for kids of color. She noted her four-year-old granddaughter Marley, will now have these changes embedded into the school system that educates her and her classmates.
So how will Kim-Shree be supporting our students moving forward? As a teacher, of course. Right now she's working full-time on her doctorate in education at USF and will be coming to an SFUSD classroom near you.