Choice nightlife and dance floor affairs, Fri/5 and Sat/6.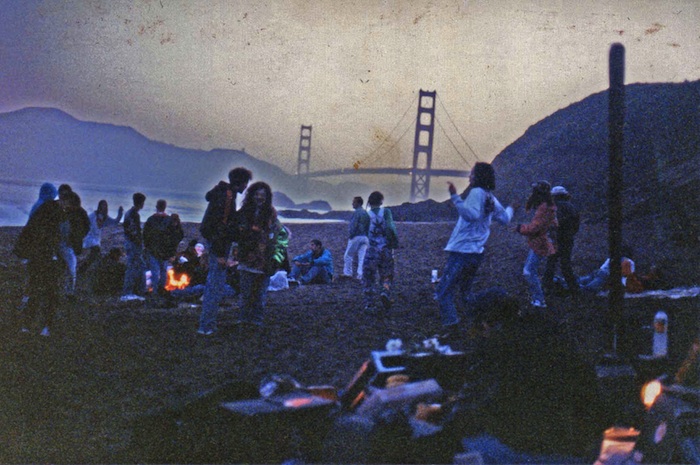 By Marke B. 
I just got back from three weeks in Turkey, where all the men look like hot bearded gay artisanal bartenders from Brooklyn in 2013. Yet most emphatically ARE NOT any of those things (except hot and bearded). So… awkward. I had absolutely no idea how not to flirt! Good thing the pop music was as gay as could be.
I'll tell you all about my adventures with my Hunky Beau and international party crew once I sort through 4000 pictures and Turkish delight receipts. But the clubs, including the pretty great gay clubs, were popping in Izmir and Istanbul — things get going there around 2am — and all night up and down the city's gorgeous main pedestrian thoroughfare, Istiklal, people were partying, showing off their global looks, and having a great time. Why can't we have that here, please?
What do we have here? Well, grand and gorgeous new Dogpatch club/gallery/everything venue The Midway recently opened, brought to us from some of the players behind Public Works.  The Board of Supes passed important legislation to help protect what nightlife we still have from encroaching development concerns. Awesome! Oh, and I wrote a really  long, intense, but fun history of the EndUp, if you're interested. (Also I'm DJing at Booty Call next Wednesday, come say hi!)
But alas, yesterday came the announcement that rough-and-tumble gay bar Truck is closing. I will miss its crazy pop-up dinners, oddball musical programming, and strong, macho pours. there will be a series of "Moving Truck" farewell parties, so hop aboard on those.
Beyond that, there are so many fun parties now that summer's heating up! Here are some good ones:
>>>> FRIDAY <<<<<
>>SOUNDWAVE LAUNCH The great biannual audio festival that fills all the city's nooks and crannies with sonic adventure is having a launch party/fundraiser for its seventh edition, which takes place in 2016. (Don't worry, there'll be plenty of events to tide audio adventurers over with Soundwave's SonicLabs happenings until then). An ethereal performance by Christopher Willits, a projection mapped installation by Azael Ferrer Gordo accompanied by modular synthesist Anthony Bisset, an audio-visual performance in a mapped dome by Elia Vargas and Nathan Blaz, and a DJ set by Ash Williams and other interactive installations will kick things off.  Fri/5, 7:30pm-11pm, $25. Obscura Digital, tickets and more info here. 
>>MODULAR OPEN AIR Hurray, it's time to rave in the streets, screw the weather! The Modular techno crew brings its unique brand of dance-mania to Justin Herman Plaza, with DJs Pedro Arbulu, Matt Hubert, Trey Courtney, Fabian Campos, Ben Jorgen, Lazer Beahm, Lindsey Herbert, and more. Yes, there will be afterparty.  Fri/5, 3pm-9pm, free. Justin Herman Plaza, SF. more info here.  
>>TRAXX Jack-jack-jacking is the action with this celebrated Chicago DJ, who keeps one foot in old school house while reaching for wonderfully eclectic sounds. (Appropriately, psychedelic house DJ Solar and deep techno aficionado Mozhgan are opening.) I go nuts for his sets, as many do, and it will be a treat to see him at the We Are Monsters party at Monarch. Fri/5, 9:30pm-3am, $10. Monarch. SF. Tickets and more info.
>>POLYGLAMOROUS Honestly one of the best gay parties in the city, with two rooms full of mind-expanding and just plain fun music, a little Burner-Faerie vibe mixed in with the half-naked mens, and an underground feel. DJs David Sylvester and Trevor Sigler of Friends With Benefits records liven up Oasis's big dance floor, while Boyshapedbox and Riley Patrick hold down the intimate Fez Room. Fri/5, 9pm-3am, $7-$10. SF Oasis. Tickets and more info here. 
>>XXYYXX and TOBACCO Wonderfully weird and melty vibes from these two players. Tobacco performs ambient-freaky compositions live, while XXYYXX brings the deep and soulful post-dubstep feel. "No backpacks allowed" will give you a clue as to the crowd for this huge Scene Unseen party. With Bebe Huxley, Leikeli47, Stone Cactus, and more. Fri/5, 10pm-late, free with RSVP ($20 guaranteed entry). 1015 Folsom, SF. Tickets and more info here.
>>>>>SATURDAY<<<<<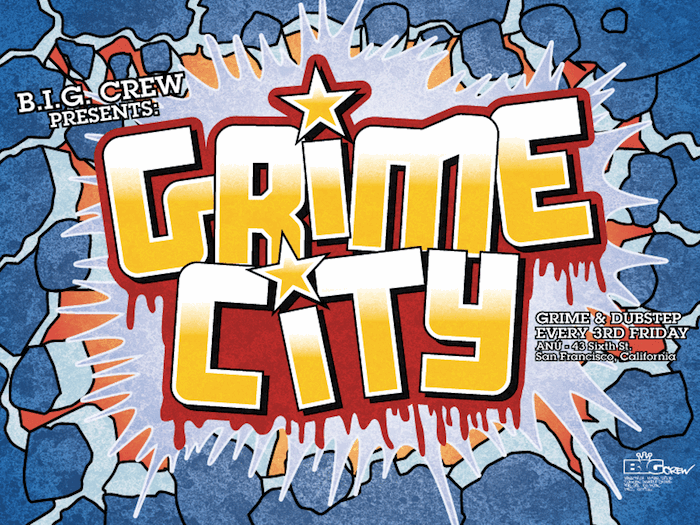 >>GRIME CITY 10-YEAR REUNION Ah, remember when dub step was fresh, more an underground product of UK two-step and dark dub than teeth-grinding noise to sell neon-colored energy drinks to your kid brother? The Brothers in Grime crew was instrumental in bringing the sound to SF with its Grime City parties: Here's  reunion to remind you what it was all about. With Baltimore's Joe Nice and DJ Seven from the UK. Sat/6, 10pm-late, $15-$20. 1192 Folsom, SF. Tickets and more info here. 
>>24 YEARS OF WICKED SF's classic psychedelic rave crew is back, and even though we won't be greeting a full moon on the beach this time around, we will be dancing to Jeno, Garth, Markie, and special guest Doc Martin (we miss you, Thomas!) until the sun comes up at Mighty, with a floor full of awesome old schoolers and curious newbies. Good stuff. Sat/6, 10pm-6am, $20/$25. Mighty, SF. Tickets and more info here.  
>>DICKSLAP Hyperstylish DJ Nark brings monthly underground gay Seattle vibes  to the Eagle — yes, you will probably get slapped by a hunky go-go boy's willy. But his party features supreme local talent: This month, Robert Yang, aka Robot Hustle, from Honey Soundsystem takes us on a typically cosmic journey through genres, eras, and continents. Sat/6, 9pm, $7. The Eagle, SF. More info here.   
>>MATTHEW DEAR The dark prince of experimental pop (I love him under his Audion alias as well) is back in the Bay for a marathon six-hour set at Public Works. Expect a lot of sensuous techno not too far out of range of Depeche Mode, and a lot of fun, edgy techno from opener Daniel Bortz. Sat/6, 9:30pm-3:30am, $15-$25. Public Works, SF. Tickets and more info here. 
>>GO BANG! It's disco-mania at our very own little Studio 54 (but grittier and wittier). Special guest Eugene Tambourine from New York joins residents Steve Fabus, Sergio, and Prince Wolf to shake things up. Sat/6, 9pm-3am, $10. The Stud, SF. More info here.
>>WOMEN RESPOND TO BASS I wish DJ events that featured women weren't almost always called "Ladies Nights" (and also usually sexualized in some way and/or transformed into breast cancer awareness fundraisers), but the sad state of affairs is that all-female lineups are still a novelty in the dance music scene — now made even worse by the bro-tastic rise of EDM. So even though this is billed as, yes, a "ladies night" (by the women throwing the party themselves, so hey I should shut up) at incredible Lower Haight record store Vinyl Dreams, it's going to be a sheer joy to hear Teemoney, Carla Lyn, and Jess-Amiga throw down in a funky, vinyl style in the early evening. Sat/6, 5pm, free. Vinyl Dreams, SF. More info here.
>>HARD FRENCH Hurray! Our favorite old school soul-stompin' queerific patio party is back, this time pairing up with awesome funk band Midtown Social for a rip-roaring Pride Month kickoff celebration. There will be free BBQ! Sat/6, 2pm-8pm, $10. El Rio, SF. More info here.  
>>PLAN B Will there finally be a consistent reason for us to go out dancing in the Castro in weekends? This new monthly (first Saturdays) promises some quality house music, especially with special guest DJ Rolo of Fag Fridays fame on tap. DJs Bradley P and Brian Urmanita kick it all off in style at Q Bar. Sat/6, 9pm, $5. QBar, SF. More info here.