… and a couple of key elections that are still underway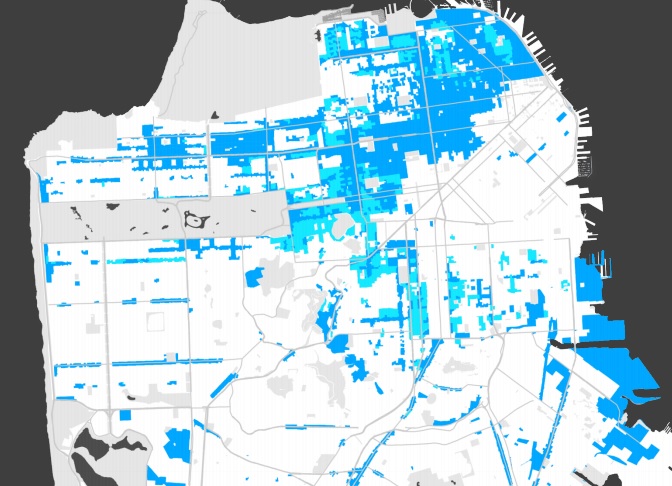 By Tim Redmond
NOVEMBER 23, 2015 – There's not a lot going on at City Hall this week; things tend to slow down for the holiday. Which gives us a chance to talk about a couple of things that have been floating around this fall and that have gotten lost in the campaign season.
There is, for example, this grand plan for what city officials call an "affordable housing density bonus."
Here's how it's supposed to work: If you are going to build new housing in the city, and you are seeking permits in an area with pretty low height limits (like most residential neighborhoods) you can get as much as two stories or extra height if you agree to build more affordable units.
Nice, right? We aren't talking about giant highrises, just and extra ten or 20 feet in exchange for an increase in below-market units. Let the developers do what they do, and make the new places just a little taller, and we suddenly have thousands of new "affordable" units.
But Tommi Avicolli Mecca, a longtime tenant advocate at the Housing Rights Committee, points out that there's a huge loophole here:
What happens if developers decide to demolish existing rent-controlled housing units to build taller buildings with more units – but no rent control?
There are thousands and thousands of places in the path of the city's density-bonus program that are smaller than what the plan would allow. Among them, Mecca told me, is the site on Castro where Harvey Milk's camera shop once stood.
"Are they going to tear down that building?" he asked.
The current city law makes it hard to demolish existing residential units. Any demolition plan requires a conditional use permit, which means a full hearing at the Planning Commission. The code is designed to discourage any housing demolition; the default assumption is that housing should be preserved.
But what happens when a developer comes to the commission and says: Hey, I'm tearing down six units – but I'm going to build ten, and three of them will be affordable?
The way this commission, and for the most part this Board of Supervisors, has been trending, anything that offers more housing is good. So that's an argument that might have traction.
Two problems: A lot of that existing housing is in irreplaceable Victorian buildings, part of the city's historic legacy, which would be turned to dust in the name of (ugly) new utilitarian structures that maximize space.
And under state law, all housing constructed after 1979 is exempt from rent control.
So you tear down rent-controlled housing, which means the existing residents are evicted and forced out of town, probably out of the Bay Area. (Any eviction of long-term working-class tenants or people on fixed incomes today means they are gone, forced to move to another part of the country.)
Then new units that are not under rent control are built, along with some below-market units – probably fewer than the existing affordable units that were destroyed.
Oh, and the existing tenants won't have any preference for those affordable units, which won't be built until those tenants have already fled the region.
In the end, maybe, net loss of affordable housing.
Remember: In a housing crisis, the most important, and least expensive, housing is what already exists. The first priority has to be preventing the loss of rent-controlled housing stock.
"We went to the planners and asked about this, and they said they would get back to us," Mecca told me.
I tried the same thing: I posed the question to the chief planner on the program. What, I asked, will prevent developers from demolishing existing rent-controlled housing to build more new units that might not be under rent control?
No answer.
I don't think the battle over Fifth and Mission is over – and the same goes for the board's approval of a highrise condo complex on the waterfront at 75 Howard.
There's a good chance of lawsuits challenging the EIRs in both projects – and there's also the prospect of ballot measures.
The developer of 8 Washington got all of his City Hall approvals, too. And that is now dead, thanks to a vote of the people.
Voting is on for the local board of the Sierra Club, and a pro-development group is trying to take control. If you're a member, you get to vote (and a lot of members don't). There's a big difference between the slates, and you can figure it out pretty easily – the ones who have only been members since 2014 are the developer-driven candidates who want to make the local chapter promote more market-rate housing. The ones who have been members for many years are credible environmentalists.
There's also a battle for control of the SF Bicycle Coalition, between a group that is more focused on the single-issue of bicycles and a group that wants the organization to veer more toward larger transportation justice issues. Also: One group wants to eliminate elections for board members in the name of "privacy."
The coalition has always walked a fine line between doing the narrow mission – advocating for better conditions for bicycling in SF – and being part of a larger progressive coalition. In the last election, for example, the coalition endorsed both Aaron Peskin and Julie Christensen, who might both like bikes but who have very different vision about issues of economic and transit justice.
The November municipal election is over. Two key environmental groups are just starting theirs.