A committee funded in large part by Airbnb and tech executives has unleashed a remarkable hit piece that targets almost entirely women of color running for the Democratic County Central Committee and calls them tools of a "Peskin Machine."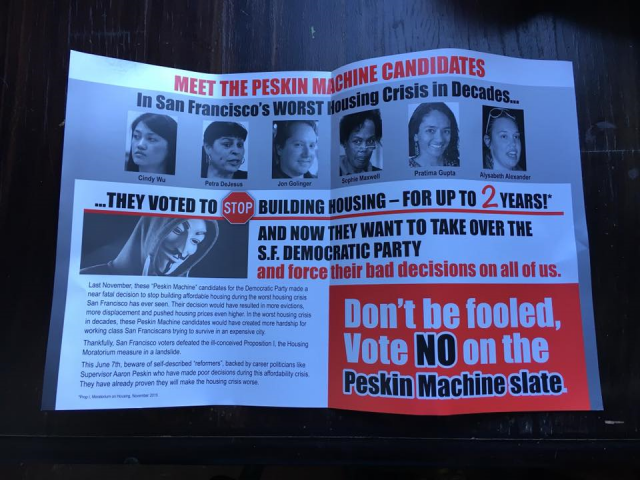 The piece accuses the candidates of "voting to stop building housing" in "the worst housing crisis in years" and tries to appear as a progressive mailing with a big stop sign over the words "evictions and displacement."
Of course, Airbnb has been a huge source of evictions and displacement in the city.
The political goal here is obvious: The consultants who wrote the hit piece are trying to target progressive reform candidates who might be on the cusp – that is, people who might be close to winning a seat on the DCCC.
None of the targets are current elected officials who took any votes at all on any policy measures related to housing.
There's no attack on Tom Ammiano, or David Campos, or John Burton, or even any mention of Aaron Peskin (except for his "machine," which we will address in a moment.)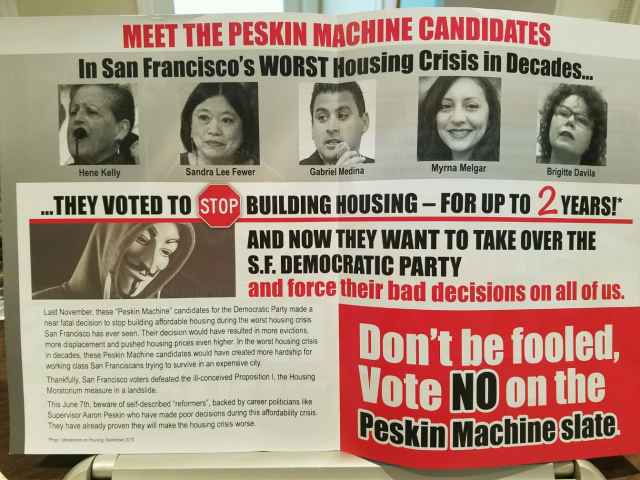 Those candidates are almost certain to win one of the 24 contested seats in the critical DCCC election June 7.
So are the conservative candidates with high name recognition, like Scott Wiener and London Breed.
The control of the panel will be decided by the handful of people who aren't already well-known or incumbents – and the ten candidates attacked by this radically misleading mailer all fall into that category.
Oddly, in the mailer sent to the West Side of town, there's an attack on a man – Gabriel Medina – who isn't even on the reform slate. "I guess that's because it would have looked even worse to be attacking only women," Myrna Melgar, one of the subjects of the hit piece, told me.
She added: "It's shitty, to say that all of these women are just puppets of this guy."
Let's get this part straight right now: Aaron Peskin has no "machine." He was recently elected to the Board of Supes with widespread progressive support, but the rest of the progressive wing on the board, and the progressive community in the city, clearly doesn't take any orders from him. Witness the recent discussion over the future of the police chief; four supes have called for his resignation, and Peskin is not among them. In fact, when we asked Peskin for his position on the chief, he said "no comment."
And Peskin wasn't even the main person creating the Reform Slate for the DCCC. That was David Campos.
But apparently some polls somewhere suggest that the term "Peskin machine" might be negative, so that's what's on the mailers.
The mailers attack the eight women and two men for voting "to stop building housing." The smaller print says they "made a near fatal decision to stop building affordable housing." That's not political hyperbole; it's a lie, and there's no other way to put it.
The "vote" that this piece talks about was in favor of Prop. I – a measure on last fall's ballot that would have stopped all MARKET RATE housing in the Mission until the city had an anti-displacement plan in place. Prop. I would NOT have stopped ANY affordable-housing projects.
Every single legitimate tenant, anti-eviction, and anti-displacement group supported Prop. I.
"It's a serious debate," Melgar, who has spent most of her career in the affordable-housing field, told me. "Do we believe affordable housing is created by the free market, or do we believe that government intervention will create more affordable housing?"
The people who are attacking the Reform Slate women are also, in many cases, opposing Prop. C, which would mandate more affordable housing.
The mailers attack Cindy Wu, Petra DeJesus, Sophie Maxwell, Pratima Gupta, Alysabeth Alexander, Hene Kelly, Sandra Lee Fewer, Myrna Melgar, and Brigitte Davila. Oh, and Gabriel Medina and Jon Golinger, who are I guess the two token guys.
The mailers were produced by Progress San Francisco. According to state and local campaign-finance filings, that group recently received $20,000 from a committee controlled by Airbnb.
Airbnb, of course, is facing new regulations on its local business model, and has a direct interest in the outcome of the June election. If the real-estate slate, which supports this mailer, wins, the company will have a much easier time electing pro-Airbnb supervisors in the fall and derailing any attempts to limit illegal short-term rentals.
Among the other donors: Kevin York Systrom, CEO of Instagram ($30,000); Matthew Cohler, general partner, Benchmark Capital ($25,000); Zachary Bogue, Investor, Data Collective ($5,000); Stephen Simon, Simon Equity Partners ($5,000); Fergus O'Shea, facilities director, Facebook ($250)
It's a little tricky figuring all that out. The committee filed as a state "slate mailer" committee, but the SF Ethics Commission doesn't have full records on it. That's a loophole that Friends of Ethics is trying to close; SF Ethics ought to be a one-stop shop for filings that impact local races.
From FOE's Larry Bush:
Friends of Ethics asked for transfer of Slate Mailer filings from the Department of Elections to the Ethics database for nearly two years.

All that is required is for Ethics to ask the Board to transfer the filing. There is a letter on file from the FPPC stating San Francisco has this authority.

Here is a current example of why that transfer is vital if we are to follow the money in our elections.
In April "Progress San Francisco" filed as a slate mailer organization. It does not file a statement of organization (Form 410) or contributor information in San Francisco.
Some records can be found on the Secretary of State's web portal.

Since organizing on April 27, it has made independent expenditures through its slate mailer totaling $39,278.06, all for candidates in San Francisco's June election. This information cannot be found on the SF Ethics database, but can be obtained on Cal-access by the Secretary of State.

It reports no other expenses — no office or consultant or other costs.

Friends of Ethics suggests that this is a compelling example of the need for the Ethics Commission to act speedily to ensure that slate mailer filings be transferred to Ethics and included in the database.

If that cannot happen speedily, I recommend that the Ethics Commission database note that there are entities that do not file with Ethics and that their contributors and expenditures are not included in these databases, may involve significant spending, and that some information can be found on the Secretary of State's web page.
I've seen a lot of political sleaze in this town in my 30-plus years of watching elections. But when it comes to lies and slime, this one is near the top of the list.