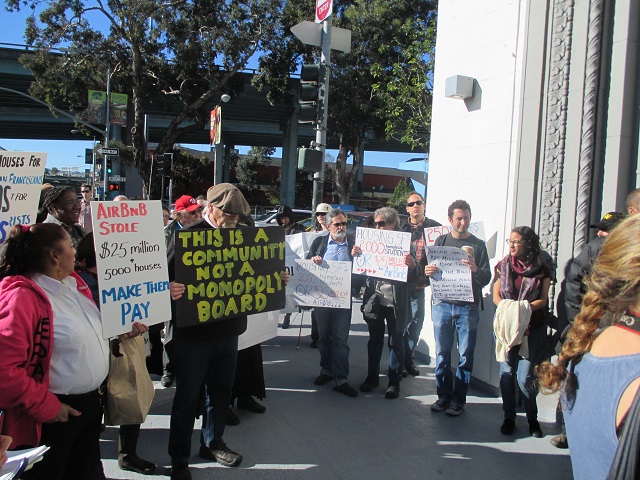 I am going to let Doug Engmann, former chair of the Pacific Stock Exchange and president of the SF Planning Commission, make the point about the city attorney's settlement today with Airbnb:
It's a game changer. If other American cities follow San Francisco's lead and hold Airbnb accountable for facilitating illegal activity, it could have a material impact on the company's revenue and $30 billion valuation. Venture capitalists, private equity funds and institutional investors should be having second thoughts about an enterprise with a business model that ignores local laws, deprives working families of needed housing, and disrupts the lives of tenants, property owners and neighbors.
City Attorney Dennis Herrera announced yesterday that the tech giant had dropped its ill-conceived suit against the city. The city clearly had the upper hand: Cities can regulate land use; cities get to decide where hotels go and where residential areas go.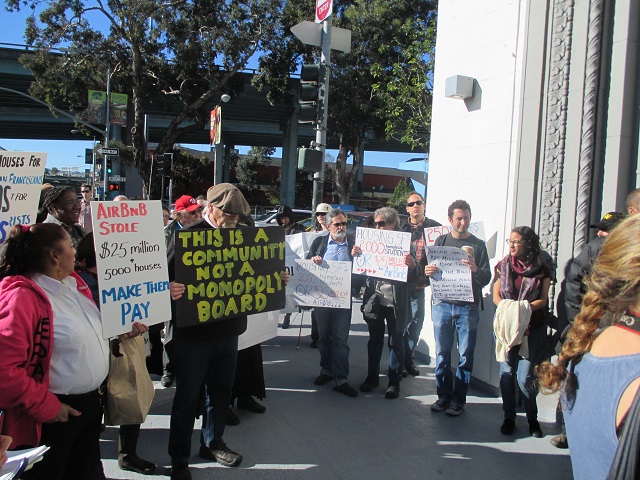 And it looked horrible for Airbnb to be suing its hometown.
So Herrera was able to set out terms that are largely favorable to the city – and that set a national precedent. Airbnb has agreed to what the city wants, thanks to legislation by Sups. David Campos and Aaron Peskin.
And what the city wants is simple: Airbnb, and other "homesharing" hosts (this isn't sharing, by the way, it's a commercial transaction) have to agree not to list any properties on their sites that don't have a local license.
In exchange, the city agreed to make it easier to get a license, which is fine.
But the settlement shifts the burden of proof off the city and tenants and neighborhoods, which have complained for years about illegal Airbnb units, and forces the platform that is making huge amounts of money when landlords evict tenants and turn apartments into hotel room to comply with local law.
The settlement came just days after a hearing at the Board of Supes Government Audit and Oversight Committee at which city officials admitted that Airbnb's claims of wanting to be a good neighbor were utterly bogus.
The vast majority of the Airbnb units in San Francisco are currently illegal. If the company actually follows the law, thousands of new housing units could come on the market.
The only thing the deal doesn't do is go back five years, find all the illegal evictions, and give those tenants back their homes, at the rent they used to pay.
Maybe we can do that next.
And the city still has a huge enforcement job ahead: Landlords will continue to break the rules unless there are consequences.
In the meantime, maybe this will send a message to the tech industry in general (including Uber): You can't just break the law and later ask to be legalized.
And I hope that Assemblymember David Chiu, who as a supe allowed Airbnb to operate without the rules that are now in place, and all of his supporters, including Sups. London Breed, Mark Farrell, Katy Tang and Malia Cohen and now-Senator Scott Wiener, look back on this and realize they were wrong.
Mayor Ed Lee, who told the Chronicle that this settlement was just dandy, was a big supporter of the legislation that allowed Airbnb to operate legally — without this new provision. For three years, his administration has done very little to crack down on the thousands of illegal operators.
Now the city's going to have to enforce its new law — and make sure that about 6,000 unregistered listings are removed from the short-term rental market. We will see how that goes.