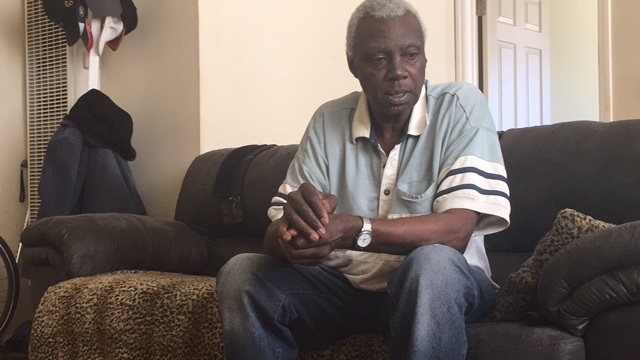 John Brown walks slowly up to his second-floor apartment, but he doesn't ask for help. The 68-year-old Vietnam Vet and former firefighter is happy in his one-bedroom unit in Bayview; it's small but comfortable, clean and tidy. He has his own kitchen and bathroom. "I wish I had more closet space," he tells us. But that's about the only issue.
Most of all, it's stable. With a federal voucher covering his rent, and a modest income from social security and a veterans disability payment, he's able to take care of himself.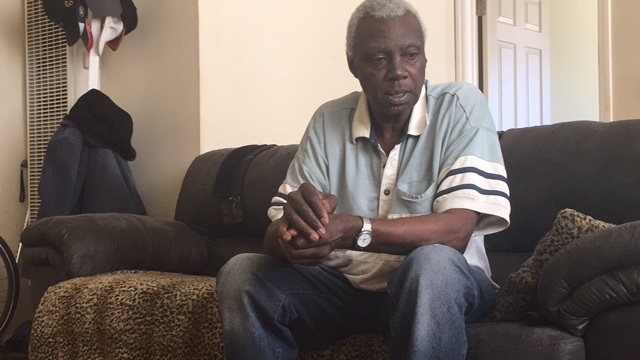 It wasn't always this way: After 18 years in the Fire Department, he lost his job and his home to crack addiction. For ten years, he struggled with drug abuse, winding up in the VA hospital and a string of group houses.
And now, clean and sober, he's at risk of losing his home. It's an odd situation: Brown has no problem paying the rent, he's not violating his lease, he gets along fine with his landlord, there's no Ellis Act or Owner Move-in taking place. The building hasn't been sold.
He's facing eviction because his apartment was built illegally – and now the city is cracking down.
Brown's landlord is Judy Wu. She bought the Revere St. building where Brown lives at the height of the foreclosure crisis; she also bought 11 other buildings.
According to a suit filed by City Attorney Dennis Herrera, Wu illegally cut up those single-family homes with 15 legal units into small apartments, creating 49 units. Most of them, the city attorney says, are rented to veterans, and Wu is collecting nearly $1 million a year in federal voucher money.
The complaint says that the buildings are overcrowded, and Sup. Malia Cohen has complained about trash and parking problems. All of that is probably true (there was, in fact, quite a pile of trash out in front of 1315 Revere when we visited).
Still, the Housing Rights Committee says it's unfair to evict the tenants, many of whom might wind up back on the streets.
Wu is asking the Planning Commission for permission, under the city's in-law legalization law, to bring one unit per building up to code. But that still leaves at least 15 units in limbo.
According to the Planning Department, they have to be demolished. The tenants are appealing the demolitions to the Planning Commission, which will hear the case Thursday/27.
Tommi Avicolli Mecca, an organizer with HRC, told us that even if Wu did convert the units illegally, the tenants did nothing wrong. "Why in the world would the city be demolishing 15 rent-controlled housing units?" he asked.
Mecca told us that the city has promised to try to find replacement housing, but that might be in SROs – a step down from individual apartments, no matter how small, with full amenities.
Brown, who grew up in the Western Addition, told us he'd spent enough time in group housing and doesn't want to go back. He's looking around – but there's not much available in his price range.
"Section 8 housing is hard to come by," he said. "I don't know what's going to happen."
He also told us nobody from the city had contacted him and he wasn't sure what was going to happen or where he would wind up.
City officials say they don't want to reward Wu for her illegal conversions, which makes perfect sense. Herrera is, of course, just doing his job by suing a scofflaw and enforcing the city's existing planning and zoning laws.
It is worth noting, though, that the city allowed Airbnb to violate planning and zoning laws for years before retroactively legalizing short-term rentals – rewarding a big company for lawbreaking. The city allowed Uber to violate the city's transportation laws for years, rewarding what is now a giant corporation for its lawbreaking.
The city allowed Google and other tech companies to run buses illegally parking in city bus zones for years, rewarding those companies for their lawbreaking.
We are not fans of landlords who violate the law. We are not trying to argue that all of these units are code-compliant, and nobody should be living in unsafe conditions.
"So make her bring the units up to code," Mecca said. "Make her take care of the garbage problems. But don't evict the tenants."
That's what's before City Planning Thursday.