ARTS FORECAST The Counterpulse Festival is on this week (Wed/14-Sun/18) and its bursting with performance and arts innovation. One of its most interesting moments: aon mhac tíre, nó roinnt mic tíre (Sat/17 and Sun/18), a performance by queer artists Ruairí Ó'Donnabháin and Mica Sigourney, in which the two translate their six-week walk along the 303-mile (499 km) border separating Northern Ireland and the Irish Republic into epic poetry and movement. 
"The border is currently a soft one, it's very permeable and not set along any specific or obvious division like a road or fence. You may only know you've crossed over because the mailboxes or the street signs change color," Sigourney told me. "It's kind of a middle ground right now, but there's obviously so much history along it, including some incredible stories of smuggling that we heard. But all that might change with Brexit, which harden the border and would completely change the economy, split up families… you can see the obvious parallels to what else is going on in the world."
Kitted out with a paper map, camping supplies, and a few vague notions (as well as a deep history of Irish literature), the two—Ó'Donnabháin a resident of Cape Clear, a Gaeltacht (Irish-speaking) area, and Sigourney, a San Francisco-based child of an Irish immigrant father—hiked, kayaked, and otherwise found their way along unpredictable paths and met with more than a few characters. (The name of the piece translates to "one son of the land or several sons of the land.") 
"At one point we met a Russian man named Vladimir from nearby Castleblaney on the southern Irish side, which is known as the St. Petersburg of Ireland," Sigourney said. "There's so many Russian people living there, since the Irish left to make money elsewhere. So it brought up a lot of questions about what it means to be Irish now, what makes something Irish."
The performance itself is more than a tale or a dance of their walk. "There have been similar art projects—endurance, landscape-based, famous ones like Marina Abramovic's along the Great Wall of China. So we didn't just want to replicate, but rather translate in some way all of our reactions to walking along this soft border, the difference between someone native (Ruairí) and someone diasporic (me), and the implications and complexity of the history. So afterwards, we went to Switzerland and holed ourselves up, and wrote a mythological epic poem about it all," Sigourney said. 
The performance consists of the two reading the poetry as they navigate shards of broken glass and other hazards, and involves dance, drag, dual-language interaction, and more. According to Sigourney: "It's very Irish but also very queer—and it's about the troubles of being outside of borders, invisible and known."
MORE UPCOMING ARTS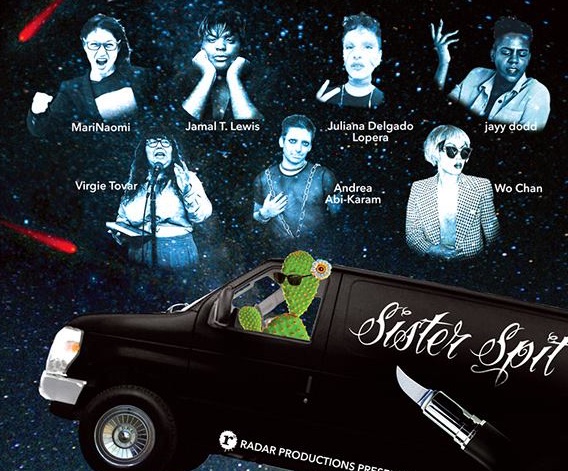 March 15: Sister Spit: "QTPOC Cruising the West Tour—San Francisco" Literary powerhouse Sister Spit celebrates its 21st anniversary (!) with an all-star lineup, including Mari Naomi, Juliana Delgado Lopera, and Virgie Tovar for "an evening of provocation, feelings, analysis, astrology, and shade" at the Stud. More info here.  
Now through April 5: "Diasporic Alchemy" At SOMArts, co-curators missTANGQ and Louis Chinn present an art show in which "artists of the global diaspora explore ancestry, mythology and cultural heritage as the foundational elements for transformation and creative mutation." The exhibition centers artists whose identities as immigrants, activists, LGBTQ, and people of color inform their experience of diaspora. More info here.  
March 15-17: "American Optimism" Something that's in awful short supply lately, get s a musical jolt from SF Symphony, with a performance of Copeland's "Fanfare for the Common Man" and, wonderfully interesting, a world premiere performance of new commissioned work "Sudden Changes" by composer Charles Wuorinen, plus Prokofiev's "witty and fiendishly difficult Third Piano Concerto," performed by Uzbek sensation Behzod Abduraimov. More info here.  
March 16-April 1: "Latin Standards" Beloved comedian Marga Gomez's hilarious and poignant excavation of her family's past—focusing on that of her Cuban showbiz-wiz dad, and her own history performing at Mission gay bars in the '90s — returns to the Brava Theatre for more shows (and rolling in the aisles). More info here. 
March 19-April 7: "Exit the King" Ionesco's absurdist pay at the Exit Theatre (perfect) teaches us to laugh in the face of death: "King Berenger clings to life like he clung to his scepter, but one-by-one his faculties, staff, and two wives are taken from him until he has no choice but to die, as we all must, alone. But will he die at peace?" More info here. 
March 21: Relay for Death Every month or so, the Peacock Lounge is transformed into an experimental noise palace featuring some awesome, mind-bending acts. This time: relay for Death, Jim Haynes, AEMAE, The Third Ear. More info here.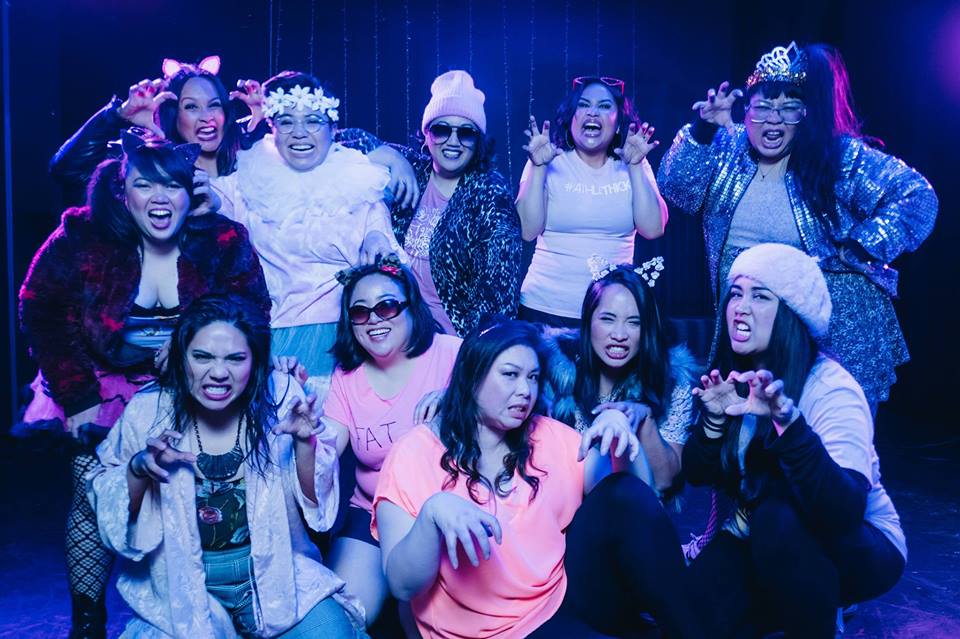 March 22-31: "Here Kitty Kitty: The Pussy Bites Back" The Bindlestiff-originating, all-women, all Asian-American sketch comedy troupe Granny Cart Gangstas, whose "vags' persist to resist," go hard to tickle your panties in these crazy times, with all-new sketches exploring the mundane and absurd. I love them! More info here. 
March 23: Caminos Flamencos: "BailaHora" Our legendary and spectacular Flamenco troupe, led by Yaelisa, celebrates Wonmen's History Month with a special program. "The show is a journey revealing the nature of the woman in flamenco: her essence, her humanity, how she reflects her time, how time reflects upon her, the joy, the artist, mother, dancer and the rapture when the woman envelops the art and the art envelops the woman." More info here.  
March 23: "Chevrons" Through a constant investigation of materials and process, Alex Couwenberg's paintings are informed by the visual landscape of his native Los Angeles. Mid-century design, furniture, architecture, surf and skateboard culture, color and graphics, as well as hard-edge abstraction all play a role in his work. The paint, pin striping, and finish associated with hot rod and custom car culture also impact the aesthetic of his paintings. Couwenberg's newest work embraces the V-shaped chevron form, whose sharp edges are incorporated seamlessly into the overall geometric style of the paintings. At Andrea schwartz Gallery. More info here.