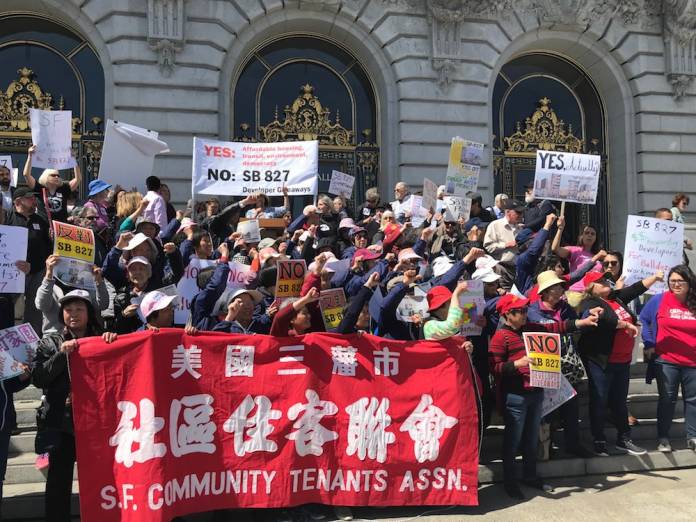 State Sen. Scott Wiener's real-estate bill that would increase height limits across 96 percent of San Francisco faces its first hearing in the Senate Transportation and Housing Committee Tuesday/17.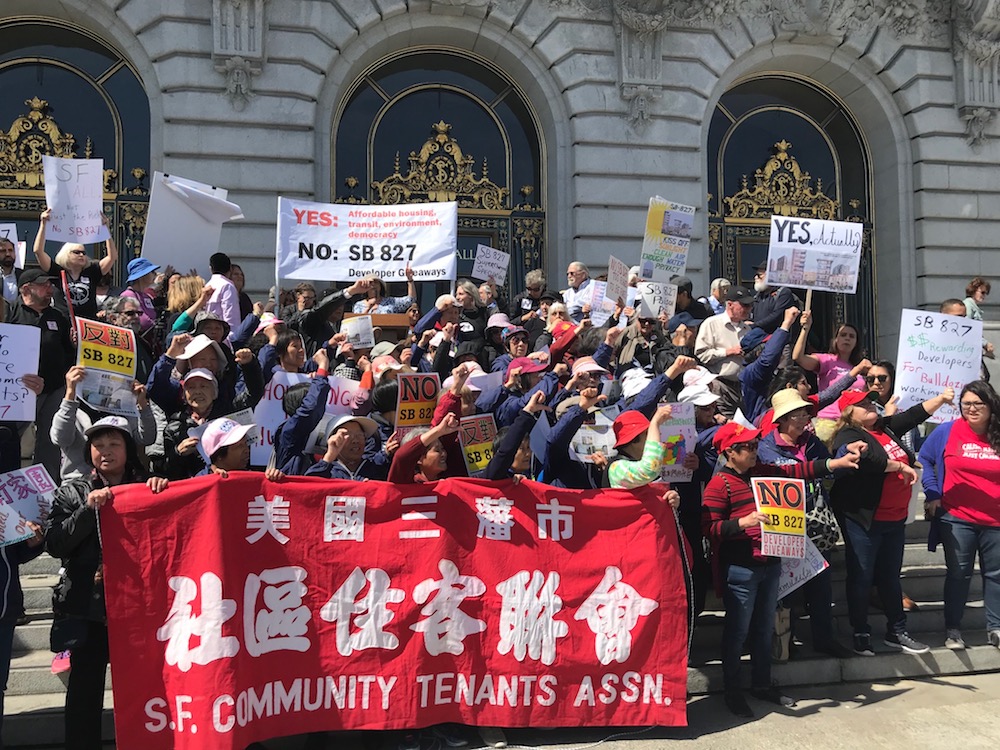 It is not a progressive panel, and doesn't include many representatives of the cities that will be hit hardest by this measure. If Wiener has trouble here, he will have trouble everywhere.
Wiener has amended the bill to reduce mandatory heightson transit corridors from eight stories to five, but opposition remains. From TODCO:
Here's How To Fix It:
Exempt from it all lower-income Central City communities now facing gentrification and displacement – the MTC/ABAG- identified "Communities of Concern" in the Bay Area and comaprable neighborhoods throughout the State.

Do not allow piling the State Housing Density Bonus on top of its upzoning.

Do not limit local inclusionary housing requirements being increased where it applies.

Permanently forbid any Ellis Act property from using it.
Meanwhile, we continue to hear the line that the opponents of this bill just want to preserve or increase their property values:
Cities believe developers must contribute a public benefit in exchange for the right to build housing—which many see as a public good. In contrast, homeowners who prevent housing in their neighborhoods make huge profits by artificially restricting supply—and cities require them to provide no public benefits at all … Single family home prices in San Francisco went up 24% in the past year alone. The median single family home price is now $ 1.6 million. The average sales price of a Noe Valley single family home sold this February was $3.5 million. Noe Valley residents are particularly militant in stopping new housing—and they have reaped the profits to show it.
The argument (in this case, from Randy Shaw) assumes that greater density will bring down prices. That may be true in some parts of the state (Cupertino and Mountainview homeowners clearly believe it). But there's no evidence that it's true in San Francisco; in fact, I think it's the opposite.
Let's take a small bungalow in Noe Valley. Sure, it's worth $3 million today. But if you can build up to eight stories on that site, it's worth a whole lot more – either a really rich person will buy it, do a "substantial renovation" that amounts to a tear down, and build a mansion, or (if the city allows it) the single-family home can be replaced with, say, five apartments worth $2 million each.
The real winners aren't homeowners but the owners of low-rise neighborhood commercial buildings, which will instantly be targeted for demolition and replacement as tall apartment complexes. I was thinking about the building on Cortland Street that houses the Good Life Grocery; it's about 6,500 square feet, and last sold for $2 million. It's worth a lot more than that now – but under SB 827, it would be worth a fortune. That site could be turned into what, 40 apartments? At today's prices, that's at least $40 million.
I wouldn't mind seeing housing on top of the store – but someone would have to pay for the increased Muni service Cortland would need to accommodate the growth. And under SB 827, the owner of that lot would share none of that profit with the city.
(As it turns out, that building is owned by the people who own the Good Life, and I don't think they are interested in being real-estate developers, but it's still an example of the transfer of wealth this amounts to).
So SB 827 – more density – is going to make property owners, including homeowners, richer. If building more luxury housing, which is all that developers build now, was going to bring down housing prices, maybe Shaw would have an argument – but that's never happened in San Francisco.
And nobody pushing this line – the rich entitled homeowners who don't want more density because it will hurt the property values – is looking at the demand side of the equation. Did the Twitter tax break, which Shaw supported, not have a role in this housing crisis?
Yes, there are people in San Francisco who want to preserve their single-family neighborhoods. But it's not because of property values; SB 827 would make them even richer.
The Board of Supes is moving quickly to crack down on the latest tech-economy idea – motorized scooters that are just strewn all over the sidewalks and streets.
The Land Use and Transportation Committee will hear a measure by Sup. Aaron Peskin Monday/16 to ban unauthorized scooters and establish a system of fines and citations. That will go to the full board on Tuesday/17.
So will a measure by Sup. Norman Yee to establish a working group in the City Administrator's Office to try to figure out these "emerging technologies" and start to get ahead of them with regulations before they devastate our housing stock, clog our streets, and create a dangerous mess on the sidewalks.
Supporters of the Justice for Luis Gongora Pat movement will be outside the office of District Attorney George Gascon at 8:30 am Monday/16 – and every morning for the next week – demanding that the DA file charges against the officers who shot and killed the homeless man.
Gascon has promised advocates that he will decide by April 25 whether to file charges against the officers.
This DA has never filed charges any cop who shot and killed someone.
The Board of Supes gave Gascon $1.5 million in 2016 to investigate criminal police misconduct – but, as Adriana Camarena notes, nothing has come of it: Gascon's office "has dismissed the backlog of SFPD killing cases since 2011, without charges."