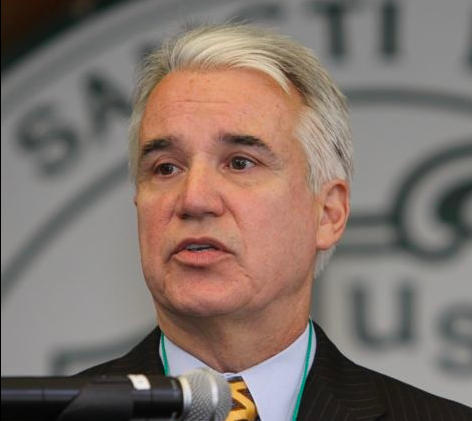 A lot of people in the San Francisco political world were stunned when District Attorney George Gascon announced he would not be running for re-election. I wasn't.
I didn't know that Gascon had an aging mother in Southern California who needed his care. Good for him to put family above politics (although, so far, he has not indicated he will step down before his term is up, which is January 2020).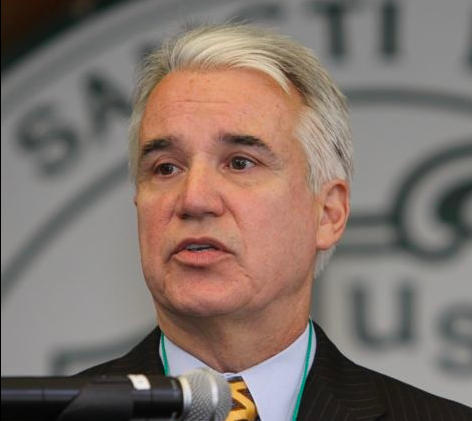 But I do know that Gascon was facing a very difficult campaign next fall, and was in a very bad political position.
Former Police Commission President Suzy Loftus and former Commission member Joe Alioto Veronese are both challenging him from the right, saying that Gascon has been too soft on crime. They were going to try to blame him for the rash of car break-ins and open-air drug dealing.
Both Public Defender Jeff Adachi and his chief trial lawyer, Matt Gonzalez, would support Gascon, because he's taken a lot of progressive stands, including his support for Prop. 47.
But Gascon would not get much other support from the progressive community. The left sees Gascon as a DA who refused to prosecute a long list of cops for unjustifiable killings.
So he'd be in a potentially untenable squeeze: Attacked from the right for being too liberal, and attacked from the left for his failure to hold rogue police officers accountable. There's not much room for him to seek out support – particularly since Mayor London Breed has already endorsed Loftus, pretty much guaranteeing that she'll have all the money she needs.
I've had this conversation with Gascon (only in brief moments when we have met at events) and I think he understood what he was facing. There isn't much of a "center" in San Francisco when it comes to polarizing issues like crime and policing. He really had nowhere to go.
So now – assuming Gascon holds to his pledge and finishes out his term – San Francisco is going to have the first open race for district attorney since 1909.
That's right: It's been more than a century since the city has seen a DA's race with no incumbent. Incumbents have lost – Joe Freitas lost to Arlo Smith, who lost to Terence Hallinan, who lost to Kamala Harris – but nobody has retired and left the decision to the public in 109 years.
And the progressives are going to be looking for a candidate.
Loftus is not only Breed's chosen person, she's pushing for a more traditional approach to crime: Prosecute and punish people for offenses like car burglary. (I don't think at this point that Veronese is a strong contender, but you never know.)
I suspect the progressive movement isn't going to want to let this office go without a fight. A DA has tremendous authority to charge or not charge crimes, can set the tone for the entire criminal justice system – and the SF District Attorney's Office has been an incubator for much higher office (see: Pat Brown, governor, and Kamala Harris, US Senator).
Gonzalez launched his political career with a run for DA in 1999. But he's happy where he is now, at the Public Defender's Office, and told me he's not interested in running again.
The recent political history of the office is unusual. Hallinan won as a criminal defense lawyer, promising reform. Harris won as a former prosecutor (the background for most DA candidates). Gascon, appointed by Gavin Newsom, was police chief; he had a law degree, but as far as I know has never done a trial of any sort, much less prosecuted a case. He was a career cop.
Loftus was a prosecutor under Kamala Harris, worked for Harris in the Attorney General's Office, and is currently legal counsel in the Sheriff's Office. So she can easily tout her law-enforcement credentials (although most of her legal work has been in the policy area, not the courtroom).
So the idea that someone who has not spend a career doing trial work could be a serious candidate in San Francisco is not all that far-fetched.
I don't know who that is right now. David Campos would of course be a strong candidate; he would also be a strong candidate for city attorney if Dennis Herrera decides to retire. I have heard talk about Jane Kim, who would also be a strong candidate (although she has little courtroom experience). Both Campos and Kim would have to make a decision: Is this the direction they want to go in local politics? For Kim, there's another issue: She has run for state Senate and mayor and lost both times, and she doesn't want to appear to be someone who runs for every office that comes up.
Then there's David Chiu. Chiu worked as a prosecutor. I know he has been making calls about the race. But after his nasty campaign against Campos, he has little credibility on the left. 
There's another huge element in all of this: If the GOP retains the House in November, there's a good chance Rep. Nancy Pelosi will retire. And I know Campos would be very interested in running for that seat. (So would lots of other people in SF, including state Sen. Scott Wiener.)
So this one is way up in the air at this point. But it's a critical office, and all over the country, progressives have been running candidates for DA. I suspect we will see something similar happening in SF.