Political observers are scrambling to figure out who the next president of the Board of Supes will be – and in the process, some of the key players have told me that it doesn't really matter all that much.
The president of the SF Board of Supes doesn't have the authority of the speaker of the House or even the speaker of the state Assembly. The board president doesn't, for example, simply block legislation by refusing to put it on the agenda. It's a non-partisan board, so the president doesn't control a caucus. Offices are assigned by seniority, so the president can't even punish a member by giving them the smallest, worst office (all of the supes offices are pretty nice, anyway).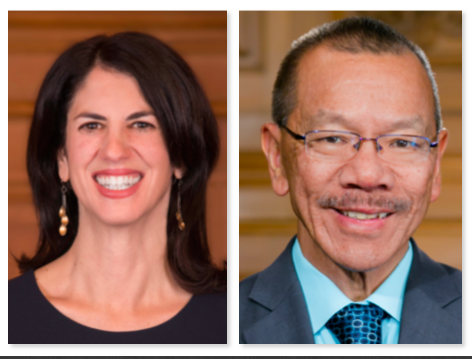 And unlike Washington, where seniority is everything and leadership controls the agenda, individual supes in San Francisco can pass legislation and monitor the city bureaucracy no matter who the president is. Any supervisor can ask for a hearing on any topic.
But it matters – both for policy and political reasons – and the choice the new progressives make Tuesday/8 will tell us a lot about how the new majority is going to govern.
Presidents set the tone for the board, assign committees – and hold an office that in many cases promotes their political career.
Two board presidents in the past 40 years have become mayors (Dianne Feinstein and London Breed, in both cases after the death of the incumbent.) Board President Matt Gonzalez very nearly became mayor. Board President Tom Ammiano went to the state Assembly; so did Board President David Chiu. When the supes elect a president, they could be voting for someone who will be a candidate for mayor some day.
Committee assignments matter. When Aaron Peskin was board president, he assigned the powerful role of Budget Committee chair to people who challenged the mayor's budget; John Avalos, for example, forced Mayor Newsom to accept changes in the budget that helped vulnerable communities, not just rich people.
CORRECTION: At the time Peskin was board president, Avalos was an aide to Sup. Chris Daly, who was appointed budget chair. 
The chair of the Land Use and Transportation Committee can have a major influence on how planning policy is made – and can play a huge role in oversight of the mayor's planning team.
The progressives have at least six, maybe seven votes. One of them will almost certainly be elected president. But at this point, there's no clear progressive front-runner. I am told that Sup. Norman Yee has four votes. Sup. Hillary Ronen has four votes. And if it stays that way past the first round, it's possible that neither of them will get the job.
There's an unfortunate amount of personal politics going on. Some supes are upset that Ronen is openly campaigning for the job (although that's certainly happened before). We are hearing that Ronen doesn't get along with the current mayor (neither did Ammiano, Gonzalez, or Peskin).
But here's what it comes down to: The progressive supes can send a message that the status quo at City Hall – and on the streets of San Francisco — is unacceptable and needs dramatic change, and elect Ronen, who is a fighter. Or they can decide that that they want to move more slowly, incrementally, to seek consensus and not conflict, and elect Yee, who doesn't pick a lot of fights.
Yee – who is a principled, dedicated, honest, and caring public servant – has made it clear he's going to retire after this term, and spent time with his grandkids, and he deserves it. He has done a tremendous amount of good for this city. By choosing him, the progressives would not be making a statement about future leadership.
Or maybe they would; let me quote Joe Eskenazi's piece from a couple of weeks ago:
Ronen is viewed by her colleagues "as someone who doesn't want to be nice. She wants to get things done," says a fellow supervisor. "She wants to lift up the most marginalized among us. There's no time to waste. And if that requires pissing off some of her colleagues, so be it."
By voting for a candidate more moderate than Ronen, the progressives would be saying that they don't want someone who wants to "lift up the marginalized at all costs" – including pissing off her colleagues — as a candidate for higher office.
(By the way: Ronen is not a bomb-throwing radical; she has worked just fine with Mayor Breed and most of her colleagues on a long list of issues.)
This, of course, echoes the kind of debate that is happening in the Democratic Party right now.
Then there's the other option. The board could be deadlocked after a couple of rounds, and Ronen could shift her support to Shamman Walton, who ran with the endorsement of Mayor Breed. For that to happen, I suspect, Walton would have to agree to appoint strong, outspoken progressives to chair the key committees – including putting Ronen and her allies in a position where they can directly challenge the mayor's agenda.
And putting Walton in a position where he would have to join the progressives – at least, to some extent — to get their support.
If that happens, once again we would have a board president who never served on the board and has no voting record on the central issues the board will be facing. The last time the board elected a first-timer (with the support of Peskin) David Chiu turned on the left and, in the interest of his own career, shifted to the moderate (pro-Big Tech) side.
Some other surprise could come up over the next few days.
But this is not just about the next two years; it's about the future of progressive leadership and the direction the progressives want to take with their new majority. That's what we will see Tuesday.