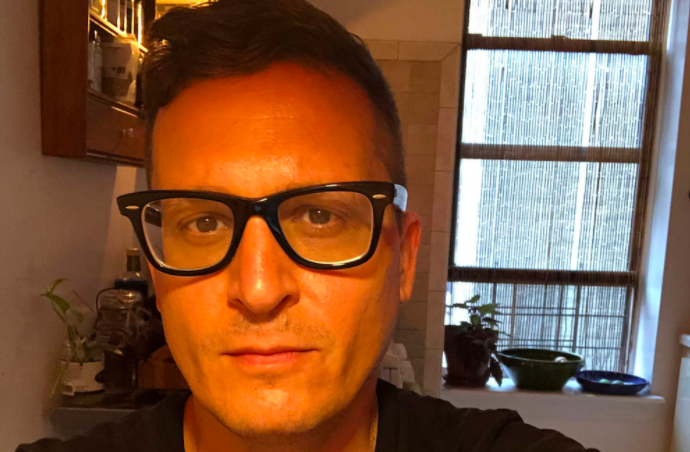 Rob  Eshelman-Håkansson, a fearless journalist, former legislative aide to Matt Gonzalez, and organizer with the Housing Rights Committee, died July 15, 2020. He was 47 years old.
It's hard to convey a life so deeply lived.
"He was a free spirit," a high school teacher told his mom.
That's true, and is a good place to start.
Rob lived life intensely. He was warm. He was generous. He brought people together. Handing you a glass of wine, while he put on an album, preferably free jazz, he would cook up a meal. Over dinners and drinks, the latest politics would be discussed. With an edge. Incisive insights.
Rob was born in Sellersville, Pennsylvania. He grew up in a working-class community. Moving from Bucks County, to Philadelphia, after high school, he worked at the Wooden Shoe Bookstore and lived in the Knot Squat. Punk rock, which he had started listening to in junior high, opened his eyes to politics and the world.
Years later in Bolivia, a group gathered on the tenth anniversary of the water wars and Evo Morales' Declaration of the Rights of Mother Earth. Rob was there. People went around the table saying what politicized them. Punk rock music, he said.
Rob moved from Philadelphia to San Francisco in 1993, working initially as a bicycle messenger and on Books to Prisoners. In 1996, he moved to Berlin, living in a squat on Linienstrasse.
He returned to San Francisco, and worked as an organizer for the Housing Rights Committee, focusing on low-income residents in the Bay View.
Sara Shortt, who worked with Rob at the Housing Rights Committee, said "Rob was an incredible organizer who could translate highly technical material to residents of low-income residents of subsidized housing, so that they could use that information to advocate for themselves." Rebecca LogueBovee, who was the executive director of the Housing Rights Committee starting in 1999, said, "Rob came to everything that he did with an open heart and open arms. He was the essence of inclusion."
In 2001, Rob was tapped by then-Supervisor Matt Gonzalez to be his legislative aide. It was work that typically required a law degree and most of the other aides had graduated from the likes of Stanford and Berkeley. What they received in their educations, Rob had in keen wit and fierce intelligence. He spent his Sundays pouring over briefings in preparation of the new week. Matt said, "Rob had a lot of talent and he exceeded everyone's highest expectations."
Gonzalez's office had monthly art openings, piping out jazz music. City Hall's doors were open. It was a time of change in SF. The second wave of evictions had passed through. But there was still a good deal of hope. That fall, Matt ran for mayor in an epic campaign and close race to Gavin Newsom.
In 2003, after the US declared war on Iraq, Rob headed to the Middle East to cover it. It planted the seed to become a journalist.
He returned to the Bay Area and began his studies at City College of San Francisco in 2004. In 2006, he moved to New York City and pursued a BA in Middle Eastern Studies at Columbia University, which included studying Arabic. Rob was glad when the Middle East correspondent for the New York Times wrote that it had taken him about ten years to become proficient in Arabic. Rob graduated cum laude.
After an internship at The Nation and creating the first podcasts for TomDispatch, Rob received a Masters in journalism focused on health and science from Columbia University's Graduate School of Journalism in 2012.
He then worked as Associate Producer on Years of Living Dangerously (2014), the Emmy-winning Showtime documentary series about climate change. He worked as environment editor at Vice News, establishing their coverage of climate change, energy and the environment.
As a freelance journalist, he covered conflict and migrations, uprisings, climate change and environmental crises around the world, throughout North and South America, in Asia, Europe and the Middle East, including in the West Bank, Iraq, Syria and Egypt.
Rob traveled extensively. He had friends around the world and from the around world. As one friend put it referring to his recent July 14 birthday gathering and the people there, "I did not know half of them, although I have known him for over a decade and we live in the same building."
It is so devastating that someone who loved life so much and lived it so intensely and well and fought so hard for justice had to pass so suddenly and so young. You will be missed by many, Rob Eshelman. Thank you for your gift of being in our lives.
For those on Facebook, Christopher D. Cook has started an appreciation page, a place to share photos, memories, his work, whatever folks want.