From globe-trotting LGBTQ narratives to social justice documentaries (and dramas), there's a lot of diversity amongst fresh streaming releases this week—as well as some low-down dirty thrills in a quartet of lurid genre items.
New Gay Cinema: Lingua Franca, Benjamin
Two interesting movies from very different LGBTQ perspectives arrive this week. Isabel Sandoval's third feature Lingua Franca is her first under that name—the prior two were written and directed as Vincent S. Post-gender transition, Isabel also plays the lead role here as Olivia, an immigrant to NYC from the Philippines hoping to gain US citizenship by marriage, even if she has to pay for an on-paper-only husband. Meanwhile, she's working as an in-home caretaker to senile Brighton Beach senior Olga (Lynn Cohen), whose grandson Alex (Eamon Farren) somewhat awkwardly joins the household after a stint in rehab.
These characters' relationships are complicated, with further uncertainty added by Trump's anti-immigrant rhetoric and ICE deportations. Though its restraint can sometimes make the narrative seem simply undercooked (particularly at the end), this is a compelling drama that achieves a lot through understatement and nuance. After making the rounds of film festivals, Lingua Franca premieres on Netflix this Wed/26.
As privileged as the figures in Lingua are not, the rather obviously autobiographical protagonist in English comedian Simon Amstell's Benjamin seems determined to make himself miserable even as life keeps handing him opportunities for happiness. The titular Londoner (Colin Morgan) is a neurotic London filmmaker who's finally finished his second film seven years after an award-winning first (called, no doubt ironically, Happy). He's cute, gay, moderately successful, but inclined to always say the wrong thing, while best friend Stephen (Joel Fry) is his exact heterosexual equivalent in terms of compulsive, geeky self-defeat. It doesn't help that pretty much everyone around them is pretentious, rude or otherwise wholly self-absorbed. When Benjamin does meet an apparent Mr. Right in French music student Noah (Phenix Brossard), one can be quite sure he will find a way to blow it.
This is primarily meant to be funny, and Amstell does have a flair for the witty one-liner—as well as the occasional credibly awful confrontation. But even as the film makes a joke of his alter ego's insufferable naval gazing, Benjamin is pretty much guilty of exactly that. These characters are so annoyingly hapless, you expect them to curl up on the floor and suck their thumbs at any moment. While the comedy of awkwardness works to an extent, on some deeper level Amstell seems to be whining "Love me—because I'm unlovable!!" sans any ironic distancing at all. He's talented, but sometimes "write about what you know" is bad advice, particularly when what you mostly know is the reflection of your own cutesy self-pity. Then, it's a good idea to write about somebody, anything else. Benjamin arrives on DVD, Blu-ray and VOD Tue/25.
Moroni for President and other new documentaries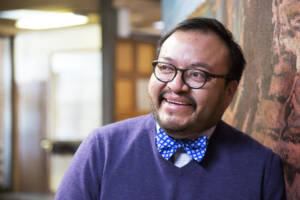 The Navajo Nation is the largest Native American territory in the US, and as such is considerably dependent on government funds, which in turn means a lot of federal oversight—creating conflicts between those happy with the status quo, and those who think tribal citizens should have more real sovereignty. Ergo its president (an office that's only existed in the current form since 1989) is a major power broker, as well as lightning rod for arguments about the Nation's direction as a whole. This Frameline-distributed documentary depicts a 2014 race in which contenders running to replace an unpopular incumbent included one very popular former president with a "well-oiled political machine"…as well as Moroni Benally, a young professor of public policy.
The latter has returned home with his degrees to run for that office, and hopefully implement real, needed change. (Among other things, he's advocating increased tribal control over their vast land holdings' own mineral resources.) But to his dismay, it's the superficial flash and giveaways flaunted by the better-bankrolled candidates that seem to resonate with voters. There are also cultural issues: He's criticized for not really speaking Navajo, and it's questioned whether his status as a Mormon and a gay man are also debits. (However, we also see a few other politically active gay men in the community, including an assistant to the populist frontrunner who collects celebrity perfumes and makes Leslie Jordan look like Michael Jordan.)
Mixing human interest verite with larger issues, and suggesting that politics within indigenous communities aren't very different from anywhere else, Saila Huusko and Jasper Rischen's feature is is currently part of the Roxie Virtual Cinema program as well as CinemaSF's.
Other documentaries of interest new to streaming platforms include Katherin Hervey's The Prison Within, about a "trauma healing group" at San Quentin that aims to make prisoners better equipped to re-enter society by having them deal with the issues (often abuse-related) that turned them into "hurt people who hurt [other] people." Michael Leoni's American Street Kid follows a not-dissimilar group of damaged runaways and other teens in Los Angeles who are among the estimated nearly two million homeless youths in the U.S.
On a less bleak note, Steven Oritt's Accidental Climber profiles Sacramento resident Jim Geiger, who at 68 attempted to be the oldest American to climb Mount Everest. More athletic uplift is offered in Netflix's Rising Phoenix, which charts the decades-long evolution of the Paralympics to become one of the world's largest sporting events. Finally, if you've had enough of humanity, Jesse Alk's Pariah Dog offers a visually poetic survey of life among the free-roaming canines of Kolkata, India—as well as, yes, the somewhat eccentric two-legged residents who make it their business to protect them.
Watch List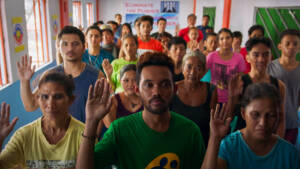 Not nonfiction cinema, but drama of a torn-from-headlines variety, is this strong US-Philippines coproduction from Mountain View-based director Ben Rekhi. Like concurrent documentary A Thousand Cuts, it examines the impact of President Duterte's heavy-handed policies, which have crushed fair process and other elements of a civil society along with the drug dealers he's heard saying he's "happy to slaughter" at the start here. (Just like the "three million Jews" Hitler killed, he adds, bragging ghoulishly as well as cluelessly.)
Maria (Alessandra de Rossi) and Arturo (Jess Mendoza) are poor but cleaned-up former users dedicated to their children. Nonetheless, they're forcibly enrolled in a "government rehab program" that brands them again as addicts, a slander reinforced when he's killed execution-style in the streets, a sign saying "I'm a pusher don't be like me" left by his corpse.
The family's fortunes soon plummet even further. To make ends meet, Maria finds herself a police informant—enabling vigilante killings of frequently not-so-guilty parties just like her late husband. With its surplus of female tears and forced moral compromises, Watch List is at times a little too faithful to the conventions of Filipino screen melodrama. Nevertheless, it's well-directed, has a commanding performance from de Rossi, and some undeniably forceful, even brutal content in its portrait of a de facto police state that our own President has openly admired. It's currently playing some virtual theaters prior to On Demand release September 1.
New huzzahs from the realms of horror and action genre trash
If you're looking more to put your brain on hold for 90 minutes or so, there are several thrillers just out in streaming formats. None of the quartet below are anything exceptional, but they're all offbeat and/or energetic enough to provide some undemanding escapist fun.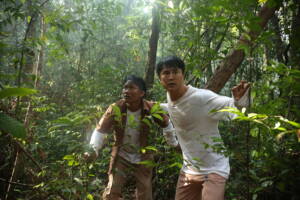 Two make few bones about recycling some familiar ideas. Jimmy Henderson's Cambodian The Prey is yet another remake of The Most Dangerous Game (like The Hunt a few months ago), this time with a Chinese undercover cop (Gu Shangwei) who finds himself thrown into a jungle prison where he and other inmates are offered as "game" that rich guests hunt for sport. Natch, it's going to take a lot of mano-a-mano fighting, ingenious traps, and sheer willpower for our sinewy hero to outlive his heavily-armed pursuers. You've seen all this before, but The Prey does have considerable physical vigor, which is pretty much all this particular story really needs.
Closer to home, Aaron B. Koontz's The Pale Door is basically From Dusk Till Dawn on a lower budget, albeit set in the Old West. A gang of train robbers (including such familiar faces as Stan Shaw, Bill Sage, and Pat Healy) amscray from their last job to a ghost town with a surprisingly active bordello. This seems very good luck, until it turns out that the women of easy virtue presided over by Miss Maria (a zesty Melora Waters) are actually witches, in the burnt-at-the-stake-in-Salem-200-years-ago sense. Needless to say, they are not about to let so many bad men and their tasty souls get outta Dodge alive. Koontz is no Robert Rodriguez, and his script ain't Tarantino. But like its brothel denizens, this movie (which is currently out on digital and On Demand) has the appeal of something as frisky as it is cheap.
Aiming for more originality is Jay Baruchel's Canadian Random Acts of Violence, a graphic novel adaptation now on streaming platform Shudder. It's about a comic book artist (Jesse Williams) who unhappily discovers someone is acting out in real life the grisly fictive narratives he's drawn (literally and figuratively) from the deeds of an actual serial killer three decades prior. The movie often seems uncertain just how meta to be about this material: Is it a serious slasher movie, or a semi-satirical commentary on the genre? Hence a lot here doesn't quite work. Yet there is something undeniably attention-grabbing about the attempt to mimic the visual dynamics of comics, among other stylistic gambits.
The most conceptually outre of the bunch is definitely Bret Wood's Those Who Deserve To Die, which purports to be based on an 1838 story by Thomas De Quincey. In modern-day Alabama, a nice young man (Joe Sykes) who claims to be a PTSD-afflicted veteran moves into a small town, ostensibly to enroll in college. But in fact he's got a grislier purpose, one directed by the ghost of a slain little sister (Alice Lewis) who wants revenge for her long-ago death—and who casts a very wide, bloodthirsty net in determining the titular roll call.
Amidst a highly uneven cast, 1970s drive-in cult actress Lynn Lowry really throws herself into the role of the primary (living) villain. But what's interesting here is the undiscriminating extremity of this vengeance quest, even if the twist ending kinda renders it all irrelevant. Perhaps yea more than Random Acts, Die's grotesque suspense melodrama doesn't quite connect with the ball while swinging for the bleachers. Still, give it credit for definitely taking the road less traveled. It's on Blu-ray, DVD, and digital platform Kino Now from Kino Lorber.