Beyond the aforementioned Berlin & Beyond "In Focus" event continuing through Sat/21 (more info here), this weekend brings a number of repertory-cinema-esque events, nearly all of a streaming nature. The exception is a vintage Italian double bill (also Saturday) at pop-up drive-in venue Fort Mason Flix. Co-presented by the Italian Cultural Institute and Italian Consulate, it pairs Sergio Leone's 1964 A Fistful of Dollars—the movie that started the "spaghetti western" vogue and made an international star of Clint Eastwood—with An American in Rome, made a decade prior. The latter is a comedy with Alberto Sordi as a contemporary Roman so obsessed with all things 'murrican he's branded "crazy-for-USA." Yes, a spaghetti dinner is optional. More info here.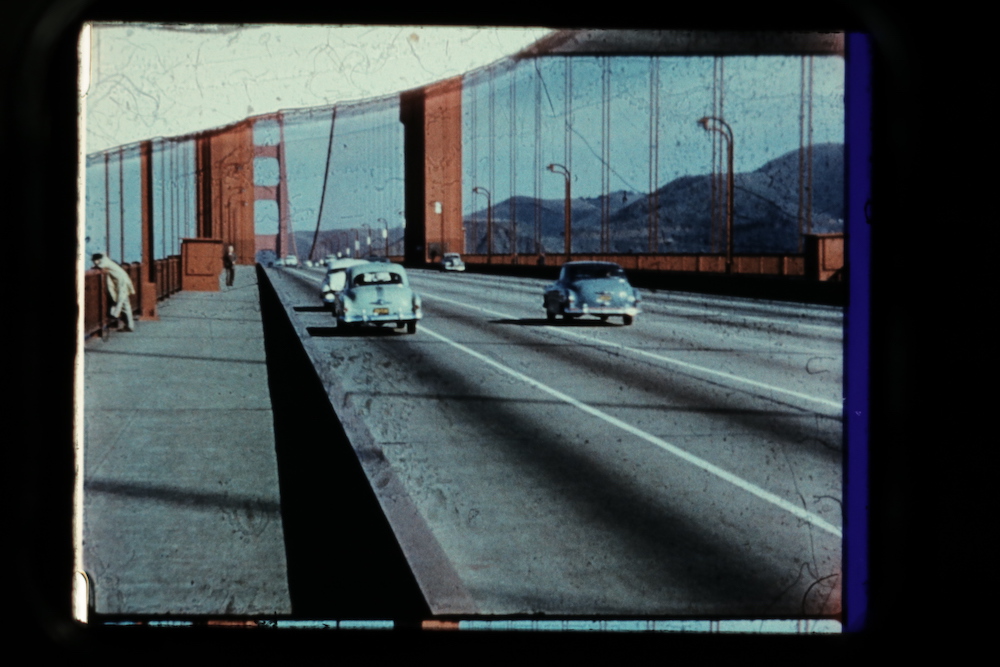 Several series are also launching longer runs. The SF Cinematheque is back with the first of two programs (the second arrives Dec. 10) of recent local experimental works under the umbrella title Commingled Containers: Echoes from the Bay. Starting yesterday and available online through Jan. 10 is guest curator Alix Blevins' traveling thru with eyes closed tight, a survey of early 21st-century (2001-16) shorts with a lyrical slant, including titles by Christina Battle, Minyong Yang, Kent Long, Nazli Dincel, arc, Linda Scobie, Karen Johannsen and Zach Iannazzi. More info here.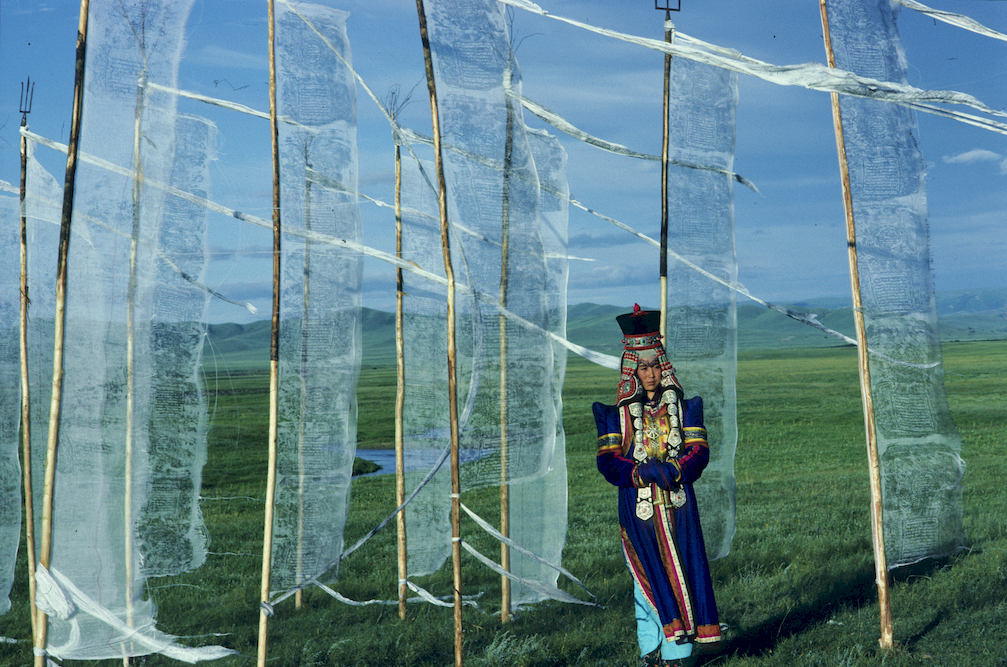 Today BAMPFA makes available two showcases for hard-to-see work by two female European masters. East Meets West: The Films of Ulrike Ottinger (through March 14, more info here) provides a belated streaming platform for a retrospective originally intended to play the Pacific Film Archive's auditorium screen last spring. Focused largely on the Western German filmmaker's later documentary work, it embraces globetrotting topics from the Jewish expat community of 1930s Shanghai to far-north exploration (A Journey to the Bering Sea), as well as sojourns to Japan, Mongolia, Vienna, and fall-of-the-wall-era Berlin. There's also room for some narrative features, including the baroque Berlin fantasias Ticket of No Return and Freak Orlando, plus 1989's must-see feminist adventure epic Johanna d'Arc of Mongolia. Separately, there's also a new restoration of Chantal Akerman's 1993 From the East in which the idiosyncratic director takes her camera on a tour of Soviet bloc countries immediately after the end (temporarily, at least) of the Cold War. It's an open-ended run; more info here. 
Also reframing history in rarefied cinematic terms is Matthew Rankin's The Twentieth Century, a parodic biopic about a fictional Canadian political figure whose Citizen Kane-like rise and fall is chronicled in a mix of retro German Expressionism and Guy Maddin-esque absurdism. Visually inventive, its humor was a little too juvenile for my taste. But you can't accuse the writer-director-producer-editor of selling out with this outre first feature. It joins the Roxie Virtual Cinema programming today. More info here.
Among regular commercial openings, either at local theaters, in home formats, or both: 
The Nest
One of the most praised US feature directorial debuts of recent year's was Sean Durkin's Martha Marcy May Marlene, a cryptic indie narrative about a young woman whose re-adjustment to "normal life" may be irreparably damaged by time spent in the religious cult she's run away from. I found it a tad more emotionally remote than necessary, but it was nonetheless a striking gambit. Durkin has taken nine years to complete a follow-up that's very different in many respect, yet also oddly similar in its dealing with characters alienated from each other as well as from a reality they're hiding or unsure of. 
Expat Brit commodities broker Rory O'Hara (Jude Law) and his athletic, horsey American wife Allison (Carrie Coons) seem to be living an idyllic existence in upstate New York, one lavish enough that she's able to maintain a stable. But they've moved themselves and their children (Charlie Shotwell, Oona Roche) several times in the last decade already. Now Rory abruptly announces that his opportunities have "dried up" here, so the clan is relocating to England, where he can rejoin his former boss (Michael Culkin) at a big London firm. This fait accompli is not enthusiastically received by all, though they rally somewhat at seeing the huge, historic Surrey manor they'll now be living in.
It takes a while for Allison to realize that this home, and indeed the whole move, is yet another overreach by a compulsively ambitious husband who is not reliably the supreme deal-maker he thinks he is. In fact, as a corporate merger he tries to push his boss into goes south, Rory has no means of coping save piling on more "bullshit"—which lies his wife is no longer buying. Not that she's a pillar of virtue, either: They're both too self-involved to notice their own children are floundering here as well.
Though only the music overheard (Thompson Twins, Cure, New Order) makes it clear we're in the mid-1980s, this tale of sociopathic failure and a marriage between two head-butting alphas does reflect that era's "go-go capitalism," which created monsters—like Donald Trump. It's a compelling story gist. But as before, Durkin seems afraid to give us too much intel. We understand these people in the present tense, but can't quite grasp who they used to be, before their worst personality traits atrophied. The Nest (currently available On Demand) is less than fully satisfying, and its characters considerably less than likable. But it confirms Durkin as an interesting filmmaker, who gets committed work out of good actors. 
Sound of Metal
Way down the economic ladder there's Ruben (Riz Ahmed) and Lou (Olivia Cooke), who have a noise band—he drums, she plays guitar and caterwauls—successful enough to float a small tour, on which they save lodging expenses by traveling in their own RV. We glean they're a bit complicated (both are ex-addicts), but they're happy together. Then one day Ruben is setting up a merch table when suddenly all sound goes distant and muffled. He eventually learns 75% of his hearing is gone; he must immediately "eliminate all exposure to loud noises" if he wants to keep what he's got left. 
This crisis somehow lands him on the doorstep of a rural household run by Joe (Paul Raci), who lost his own hearing from an explosion during Vietnam War service. The idea is that Ruben, with Lou pried from his side, will "learn to be deaf" amongst similarly impaired peers—a reality he does not especially want to embrace.
This first feature by Darius Marder (co-written by Dian Cianfrance of Blue Valentine) sits almost entirely on the shoulders of Ahmed, an arresting performer whose intensity is put to very good use here. He keeps us interested even though, frankly, Sound of Metal needn't be quite such a one-man show, and even Ruben isn't fully dimensionalized in the script. (It's not until the last 20 minutes or so that we get even a glimpse into his and Lou's separate backgrounds.)
Marder incorporates a lot of sonic effects to communicate the hearing limitations that first terrify, then infuriate his protagonist, until he's finally able to come to terms with his new reality. There's undeniable value in that, as well as in the performances. But at 130 minutes, I'm not sure why Metal is so stingy with plot and psychological insight. Like The Nest, it makes its actors flesh out the sketchy writing—which they can do. But should they have to? The film is currently playing the Embarcadero, and will be available on Amazon Prime Dec. 4. 
Collective
In the tentative relief being experienced by many at present re: Twitler's re-election loss, we can hope we've dodged the bullet of full-on autocracy. When such states are not avoided, they leave a horrible residue even after being dismantled—look at Russia, which simply moved from one form of pervasive corruption to another. And look at Romania, whose own Communist era was particularly grotesque due to the dictatorship of Nicolae Ceausescu, who lived a lifestyle of garish Trumpian luxury while his citizens starved. 
Can such systematic exploitation and mistrust ever be fully gotten rid of? Alexander Nanau's award-winning documentary suggests perhaps it can't: Three decades on, it sees Bucharest journalists uncovering a seemingly bottomless scandal that reveals Ceausescu-style cronyism at the public's expense never left Romania. In October 2015 pyrotechnics during a metal band's concert ignited highly flammable structural elements at the nightclub Collectiv. 26 people died on-site (including most of the band), prompting furious protests because the club had been licensed to operate without meeting the most basic mandatory fire and other safety standards. Outcry was such that it actually led to a change of government regime.
Yet there was still worse to come: In ensuing months another 38 attendees, some with relatively minor burns or smoke-inhalation issues, died in hospitals. Why? Needless infections—rooted in pervasive use of a local manufacturer's disinfectant whose active ingredients were wildly diluted. The result was bacteria found even in hospital sterilization tanks, patients dying in agony "covered in maggots," and so forth. The Sports Gazette's expose first triggered a predictable series of bureaucratic and PR runarounds. But then, even as the government realized it needed to truly step up for a change, the scandal just kept growing—leaving almost no one untainted save health workers and patients turned whistle-blowers.
This All the President's Men-type journalistic expose weaves into its real-life narrative the struggles of a new Minister of Health, an activist replacing the complicit old one, to create a functioning new national system amidst hostile press and public scrutiny. This is a story of truth-tellers ultimately prevailing, despite adversity—reporters' families get threatened, and one potential high-end tattler suffers a mysterious Jeffrey Epstein-like "suicide" before he can testify. it all seems almost unbelievable: Who would be so greedily corrupt as to create conditions in which places of healing turn deadly? But after the last four years, we ought to know this sort of thing could indeed happen here one day, if we're not vigilant. Collective is playing limited theaters and is available On Demand. 
Run
Being sold as a horror movie, this is more of a thriller, though it does get pretty horrifying for home-schooled teenage protagonist Chloe (Kiera Allen). She lives with her mother Diane (Sarah Paulson) in a farmhouse outside a small town. Despite issues with mobility, breathing, arrithythmia, glucose, and more stemming from birth defects, 17-year-old Chloe is looking forward to going to college, even if no acceptance letters have arrived yet. She and mom seem a loving, well-adjusted duo despite all their challenges. But then Chloe begins to wonder if Diane is keeping things from her. After poking around a bit, those worries grow and grow until she fears her mother may be the only true health problem she has. 
Aneesh Chaganty's more genre-oriented followup to 2018's acclaimed drama Searching may have taken inspiration from a real-life case of Munchausen-syndrome-by-proxy (look it up, albeit only after you've seen the movie) that became the bizarre true-crime documentary Mommy Dead and Dearest. This fictive story ultimately goes in different directions. But it is an effectively pulse-quickening use of twisted parental need in the cause of movie suspense. Impressive newcomer Allen gets the most screentime, but the always impressive Paulson (American Horror Story) elevates this well-made film by refusing to telegraph Diane's real nature in advance—her denial is so complete, even we don't see it coming. Run premieres today on Hulu.