More than 200 cars formed a caravan Sunday along the street near the Port of Oakland near Middle Harbor Shoreline Park, demanding that Governor Newsom authorize immediate mass releases of nonviolent offenders from California prisons to prevent the spread of COVID, which has infected more than 47,000 prisoners and killed 192.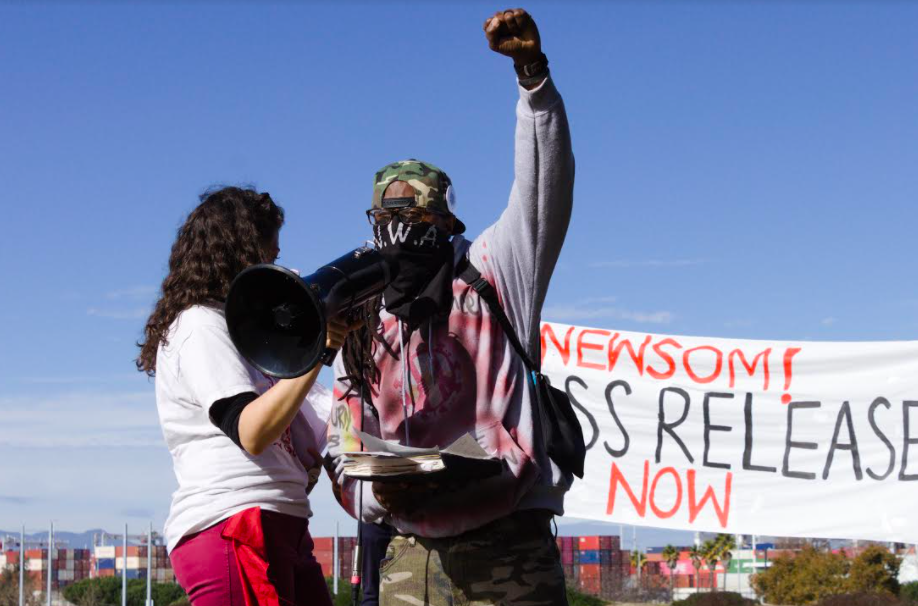 The caravan proceeded from the Port and crossed the Bay Bridge, causing a massive traffic slowdown before the caravan exited onto 5th street into San Francisco.
"We gather here today because at this point nearly half the prison population has contracted COVID," said Courtney Morris, an organizer with No Justice Under Capitalism, a grassroots political organization formed in response to the spread of the virus in Calfornia's. "Today's action is very much a direct message to Governor Newsom…We demand that Governor Newsom grant mass releases to save lives, it is the only way to prevent more deaths, and we demand that he begin with the elderly incarcerated community and the immuno-compromised community."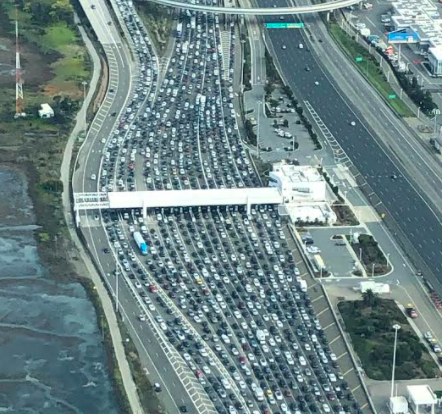 One elderly and formerly incarcerated woman, Lisa Strawn, said that there are thousands of people in California's prisons who can be released safely. Strawn, who serves on San Francisco's Reentry Council, was released from prison in July 2020 after contracting COVID a month prior. The California prison population has shrunk by nearly 25,000 since March due to COVID-19, but thousands more who could be safely released are still imprisoned, according to Strawn.
"How is it possible that people are still getting infected in prison? There are so many people within prison, thousands of people that can be released safety," Strawn said. "Sure, they'll sing to the tune of 'you do the crime, you do the time,' but here I am outside of prison, and I'm doing really good, I have a job that I really like and I have an opportunity to help others when they are released from prison…I'm going to be on the front lines."
Advocates of releases also said that releasing prisoners suffering from mental health disorders can be far cheaper than administering mental health support while keeping them incarcerated, pointing to a report from the Stanford Justice Advocacy Project, which pegged the cost of a CDCR Mental Health Crisis Bed at $345,000 per year, while community-based mental health beds only cost $22,000 per year.
According to Ryan Brett, a former CDCR counselor who has worked with prisoners, mental health care for prisoners has been hamstrung during the pandemic as transfers of prisoners to mental health facilities has been restricted to prevent transmission of COVID, but Brett advocates mass releases as a solution to both the high costs and current logistical difficulties of delivering mental health care to prisoners.
"There's a solution that benefits everybody. Let them go home," said Brett. "It's no secret that reduction of crowds reduces the spread of the virus but what about the mental health benefits of getting to be with your family? What about the economic benefits of getting treatment in the community versus in prison?"
One prominent concern among those skeptical of mass releases is that prisoners who are released will commit crimes again to get by at a time when the job market is suffering. George Galviz, executive director of Communities United for Restorative Youth Justice, a nonprofit organization which provides reentry services for formerly incarcerated people that co-organized the demonstration, said that a key component of effective reentry has to be investment in the basic needs of former inmates to prevent "survival crimes," such as petty theft and break-ins committed when former prisoners have no prospects for food, shelter, or employment and are a key driver of recidivism.
"It's a little bit of a double-edged sword. We know that CDCR has unequivocally failed to protect people from COVID, it's essentially a petri dish….but we are getting ready to release them to the worst economy since the Great Depression, so the second part of this has to be an investment in housing and employment and make sure that people's basic needs are being met, food, clothing and shelter, since we are also seeing a spike in crimes of survival in these economic conditions. We're California, we'd be the fifth largest economy in the world if we were our own country. There's not a lack of resources, there's a lack of priorities and a lack of political will."
Galviz said that people in disadvantaged communities care about public safety just as much as richer people, but many believe that it is time to explore other models that are less dependent on police and incarceration, and focus instead on steering young people away from destructive behavior that could land them in prison.
"I live and work in these communities, we have a vested interest in public safety, but we want to be smart about public safety…A lot of former lifers have the lowest recidivism rates, it's kind of nonsensical for the state to continue hold them in their clutches. A lot of times those people can be instrumental as outreach workers and credible messengers to reach young people who might otherwise get caught up in the same pathway to incarceration, and assist them in making life-affirming decisions. California was number one for prison spending for decades and second to last in education spending, let's imagine what public safety would look like if we flip that script," said Galviz.