Hundreds marched from Saint Mary's Square near Chinatown to Union Square Saturday calling for an end to hate crimes against Asian-Americans after several mass shootings in Atlanta last week that left eight dead, including six Asian-American women. The march culminated in a rally in Union Square with 3,000 people in attendance. The vigil was part of a nationwide day of protests that spanned 60 American cities.
The San Francisco vigil, hosted by the Comfort Women Justice Coalition and Jin Duck & Kyung Sik Kim Foundation, also included a brief martial arts demonstration, meant to educate Asian-American and Pacific Islander seniors in self-defense—many of the other anti-Asian violent incidents that have occurred around the country and in the Bay Area in the past year has been directed at AAPI seniors.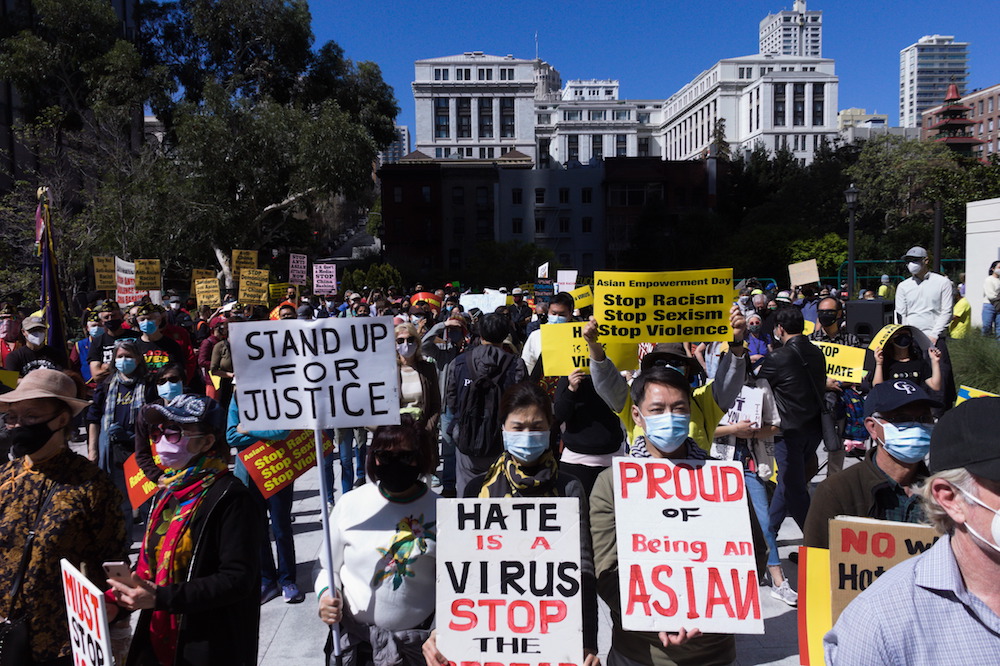 Judith Mirkinson, president of the CWJC, said that the spa shooting was clearly racially motivated, pointing to the fact that the shooter chose locations where Asian-American women were working, as well as a long history of sexual fetishization and objectification of Asian women in the United States.
"It's very clear that he targeted the women because he blamed them for his sex addiction," said Mirkinson. "Also, Asian women in particular have been fetishized and looked at as sexual objects and he said that he couldn't help himself. That's a very standard trope of Western civilization towards Asian women…because its women and gender is a category of hate crime, we believe it was a hate crime."
Mirkinson added that she believes that acts of violence driven by male sexuality are taken for granted and treated as inevitable by society, due to the existence of a culture that caters to men's sexual needs over women's rights, and therefore perpetuates crimes of violence committed against women by men. Because of this, she said, simply prosecuting people who commit crimes is not enough—there needs to be a broader shift in the way that society as a whole perceives hate crimes and those who perpetrate them.
"This isn't about individual people," said Mirkinson. "There has to be justice for the comfort women…since that time, there have been myriad examples of incredible sexual violence and gender violence against women. One of the things that allows that to happen is that people consider that normal…then a [police] captain will say 'oh he had a bad day,'" said Mirkinson, referring to remarks made by an Atlanta police captain that have been met with widespread criticism. "You have to label it as a hate crime. The more you say 'no, you can't,' it will begin to stop."
Several public officials were present during the vigil. San Francisco mayor London Breed addressed rallygoers in Union Square about initiatives her office announced Wednesday meant to bolster the safety of elderly Asian Americans in San Francisco, including the Community Safety Teams Program.
The Community Safety Teams Program is an expansion of the Street Violence Intervention Program, which was created by the Mayor's Office and the Department of Public Health and established patrols of community-based street outreach teams to prevent violent crime, and adds patrols into areas that have a high number of Asian American residents in order to deter violence against Asian Americans who may otherwise be targeted.
"Many of the people who grew up in African American communities in the city, they will be patrolling Chinatown, Clement Street, and other places to keep our communities safe," said Breed.
State Assemblymember David Chiu, whose district includes much of the eastern half of San Francisco, said during the vigil at Saint Mary's Square that for the safety of the AAPI community in San Francisco, and to support the healing of hate crime survivors, San Franciscans need to band together.
"We are here together to say, 'no' to the hate," said Chiu. "We are all focused on the fact that there were over 3,800 incidents documented in our country, but we know that is just the tip of the iceberg of the Anti-Asian hate that we have been experiencing … each of us alone could be attacked out on the street, but together we are stronger."
In February, Assemblymembers Al Muratsuchi and Chiu introduced AB557, which would require the California Department of Justice to establish a 24/7 hotline for reporting Anti-Asian hate incidents and make public information regarding these incidents.
Chiu, however, said that bills such as this are only stepping stones towards a holistic solution to prevent hate crimes against Asian Americans, and that in addition to the legislation he has introduced, more will be needed in order to ensure that survivors of hate crimes can heal and supports community-based, non-violent public safety solutions, as well as education meant to reinforce cultural understanding to combat racial profiling of Asian Americans in the future.
"We also need to make sure that we are preventing these incidents from happening in the first place…several of the elements need to be protecting vulnerable members of our community, tracking and investigation of incidents of hate, victim-focused services, and long-term solutions like ethnic studies and restorative justice programs. Those are components of what we need," said Chiu.
State Senator Scott Weiner, who represents San Francisco as well as Daly City, said that the California Legislative Jewish Caucus, of which he is vice-chair, is working with the California Asian Pacific Islander Legislative Caucus to secure $50 million in funding for security grants to allow AAPI and Jewish nonprofits to outfit their facilities with "security enhancements" such as reinforced doors and gates, high-intensity lighting and alarms.
Weiner also said that the coalition is seeking $10 million for several assembly bills: AB 57, AB 1440, and AB 1126, all of which are aimed at tracking and responding to hate crime incidents statewide.
"It's not good enough to just stand in solidarity, we have to make change. We're working at the state level and locally to get more resources to prevent hate crimes from happening in the first place and for supporting victims of hate crimes…we need to act to end [hate crimes] now," said Weiner.