A living, breathing container of the history of underground music and art walks among us. To say that this ambulatory archive, artist Chuck Sperry, has been active in the counterculture is an understatement. Prolific, supportive, and constant are better-suited terms.
Working on concert posters for most of his life, Sperry realized early on the potential for ritual renewal in social events. He believes that people need positive energy to move together with one heart.
"I hope that people can engage with my egalitarian message, that it inspires them to care for each other, and to move the political sphere forward to universal equal rights," Sperry told 48hills.
He grew up in Dayton, Ohio, attending public school and taking art classes at the Dayton Art Institute and The Living Arts Center. Sperry finished high school in South Florida and graduated in 1980.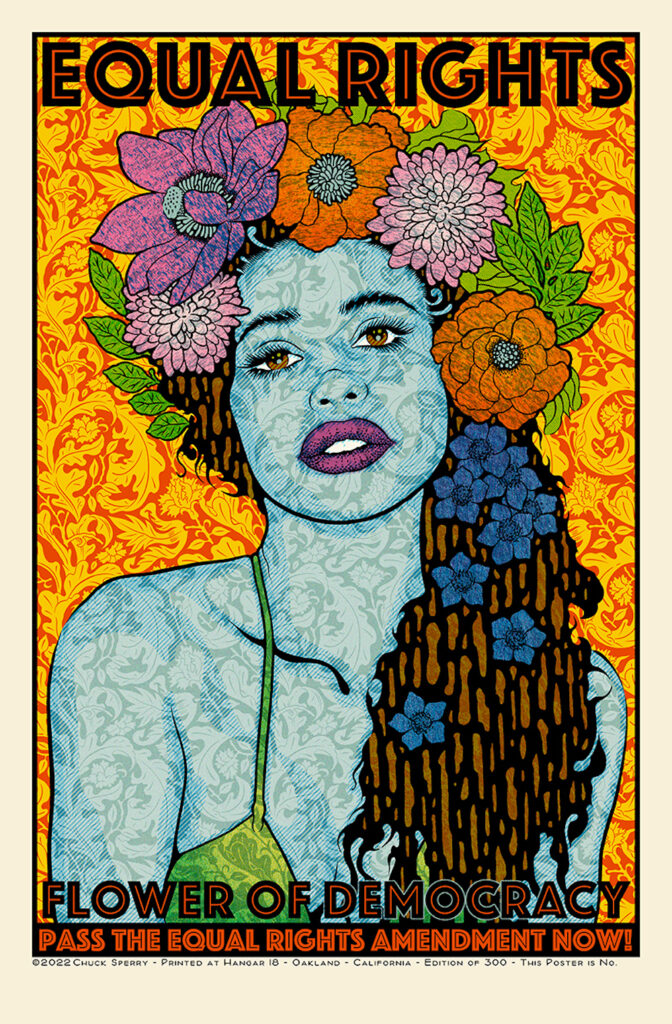 "I attended my first Art Basel, Miami Art Week with my parents. It was the one where Cristo wrapped the islands in Biscayne Bay in wide magenta sheets, and I was really impressed and hoped to be in that show some day," Sperry said.
Sperry studied art and journalism at the University of Missouri from 1980 to '84, and was a political cartoonist at a student newspaper called the maneater. There, his editor was Warren Strobel, who went on to write a series of reports for Knight Ridder Newspapers which challenged the Bush administration's case for invading Iraq (as featured in Rob Reiner's movie Shock and Awe.) Strobel is now a national security reporter for the Wall Street Journal.
Sperry moved to New York City in 1985 and lived on the Lower East Side during the art boom of the 1980s, during which he met artists Peter Kuper and Seth Tobocman of World War 3 Illustrated, a political comic and satirical magazine that thrives to this day.
"I worked with the professional illustrators who formed the editorship there, doing paste-up and typesetting at the Yipster Times. It was a heady time." Sperry said.
His introduction to the Bay Area was a sensory experience, to say the least. He arrived in 1989, just in time for the Loma Prieta earthquake. He lived next door to a Greyhound bus station in a Oakland punk rock house where Neurosis and Christ on Parade practiced. His room was right above the band room, and cost him only $40 per month because it was so noisy.
He moved to the Lower Haight in 1990, then joined some musician friends in their collective living arrangement called Studio 4 in the Mission, right behind the current KQED offices. Sperry lived with members of the punk outfit Sabot, and a bassist from Blister, organizing shows with Fugazi, Steel Pole Bathtub, The Looters, and many others.
"The place was down the street from the Best Foods mayonnaise factory, which smelled like rotten eggs for three days every other week," Sperry added.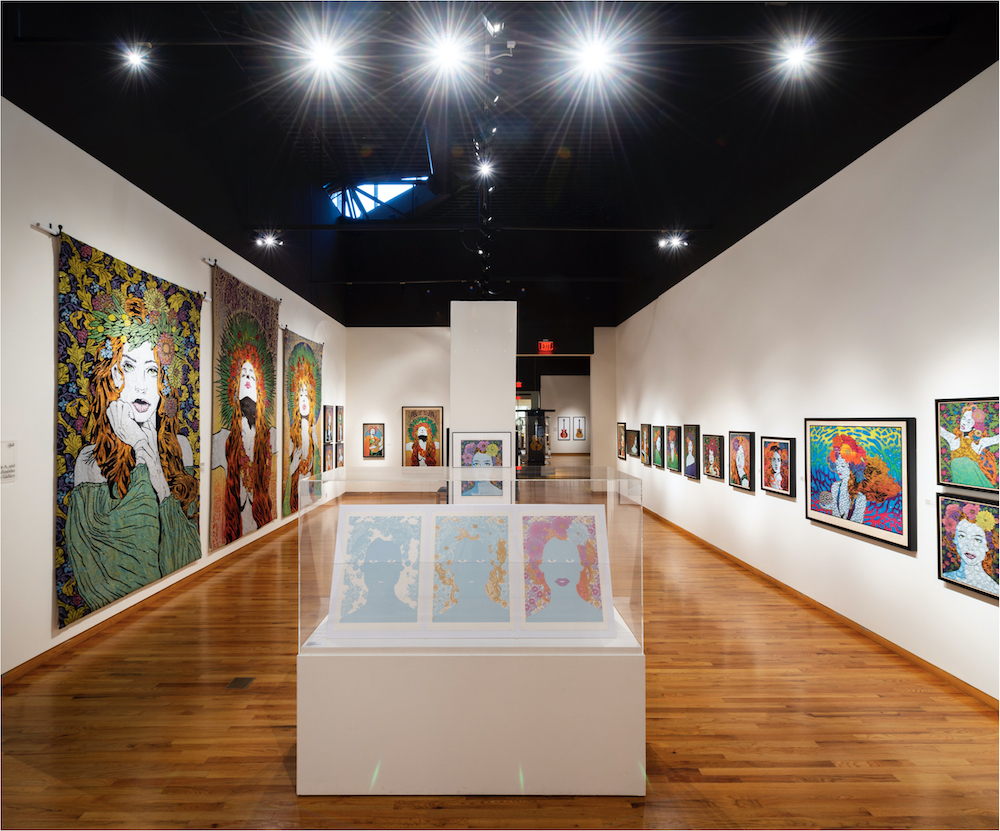 He got busy volunteering with Artist Television Access, organizing shows with Craig Baldwin and Marshall Weber. Sperry invited friends to participate in a retrospective exhibition of World War 3 Illustrated, with a grant from the Haas Foundation in association with the National Endowment for the Arts. He also participated with Clarion Mural Project at the foundation of the San Francisco art movement Mission School. His mural work included a collaboration on the outside of the Longshoremen Local Number 6 building in SOMA, and on the entrance of the Labor Temple/Redstone Building at 16th Street and Capp (editor's note: the home of the San Francisco left is currently in danger of being displaced.)
Sperry met the love of his life, Nancy Langhofer, during his days in the Studio 4 collective. They began living together on Oak Street in the Panhandle in the late 1990s, and reside there to this day. He and Langhofer worked together at Comic Relief Bookstore on Haight Street from 1991 until 1996.
Working the cash register, spitting distance from the busy sidewalk outside, Sperry saw the opportunity to befriend the shop's community of underground cartoonists and illustrators. He began working with Robert Collison on the bi-monthly satirical newspaper, Filth Weekly Weird News (1991-'96), as comics editor, commissioning the work of Robert Crumb, Spain Rodriguez, Mats Stromberg, Kent Meyers, Paul Mavrides, S. Clay Wilson, Gary Grimshaw, and many others. In 1994, Sperry began making rock posters for The Fillmore with Bill Graham Presents, and formed a print studio called The Psychic Sparkplug.
"We made screenprinted posters for rock concerts for Slims, the Covered Wagon, Bottom of the Hill, and Trocadero in San Francisco; the Golden West in Albuquerque, New Mexico; and Jabberjaw in Los Angeles," Sperry said.
Their hand-produced posters were done in three to eight colors and produced in labor-intensive overnight printing sessions. With no editor or filtering of content, Psychic Sparkplug posters were bold, original, and subversive.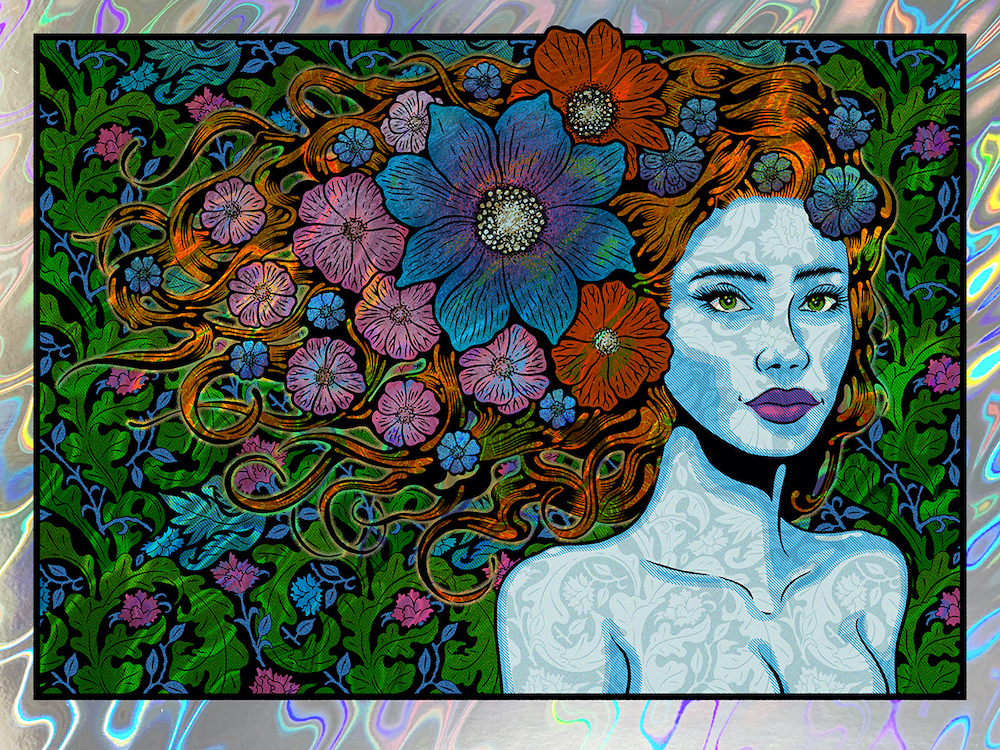 In 1997, Sperry formed The Firehouse Kustom Rockart Company with Ron Donovan, working in an abandoned firehouse on Pacific Avenue. Virgin Megastore hired them to make a series of posters for record releases including Fleetwood Mac, The Rolling Stones, Pearl Jam, Smashing Pumpkins, The Beastie Boys, and The Beatles. The series put Sperry's artwork on the map. Their studio moved to 11th and Howard Streets in 2001, and continued to make concert posters until 2012.
Sperry's art lies in an astute connection with the world, and the way in which he communicates his ideas. He feels a responsibility to use his skills to transform social ideas into concrete visuals.
"Sometimes I am able to anticipate the zeitgeist, and sometimes I'm right with the zeitgeist. But either way, I translate the ephemeral into the objective," Sperry said.
He has always been fired up by the work of urban artists, the psychedelic artists of the San Francisco rock poster scene, and various mentors. In particular, Gary Grimshaw has provided advice, support, and guidance over the years. At 60, Sperry consciously seeks to pass the baton to younger artists working in his field.
"Art is a torch we bear together," he said.
While the art boom in New York was beneficial for Sperry, he felt more at home in San Francisco. With thoughtful dedication, he has paved a fulfilling path here as an artist, from building his own print studio, creative community involvement, and branching out into the world of fine art. During the pandemic, supply chain shortages for necessary printing supplies precipitated his break from making posters and a pivot toward other artmaking. Sperry is currently represented by Ken Harman of Hashimoto Contemporary and Harman Projects.
Sperry describes a typical day in the studio as a joy. All the tools he needs to create art can be found in the 5,000 square foot space with 17-foot-high ceilings and a loading dock that he describes as his dream studio. As a screenprinter, his day is physically demanding,
"I print each color, one color at a time, and it's me standing at the semi-automatic press feeding paper onto the print table, one piece at a time," Sperry said.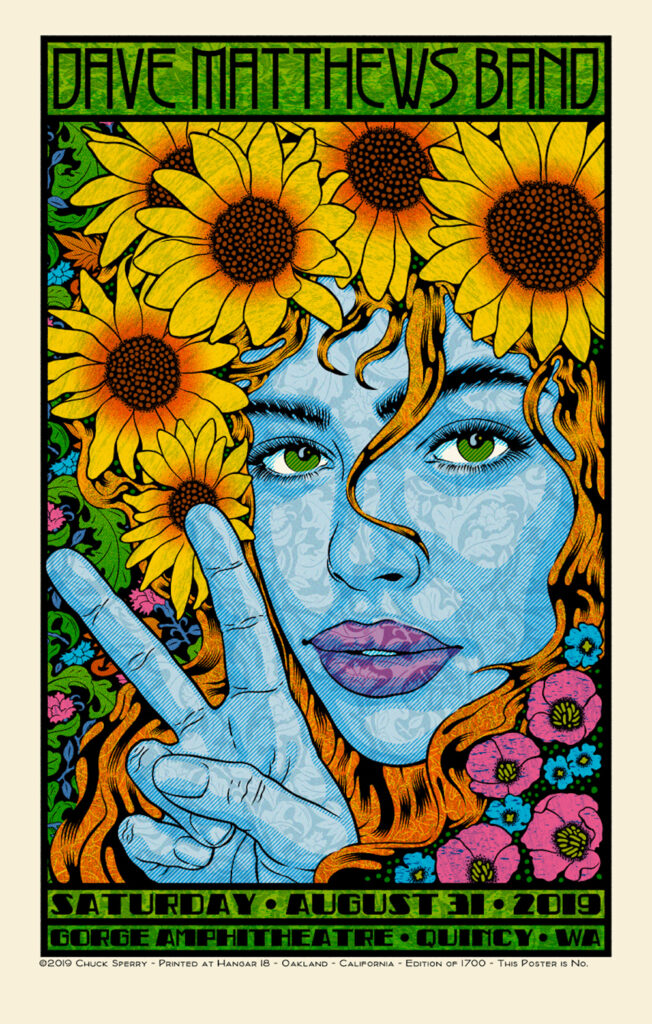 A poster can take three or four days to print. There is the taking of films and preparation of screens on an exposure unit that requires Sperry to don welding glasses to protect his eyes. Each screen is washed out with a power washer and left to dry. Sperry brushes out all the dust specks for a clean printed image, and tapes and seals the edges of each screen to keep the ink from leaking.
"The printing process is magical and meticulous. It's back breaking and requires intense focus. It's my discipline—it teaches me to be self-sufficient, determined, and concentrated, even at the end of my strength," he said.
His studio is like a factory; he mops the floors, takes out the trash, fixes the machines, and repairs and repaints the gallery space. Though friends occasionally offer to help, Sperry has never hired staff. He likes doing the work himself, and does not enjoy exploiting the labor of others.
Sperry has toured Europe with his posters and once addressed a crowd of 5,000 people in a basketball stadium in Argentina, delivering a history of San Francisco's rock 'n' roll art. He taught screenprinting from 1999 to 2019 in countless workshops, introducing many young artists to the medium.
The 2018 exhibition "All Access: The Art of Chuck Sperry" at the Fort Wayne Museum of Art introduced visitors to Sperry's first three large-scale, hand-woven tapestries. He has since had a retrospective exhibition which celebrated 500 examples of his work. Ken Harman brought Sperry full circle by bringing his work to Art Basel in Miami six times in the last seven years, realizing Sperry's childhood dream.
His involvement in the ERA movement as an ally has helped to amplify the message of equal rights for women, creating posters for Artists 4 ERA, Vote Equality, and the Center For Common Ground, which went on tour with his work during the mid-term election of 2022.
"Our efforts in the South, and especially in Georgia, staged massive voter drives and helped the Democrats hold onto the majority in the Senate," Sperry said.
Sperry encountered and excelled in studies of Greek mythology as a youth, and has returned to it over the last dozen years with figurative depictions of the divine feminine as exploration of the matriarchal roots of human culture.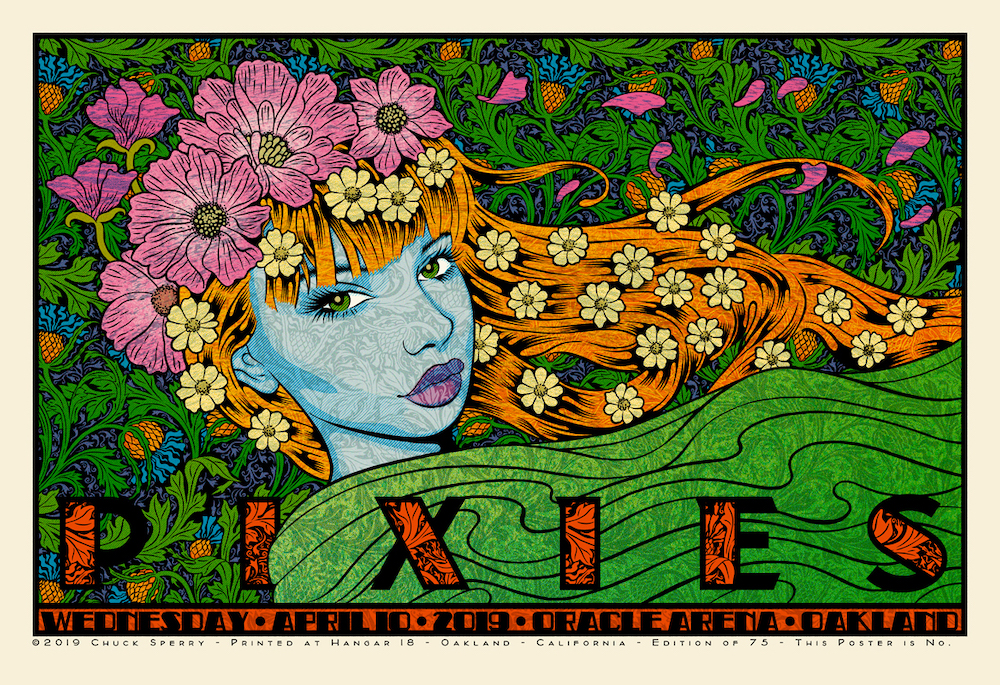 "I like to wrestle with the archetypes of human imagination," he said.
He created three posters for the Women's March movement in 2017, 2018, and 2019, which were sold by the official merchandising outlet and activist hub The Outrage in Washington, DC.
Sperry has broadened his artistic practices in the last five years, working in paint and tapestry, installation, and publishing along with his screenprinting. In the last two years he has produced three editions of his career spanning book Color x Color: The Sperry Poster Archive 1980-2020. Additionally, he has published three books of his art screen prints: Helikon (2017), Chthoneon (2018), and Idyllion (2022).
"The books are loosely based on The Orphic Hymns, but have included contemporary texts from The Rolling Stones, A Perfect Circle, Nick Cave, Mickey Hart, and include passages from author Margaret Atwood. They are a deep dive into mythology and the collective unconscious," he said.
Sperry prefers to move intuitively in his artistic choices and says his art seeks to connect to the issues that he struggles with in his own heart and the health of our collective soul.
"I'm connecting to an intuitive, social—maybe a spiritual—politics. I mean, equality appears to be more of an issue of the heart than of politics. It's about understanding and care," he said.
Sperry loves to "take his show on the road" and had numerous exhibitions over the summer, locally and in Europe. He participated in "The Rock Poster Society, Festival of Posters" in Golden Gate Park on October 21. He'll open a solo show called "My Mind's Eye" at Paris' l'Oeil Ouvert Gallery on December 6.
He's been busy working on a series of shows with Harman Projects, dreaming of an installation that would include his tapestries, music, lights, and mythological representations as a ritual visual event. Chuck Sperry has advice to other artists, which comes from the heart of his life experience and practice:
"Get involved," Sperry said. "Great art comes from a great care for each other."
For more information, visit www.chucksperry.net.