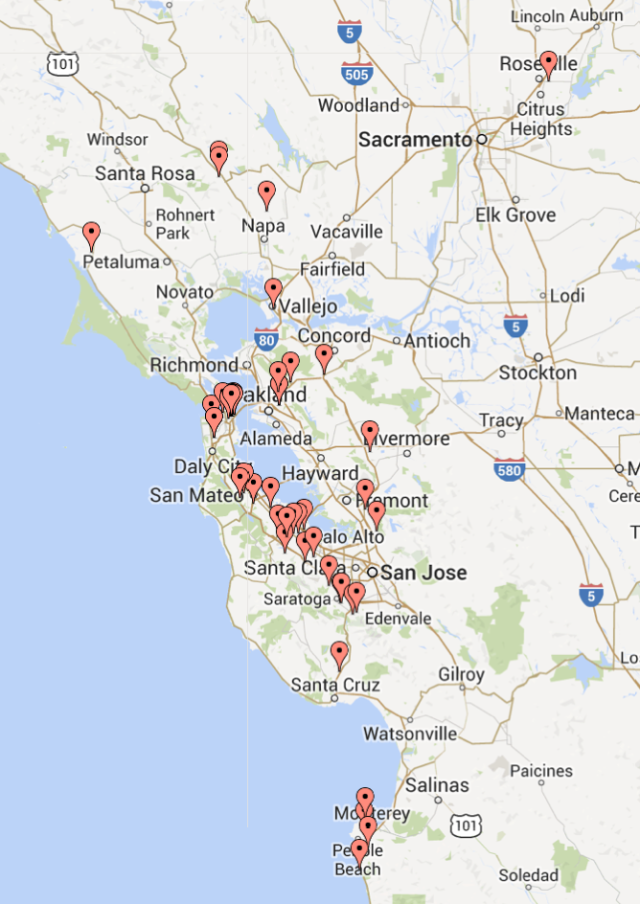 When condos in a triplet of luxury towers near the Embarcadero called The Brannan began selling in 2000, wealthy buyers snapped them up. Nine years later, developers of the 58-story Millenium Tower at 301 Mission Street began selling its 419 ultra-luxury condos, among the most expensive residences west of the Mississippi River. Last year, Millennium Tower sold out.
The burst of the dot-com bubble in 2000, and the Financial Crisis and Great Recession that hit in 2008, hardly dented sales of these and other of haute San Francisco addresses built over the last 15 years.
According to supply and demand theory, projects like The Brannan and Millennium Tower add to the total stock of housing, and should help to ease prices across the overall housing market by satiating the demand of high-income San Franciscans for space in the city.
But rather than satisfy some demand for housing at the top of the market and alleviating the city's affordability crisis, San Francisco's luxury condos instead are being purchased by wealthy buyers who have a virtually bottomless appetite for super-exclusive real estate. Many of these buyers don't live in San Francisco; their city condos are second, or third homes, a 48 hills analysis of property records shows.
We reviewed Assessor's Office records for 5,212 condos in 23 buildings, most built after the year 2000, all of them market-rate residences. We found that absentee owners control approximately 2,034 of these condos – about 39 percent of the total. (We identified absentee owners as having a listed address that is different than the condo residence.)
In some building, the number of absentee owners is above 60 percent.
Many of these condo owners are wealthy Silicon Valley tech entrepreneurs, Marin County lawyers and doctors, and East Bay executives with sprawling multi-million dollar houses in ritzy zip codes like Los Altos Hills, Sausalito, and Lafayette. Some live as far away as New York City, Hawaii, and Hong Kong. It's unclear how much time they spend in their San Francisco condo homes, or if the properties sit empty much of the year.
Some might be rented out to full time residents, but San Francisco doesn't keep records sufficient to identify rental units.
We did find some units from the buildings we examined listed on Airbnb and VRBO – for as much as $6,000 a night. Which doesn't do a whole lot for the city's affordable housing crisis.
The St. Regis, a 42-story condo skyscraper built in 2005, is one of San Francisco's most expensive addresses. Former mayor Willie Brown lives on the 35th floor. But approximately 63 percent of the St. Regis' condos belong to people who own homes – and get their tax bills for the condos – somewhere else.  The fact that they don't list the condos as their home address for tax purposes is a pretty good sign that they don't live there.
The St. Regis has the highest percentage of absentee owners of any building we surveyed. One condo in the St. Regis is owned by a Napa Valley Winery. Another is owned by the vice president of a Palo Alto software company who gets the tax bill for his San Francisco condo at a $6.6 million Atherton mansion.
"This data points to the irony that when discussing the eviction crisis in San Francisco, so many, including so many in tech, are quick to assert that development is the solution," said Erin McElroy of the Anti-Eviction Mapping Project. New development for absentee owners does not solve the housing shortage, especially for poor and working-class residents."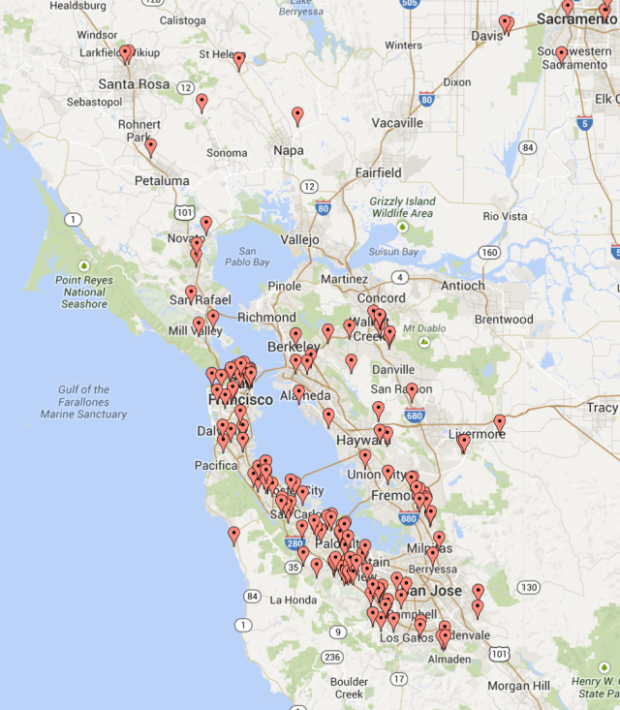 Rincon Towers, a pair of skyscrapers, the first of which was built in 2008, has attracted hundreds of outside buyers to San Francisco's hot residential luxury market. Half of the 376 condos in the One Rincon Hill South Tower are owned by property collectors with a different listed address than their condos. Many Rincon condo owners own homes in another part of San Francisco – or, more often, completely outside of the city.
The Rincon Towers' developers branded their buildings as the "pinnacle of luxury." Most absentee Rincon condo owners reside in Silicon Valley cities including Palo Alto, Menlo Park, Hillsborough and Mountain View.
Earlier this year Sotheby's real estate agent Gregg Lynn told the San Jose Mercury News that many of his clients seeking condos in the city are well-off residents of San Mateo and Santa Clara counties.
"They have a place in Palo Alto, their kids are making a decision about where to go to college, and the parents are thinking about getting a place in the city and spending more time here," said Lynn.
More:
Bryant Kowalczyk of SF Luxury Realty said many of his clients are from Atherton, Hillsborough, Los Gatos and Los Altos. "It's a residence in lieu of a hotel. They have all their stuff there, their clothes are where they left them. They know the doorman. They know where to get their car to head for the airport. It hits to the affluent lifestyle, and there's definitely a demand for it."
And, of course, when those owners who see the condos as a hotel room aren't in town, the place is empty – again, doing nothing for the housing crisis.
Even older condo buildings are filled with housing that serves as second homes for the wealthy. The Summit at 999 Green Street, atop Russian Hill, was built in 1965 and is home to famous San Franciscans like former Secretary of State and Bechtel executive George Shultz. But more than half the owners of condos in The Summit own another house or apartment in San Francisco or outside the city. One condo in The Summit is owned by a banking and shipping executive from Hawaii. Another is the property of a Wall Street lawyer whose main residence in Delaware is a 6-bedroom mansion set in a salubrious Wilmington neighborhood.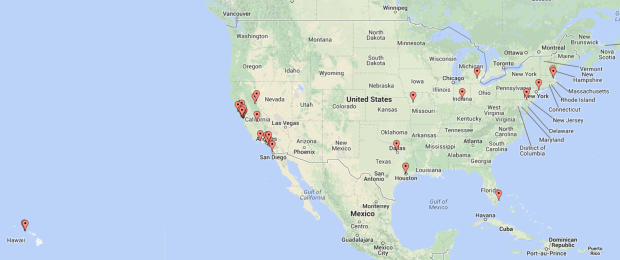 Infinity Towers was built near the Embarcadro in 2008. The grandson of Walt Disney owns a condo in the Infinity, but his main residence, according to property records, is a million-dollar house perched on a hillside above the Los Angeles exurb of Calabasas, flanking a vineyard. About 40 percent of The Infinity's 650 unit luxury condos are owned by people who don't live there.
If these units are rented out, in at least some cases they aren't going to permanent residents. We found listings for a number of the city's most luxurious condos on Airbnb and VRBO.
A unit in the Millennium Tower was listed on VRBO for $11,100 a month. Another unit in that building was offered on Airbnb at $12,839 a month.
And those are bargains: An Airbnb listing for a One Rincon Tower Penthouse offered the place at $6,905 a night.
Again: Possibly owners who travel a lot and want to rent their places out while they're gone. Also possible: Owners who use the places as pieds a terre, and rent them out the rest of the time – as short-term rentals to tourists.
The propensity of the wealthy to collect second, third, fourth homes, and so on, is well known. Larry Ellison, the billionaire chairman of Oracle, owns an estate in Woodside, a mansion in Pacific Heights, dozens of houses in Malibu and Lake Tahoe, and even the entire Hawaiian island of Lanai.  Mark Zuckerberg's $10 million Dolores Heights mansion is just one residential property in his collection. The Facebook billionaire owns a house in Palo Alto, and last year Zuckerberg purchased four adjacent homes for $30 million.
Earlier this year Bloomberg News reported a sales surge of second homes in the Hamptons as Wall Street financiers sought luxury homes to spend their bonuses on.
But gains in wealth and income for the top one percent aren't trickling down to the majority of San Franciscans. Instead stagnation of wages and spiking home prices and rents are fueling a housing crisis. San Francisco continues to see an exodus of households earning less than $100,000 a year.
And based on the data we've compiled, it's hard to argue that Mayor Ed Lee's policy – which calls for building unlimited market-rate housing – is going to do much for the affordability crisis. "This is critically important information, and it makes the trickle-down argument for housing absolutely absurd," longtime activist Calvin Welch told us. "For Ed Lee to talk about a city for the 100 percent is an easy and stupid formulation, since he's building housing only for the 1 percent."
Said McElroy, "While we need to protect the rent-controlled housing that exists in San Francisco, we also need to invest in housing for poor and working-class San Franciscans – not out of county speculators and investors."
Editor's note: 48 Hills reviewed property records for 23 market rate condo buildings, most of them in the luxury class, most built after the year 2000. We identified absentee owners in each building as those whose listed address (where the tax bill is sent) was different than the condo. We could not identify which of these condo units owned by a person or company with a different main address are rented out to full-time San Francisco residents because the city does not keep sufficient records.
St. Regis – 188 Minna Street
90 units
57 absentee owned, 63%
Four Seasons – 765 Market Street
142 units
85 absentee owners, 60%
999 Green Street
112 units
61 absentee owners, 54%
Millenium Tower – 301 Mission Street
426 units
213 absentee owners, 51%
Portside I & II – 38 Bryant
220 units
111 absentee owners, 50%
Rincon Towers (One Rincon Hill) – 425 1st Street
376 units
189 absentee owners, 50%
The Metropolitan – 333 1st Street
342 units
160 absentee owners, 47%
BayCrest Towers – 201 Harrison Street
287 units
135 absentee owners, 47%
The Palms – 555 4th Street
300 units
125 absentee owners, 42%
1170 Sacramento Street
71 units
30 absentee owners, 42%
Infinity Towers – 338 Spear
650 units
258 absentee owners, 40%
Ironworks – 1221 Harrison Street
28 units
10 absentee owners, 36%
The Brannan – 229 Brannan Street
336 units
125 absentee owned, 37%
Radiance – 325 China Basin
99 units
33 absentee owners, 34%
Bridgeview Towers – 400 Beale Street
245 units
77 absentee, 31%
SOMA Grand – 1160 Mission Street
Built 2008
246 units
76 absentee owners, 31%
The Madrone – 435 China Basin Street
329 units
95 absentee owned, 29%
631 Folsom
117 units
33 absentee owned, 28%
Yerba Buena Lofts – 855 Folsom Street
200 units
52 absentee owned, 26%
Park Terrace – 325 Berry
111 units
27 absentee owners, 24%
Arterra – 300 Berry Street
269 units
45 absentee owners, 17%
Espirit Park – 801 Indiana Street
147 units
19 absentee owners, 13%
829 Folsom
69 units
8 absentee owned, 12%