Developer will relocate InnerMission — but will still demolish precious industrial space in the name of luxury housing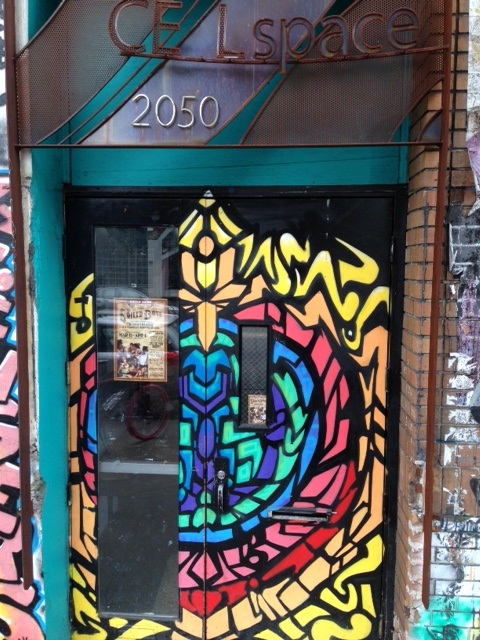 By Steven T. Jones
JUNE 18, 2015 — Developer Nick Podell was scheduled to go before the San Francisco Planning Commission today seeking approval to demolish the InnerMission (formerly CELLspace) art and community space and the surrounding block of buildings along Bryant Street between 18th and 19th streets, and to build a few hundred mostly market-rate apartments in their place. That hearing has been postponed to Sept. 10 – but not before dozens of speakers denounced the plan and several commissioners talked of the problem of the loss of light industrial space in the city.
The newly wised-up developer is trying to deflect some of the activist opposition that has been roiling the Mission District these days. As part of his strategy, he's hired an experienced City Hall lobbyist and has cut a "replacement for displacement" deal with the InnerMission owners that ended their opposition.
But based on today's hearing, the central concern – that the Mission doesn't need luxury housing, but does need the kind of space that allows artists and blue-collar jobs to remain in the city – clearly isn't going away.
InnerMission owners Eric Reid and Mike Gaines — who went from quietly accepting their imminent eviction a few months ago to making a stand against the landlord/developer and helping facilitate an opposition movement called the Cultural Action Network — told me Podell has agreed to pay for the relocation of InnerMission to a new space (as yet unidentified), to fund renovations on that space, and to put up a substantial five-year operating subsidy.
"This gives us hope as artists," Gaines said. "It's a huge fucking win for art. It's unprecedented what he's done."
"It saves our business and keeps us in the neighborhood," Reid said. "The collective action of everyone has helped bring a developer to his senses."
Yet given the nature of that collective action — which has been about art and community spaces, but also about gentrification, housing affordability and the changing character of the Mission District — not everyone is going to follow the lead of Reid and Gaines and support the project.
"We don't want the artists and businesses displaced for market-rate condos. The Mission needs affordable housing, not luxury pied-a-terres for the rich," said Tommi Avicolli Mecca of the San Francisco Housing Rights Coalition, which is organizing in opposition to the project. "We want a moratorium on luxury housing and the building of 3,000 deeply affordable units in the Mission."
The InnerMission owners seem to have abandoned that coalition in favor of a deal keeping their space.
"Art and culture is the cornerstone of this, at least for us. There are definitely other issues at play, but I have the obligation to the 120 artists who use that space on a weekly basis," Gaines said.
But to Jonathan Youtt and other members of Cultural Action Network, that deal is not yet enough to end their opposition to what they're calling the Beast on Bryant. "The Cultural Action Network is happy they negotiated this deal," Youtt told me. "This is a good sign that the developer is willing to do relocation deals. But the project as designed is a terrible mess and it's selling on PDR space that is needed by artists and workers."
When I interviewed Podell back in March for an article on his project (), he was focused on his housing entitlements and dismissive of policies from the Mission Area Plan that call for the preservation of art, community, and light industrial (aka Production, Distribution and Repair, or PDR) spaces like the ones he's proposing to demolish, even after planners had raised the issue in their staff report.
"This site was rezoned to allow for 100 percent housing," said Podell, who initially proposed for just 44 of his 276 apartments to be offered at below market rates, the bare minimum required by the city's inclusionary housing laws.
But since then, the simmering populist anger over the city's gentrification, eviction and housing affordability crisis has boiled over, particularly in the Mission District, from which hundreds of activists have twice invaded City Hall recently and almost got the Board of Supervisors to approve an emergency measure creating a temporary moratorium on building in Mission.
The push for that moratorium, which would have stopped Podell's project in its tracks, dovetailed with the creation of the Cultural Action Network during weekly meetings in InnerMission that started in April (see "The Art of Displacement in San Francisco, ), with the goal of making developers responsible for their impacts to the city's art and culture.
The group created a change.org petition that has garnered 500 signatures to oppose a project it characterizes as "the demolition of 50,000 square feet of light industrial and artists' spaces in the Mission so that a private developer with out-of-town financial backers can build luxury housing and a huge street-level parking lot."
Podell seems to have woken up to the fact that his housing entitlements aren't the end of the story, and he's gotten some professional help. When I called Podell for comment, he had political consultant Boe Hayward — a former City Hall staffer well acquainted with the city's volatile populist politics — call me back on his behalf.
"We're working very well with our tenants now," Hayward told me, confirming the deal with InnerMission, but saying the negotiations with tenants and other interested parties was ongoing and he couldn't discuss details yet.
Reid and Gaines told us that Podell has also agreed to relocate another displaced tenant, San Francisco Auto Repair, and that he's been negotiating with affordable housing advocates to increase the percentage of affordable housing in the project. But it's going to take a large increase to satisfy many affordable housing advocates, who don't want any more luxury housing in the Mission.
The artists say they're gotten the best deal they're going to get, one that allows them to remain in San Francisco. Gaines also runs the Vau de Vire Society, a circus-inspired dance and performance art crew that has been headquartered in this space for at least seven years, when Gaines began taking over for the failing CELLspace, which had operated here since the '90s in an underground and somewhat illegal art space.
Gaines and Reid, who also runs Theater MadCap and is one of just a handful of African-American business owners in the Mission, founded InnerMission here three years ago and have been pouring money into renovations and permitting issues and hosting a wide variety of art and community events.
"We feel like we struck a landmark compromise between developers and artists," Reid said. "This is a fantastic deal for the artist's community. There are other issues that have come up, such as housing, but we can't really address that. Originally, it was 'save the art spaces,' but now it's drifted and they want 100 percent affordable housing and saving of the PDR spaces."
That's exactly what the Mission community leaders want – and they have allies. In an almost unprecedented move, the Building Trades Council strongly opposed the project at today's hearing and it's vowing to get the San Francisco Labor Council to oppose it as well.
And it doesn't seem likely that a deal with one arts organization, which will cost the developer a tiny fraction of the huge profits he's going to make off this project, is going to end all the opposition, even among the allies InnerMission has worked closely with.
"They're focused on the micro and that's fine," Youtt said. "But when you pull out and see the macro, this project shouldn't go through."