Supervisor David Campos, frustrated by the city's lack of progress on homelessness, is planning to announce Tuesday/8 that he's introducing legislation to call a state of emergency to clear the way to build six more navigation centers in the next year.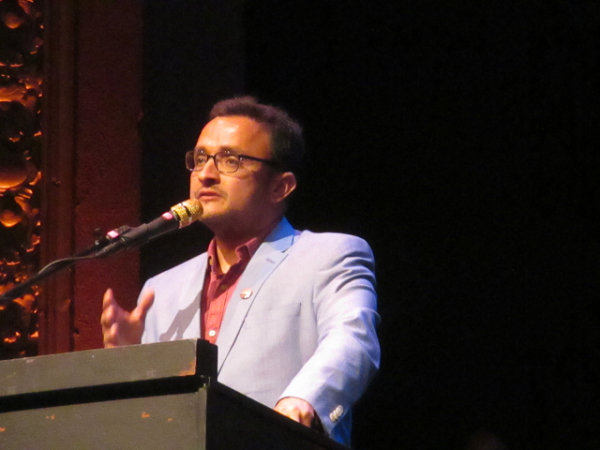 In a strongly worded statement aimed directly at Mayor Ed Lee, Campos says:
If the Executive Branch of our local government won't act then it is the responsibility of the Legislative branch to intervene.

I will be asking my colleagues on the board to move as quickly as possible to activate a provision in state law, usually reserved for disasters like floods and earthquakes, allowing the city to take emergency action to build additional Navigation Centers on city owned property. And in the next few weeks I will be introducing legislation that requires the executive branch to build six additional Navigation Centers in the next year, three of which must be built within the next four months. The Ordinance will also require a funding plan that will activate emergency reserve funds and streamline and cut current spending in our $9 billion budget to build these Navigation Centers without additional cost to our residents. If we can afford $5 million for the Super Bowl, we can afford to address homelessness.
The navigation center in the Mission is a successful program that allows homeless people to bring partners, pets, and possessions – not allowed in most shelters – and steers them to stable housing situations. Campos worked with Bevan Dufty, who was then the director of the city's homeless programs, to bring the center to the Mission:
We've been told that other districts would also be doing their part and Navigation Centers would soon be opening in other parts of the city, but over a year later we have yet to see this happen.
The current Mission center will be forced to move or close in a few months when the property is turned into an affordable housing project, and a new site hasn't been found. Pier 80, which the mayor has touted as a major part of his solution to the problem, will only be available for a few more months, too, since the Port is planning to lease that property to a long-term tenant.
Campos will be joined at his 10am press conference by Jennifer Freidenbach, director of the Coalition on Homelessness, and Dufty, who is now retired from his city job.
His statement puts the blame for the city's homeless problem directly on the mayor, who has encouraged tech industries to move to the city with tax breaks and encouraged tech workers to live in the city with private shuttle buses, without making sure that existing residents aren't forced out by the high housing costs his boom has created.
Oh, and the mayor has allowed some 6,000 housing units to be taken off the market and turned into Airbnb hotel rooms.
Campos:
I want to apologize to the people of San Francisco on behalf of City Hall.

The mayor of San Francisco, who has authority over the city agencies responsible for addressing homelessness, has failed to respond adequately to the growing homeless crisis and City Hall has failed to hold him accountable.

For years, people without homes have been pushed in to neighborhoods like the Mission and Soma with no real plan to provide services or shelter. This failure to act has caused a public health emergency in San Francisco that has reached intolerable levels.

I've received hundreds of calls and emails and have been in the streets of my district talking to the neighbors, business, and homeless people who have been affected by this crisis. I want my constituents to know that I have heard you and understand why you are angry.

You're angry that over 7,000 people who have lost their jobs, people who have been evicted, people dealing with drug addictions, youth kicked out of their homes, and people who've been abandoned by our medical system have no option but to live on our streets.

You're angry that our residents have been forced to care for sick and hungry people sleeping in their doorways, forced to walk on streets covered with human feces, and forced to help as best as they can people with severe mental health issues.

You're angry that we've spent millions of dollars on bad homeless policies that leave shelters bed empty; that there are long wait lists for drug treatment and detox programs; and that San Francisco, the city of innovation and tolerance has become known for our outdated, inhumane, and ineffective homeless policies, while cites like Salt Lake have solved theirs.
So that's a pretty dramatic challenge to the mayor and the other supes. A state of emergency would allow the city to bypass normal planning and budget procedures; it would also put San Francisco on record as saying that the housing situation is not even remotely acceptable, that the Mayor's Office has failed to address it, and that it's time for extraordinary measures.
And all of the supes who are up for re-election or running for other offices will have to go on the record on this. Should be an interesting couple of months.
The press conference is at 10am at 1950 Mission