Tomorrow evening (Wed/30) the Planning Department will hold a "Community Discussion" of the Railyard Alternatives and I-280 Feasibility Study (RAB) at the Potrero Hill Neighborhood House. This is a re-do of the February 23 at the Potrero Hill Recreation Center, where an overflow crowd of more than 200 could not be fully accommodated.
The infrastructural changes under consideration, including a proposal to take down I-280 and re-route the former freeway traffic on a boulevard through the neighborhoods, are massive and controversial. What's also controversial, but has received far less attention, is the Planning Department's approach to public engagement.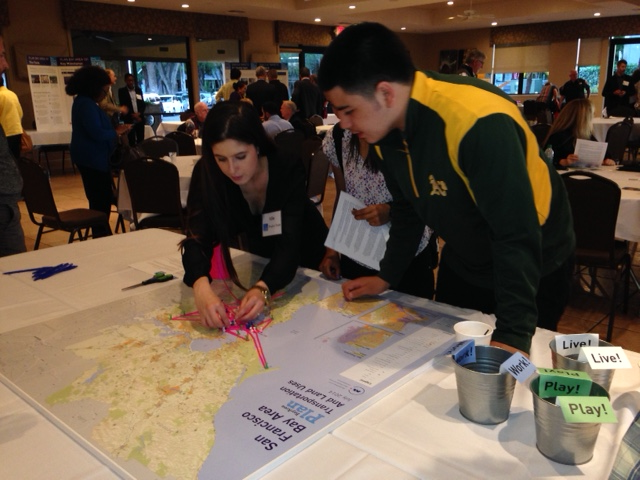 Though the $1.7 million study has been underway for two years, the February 23 event was the first time the community had a chance to weigh in on the project—and the chance it had was paltry. That's because the planners set up the meeting in a way that would dissipate the public's authority and aggrandize their own. They chose the format I call Enhanced Science Fair: A ranking public official briefly introduces a complex topic and then directs members of the community to view poster boards arranged on easels or on the wall. A staffer assigned to each poster board chats with the small group huddled around the display.
On February 23, the program was introduced by Citywide Planning Director Gil Kelley, not to be confused with his boss, Planning Director John Rahaim. Kelley showed a PowerPoint (posted here under "Presentation") and took questions from attendees. Some queries were quite specific. Kelley's repeated advice that people should ask "the experts" standing by the poster boards in the back of the room or write their questions on a survey that staffers had distributed indicated that he had but a passing familiarity with the RAB. The crowd grew restive. The last neighbor who spoke said, "For you to invite us here and then refuse to answer our questions is insulting."
Agreed. Communications Director Gina Simi tells me that on March 30 Kelley will give the same presentation, and the meeting will have the same open house format as last time, but that a panel with Kelley, San Francisco Municipal Transportation Agency Director Ed Reiskin, RAB Planning staffer Susan Gygi and Mayor Lee's Director of Transportation Policy Gillian Gillett will also take questions.
That's encouraging—but only slightly: What's missing from the panel are representatives of the affected neighborhoods and members of the public who have expertise about transit and land use, and—more to the point—who can offer well-informed criticism of the RAB. This way, only official supporters of the project are appearing as the sole authorities in the room; members of the public are cast as supplicants.
Science Fair is one of the techniques that city planners are using to mute the public's say in public policy—all the while purporting to enhance civic engagement. It's one that the San Francisco Planning Department has employed, sans panel, on other occasions—for example, at "open houses" dealing with the Central SoMa Plan. Nor is this practice peculiar to San Francisco's planners; it's also been used by their professional colleagues in my own city of Berkeley and by the staff of the regional planning agencies, the Association of Bay Area Governments and the Metropolitan Transportation Commission, in connection with Plan Bay Area.
Last April I attended the Alameda County Spring Open House for Plan Bay Area 2040, held at the Alameda County Fairgrounds from 7pm to 9pm. Driving through rush hour traffic from my north Berkeley home took me an hour. (Public transportation would have taken even longer). The format was Basic Science Fair: there was no formal introduction, just a big room with poster boards displayed on tables that had been arranged in a circle. Each station addressed a major theme in regional land use planning, such as "Transportation System Effectiveness," "Adequate Housing," "Climate Change," and "Economic Vitality." Attendees could write their comments on a post-it, to be pinned to a poster board.
My favorite station, however, was the one that featured a map on a table, along with colored yarn and push pins in little buckets labeled "Live," "Work," and "Play." People were invited to grab a piece of yarn and two push pins, and indicate familiar routes on the map.
These activities are suitable for the sandbox set, not the deliberations of a political democracy. They trivialize public discourse to the point of meaninglessness. There's no way they can even begin to address the difficult issues raised by land use and transportation planning in the Bay Area. All they can yield is a laundry list of concerns, which, as the website linked above indicates, is exactly what they did. The February 23 RAB meeting had the same results (posted here under "Poster Board – comments collected at meeting").
Now ABAG staff, working with Barbary Coast Consulting, have created new "engagement tools" that will provide "an interactive engaging experience for participants in the Spring/Summer 2016 Plan Bay Area workshops." As described in the staff report for Item 11 in the agenda for the ABAG Administrative Committee's March 28 retreat, one of the tools is
a simple online game designed for both smart phones and full computer screens that will allow participants to choose between the three scenarios and provide personalized input. The game will feature a description of Plan Bay Area 2040 and each scenario. Users will be able to click on one of the scenarios to express a preference and utilize a text box to share more detailed thoughts about one or all of the scenarios, as well as the Plan. The game will be available on laptops at the workshop and will be available online to gather continuous input that will help inform the development of the Plan.
As luck would have it, on March 28 a relevant and revealing post appeared on the website Planetizen, a great source of information on the planning profession in the U.S. Under the headline "Is Face to Face Community Engagement Dying Out?," consultant Dave Biggs, chief engagement officer at MetroQuest Public Involvement, identified a major threat to firsthand civic participation: "angry groups disrupting public meetings."
"When tensions are high, Biggs wrote, "public workshops can provide fertile grounds for disruptors," for the following reasons:
Since they are time consuming to attend, [public workshops] tend to attract the people who are most passionate (i.e., angry), increasing the likelihood of conflict;
They are typically advertised well in advance, giving disruptors plenty of opportunity to organize;
They provide grandstanding and mic grabbing opportunities for people seeking to influence others and steer the outcome; and
Disruptors can intimidate others into not speaking their mind out of fear of backlash.
Biggs seems not to realize that timely public notice, conflict, organizing, and persuasion are all essential components of a vital democratic politics; or that disenfranchisement of the public can take many forms, including the one he proposes a solution for the problems he perceives, "pop-up engagement":
Pop-up engagement is a style of engagement in which organizers simply pop-up a booth or table in a busy public location, perhaps in conjunction with another event, and offer simple and fun ways for people to learn about the project and have their say. Trailblazers like Candy Chang who pioneered the "Before I Die" public blackboards that invite people to fill in the blanks have led the way for others. She's since gone on to "I wish this was" stickers that invite people to propose solutions for community development projects. Others like Projects for Public Spaces use simple stickers to invite people to weigh in on planning choices. There are limitless way to engage people quickly at these pop-up stations. There is typically project staff on hand to chat with people, project materials, fun activities for visitors to do, refreshments, and other inexpensive ways to slow people down and draw them in.
By now, this should sound familiar. It's as if political discourse has been reduced to the equivalent of Twitter exchanges—with one crucial difference: It's just the public that's being subjected to these demeaning maneuvers. The power players aren't wasting their time playing silly games; they're meeting with the decision-makers and shaping public policy behind the scenes.
As transportation engineer, consultant, and activist Gerald Cauthen told me about the RAB project:
During at least the past two years there have been ongoing meetings with local agencies, affected transit properties, MTC, state and federal agencies, and San Francisco's elected officials here, in Sacramento, and in Washington. The tried and true method of getting the political snowball rolling downhill before the opposition knows what's going on is already well under way. Only the public has been left out of the discussions…until last Tuesday night [the February 23 meeting].
I trust that the dignitaries participating in these meetings were not asked to write their comments on post-its, mess with yarn and push pins, or play simple online games. Members of the public ought to demand equal treatment.