As we assess the implications of last week's elections, it is worth considering two clear wins for progressives and for the tenant movement in San Francisco – and what those wins may suggest for a path forward.  
Last week, San Francisco voters decisively rejected Propositions P and U, cynical measures that would have caused long-term damage to this city's affordable housing programs and deliberately pitted middle-class tenants against lower income tenants.  The two proposals were defeated by huge margins: 67-33 and 65-35.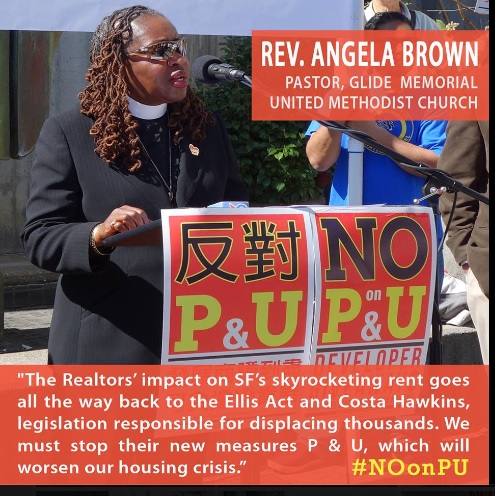 The margins of defeat may suggest they were doomed from the start.   But in reality, these divisive measures were on the verge of passage just two months before.  
As previously reported in 48 Hills, Proposition P and U were designed and paid for by the real estate industry.  The national and state realtor associations invested more than $1.2 million putting the measures on the ballot and running an extensive campaign to secure voter approval. Local realtors provided staff and political connections, lining up the support of Supervisors Mark Farrell and Katy Tang and others.
Why were the realtors investing in a campaign to reform affordable housing, programs in which the realtors and their clients had no direct financial interest? Tenants and housing rights organization puzzled over this question when the proposals surfaced early this summer. We knew realtors generally did not support affordable rental housing programs. They had blocked legislation in Sacramento to strengthen inclusionary housing programs and asked the Supreme Court to find all such programs unconstitutional. 
As we researched P and U, it became clear that the realtor's agenda was less about policy and more about political strategy.
Stepping back from the wonky details of the specific proposals, it is apparent that the realtor's campaign for P and U was an attempt to coopt, divide, and disrupt our movement. 
The realtors' ballot arguments and campaign literature explicitly sought to appeal to people concerned about the eviction and displacement of tenants, nurses, and others – concerns that our movement brought forward to public awareness. They then sought to redirect that concern into narrow class interests: claiming that the "middle class" was being left out of affordable housing programs.
Their solution was to "expand the availability" housing by offering housing presently targeted for lower-income families to the middle class.  And they promised to "cut costs" of future affordable housing development via their version of free-market competition — denigrating nonprofit housing organizations along the way. (A sample of one of their many mailers can be found here).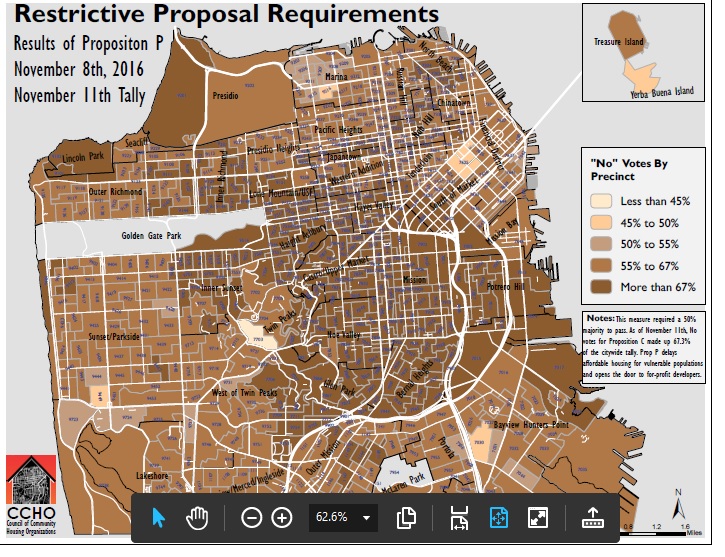 In short, the realtors were trying to steal our issues and then hijack the affordable housing that our communities have been fighting for over the past 20 years.
As housing rights activists began researching these measures, we also discovered that the realtors had cleverly designed measures and messages that they could sell to unwary voters. Polling in August showed that about 60% or more of likely voters, including a majority of tenants, would likely support Propositions P and U as described on the ballot.  
So if we wanted to defeat these measures, we had to reach beyond the low-income tenants who would lose the most and convince voters who considered themselves "middle class" to vote against measures that appeared to be in their own interest. 
Then we needed to overcome what would certainly be a huge campaign funding disadvantage. We needed to act quickly in a crowded field of ballot measure and candidate campaigns.
We won. We overcame those challenges and completely turned around voter perceptions about these two measures. Without retracing every step, our movement achieved this result through a number of strategies and factors.
First, we found supportive allies who could represent and speak to a broader audience. In particular, the progressive faith community embraced our cause and helped us lift up our message turning it into a moral critique. Glide Church hosted our kick off "No on P & U" event and the First Unitarian Universalist Church launched our second press conference and protest. The labor movement stepped up. The teachers and nurses unions helped counter the realtors' attempt hijack the concerns of their members. Union leaders spoke eloquently about the need to protect lower income workers, appealing for solidarity and not narrow self interest (note: we will need to fight to for labor when they come under attack by the new regime). 
And while our mayor was silent, almost all progressive elected officials rallied to our side (the campaign's endorsements are here).
Second, with a crowded ballot, organizational endorsements and slate cards seemed to matter.  Except for a few realtor-sponsored organizations and the Republican Party, almost every meaningful slate card opposed either or both measures, including the Tenants Union, the League of Pissed off Voters, and the Bay Guardian "Clean Slate."  In addition, the No on P&U campaign committee managed to raise some funding.  The committee was outspent six-to-one but it was able to conduct a direct mail and ad campaign.
Third, our movement laid the groundwork first. For the past four years we have built a foundation of public understanding about the housing crisis — which is why the realtors were trying so hard to co-opt the issue.  While the realtor message worked initially, voters became more skeptical when they were informed about who was paying for the measures.   The initial support for the measure could and would be reversed with enough outreach and education.
Finally, long-term investing in organization and coalition was essential to our success. The SF Anti Displacement Coalition and the Council of Community Housing Organizations provided the basis for us to quickly reach out to allies, form our message, and come together for actions and public events that turned out hundreds of people. While our events received minimal traditional media coverage, they mobilized our activist members and we utilized social media to promote the events to tens of thousands more.
Together our movement blocked a million-dollar effort to hijack affordable housing and divide our city. We accomplished this despite being outspent six-to-one. When the last ballot is counted we will show that the vast majority of San Franciscans are united in support of building and protecting rent controlled housing that is affordable to lower income families and seniors.
Deepa Varma is executive director of the SF Tenants Union.