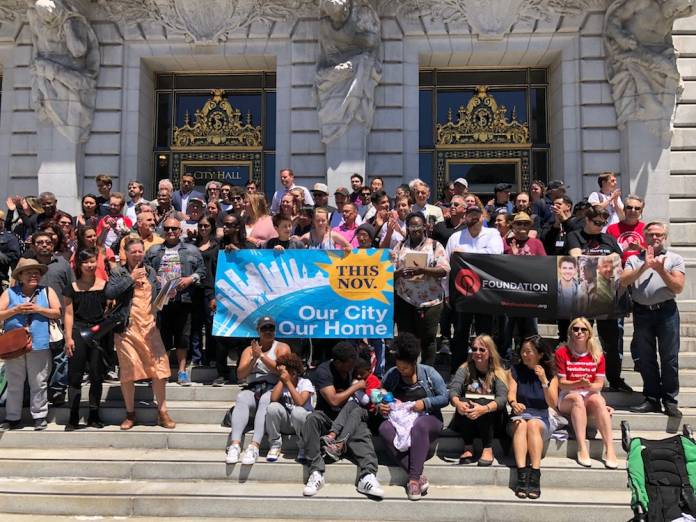 The biggest election day of a lot of our lives is Tuesday/6, and I know that sounds overly dramatic, but I think it's true.
The country is falling apart. Trump's emboldened supporters are promoting white supremacy, sending bombs to Democrats, and massacring Jewish people. I lived through Watergate. I lived through Reagan destroying the New Deal and the post-War consensus of shared prosperity. I lived through GW Bush, 9/11, the Iraq War, and so many other disasters. I have never seen anything like this.
The mid-terms that are a plebiscite on Trump will define politics in the United States for years going forward.
The local elections in San Francisco will determine whether the voters are willing to tax the richest corporations in town to seriously address the homeless crisis, and whether Mayor Breed – who is opposing Prop. C – will have a majority to support her policies on the Board of Supervisors.
Polls are open from 7am to 8pm. You can find your polling place here.
You can find our big comparison of Who's Endorsing Whom here.  
The biggest story of the local election is the flood of corporate money, more than I can ever remember. San Francisco has strict limits on campaign donations to local candidates, and has matching funds for candidates who agree to a spending cap. But none of that really matters right now, since the big money is in the independent expenditures bankrolled by Big Tech and Big Real Estate.
Progress San Francisco, in IE group funded almost entirely with massive checks from the real-estate industry and friends of Ron Conway, has spent close to $1.3 million in just two districts, 4 and 6. The folks who want to control the city in the interests of developers, major landlords, and tech companies that don't want to pay fair taxes or accept reasonable regulations are promoting Jessica Ho in 4 and Christine Johnson and Sonja Trauss in 6.
As of the latest filings, Progress San Francisco poured $638,000 into D4 and $672,000 into D6.
And that's not the only source of outside unlimited often dark money.
It can be hard to follow who is really funding which attacks, since the money gets funneled through so many committees. For example, this mailer was signed by "Westside Neighbors." That slate-mailer organization hasn't filed yet with the Ethics Commission. But other filings show it's actually funded with some of the $27,500 donated by Safe and Affordable SF to attack Mar and oppose Prop. C.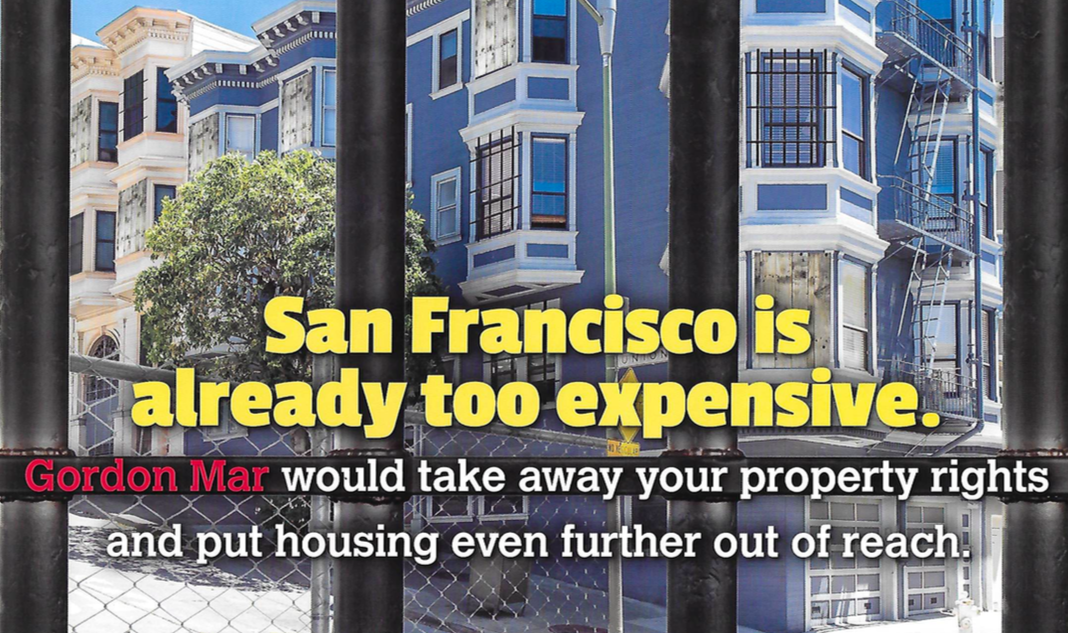 There are some surprising elements in the late money. Shamman Walton, who has the support of many progressive leaders, just got $10,000 from Progress SF. Of course, the disclosures don't list the $10K from the real-estate PAC; instead, Progress SF gave that money to the United Democratic Club, which has been a conduit for big corporate money, and the UDC spend close to $10K on a field operation supporting Walton.
I will repeat my general analysis of big campaign money. The fact that Progress SF gave money to Walton doesn't mean that Walton has any connection to that corporate operation, or that he has given them any indication that he will vote the way they want. It just means that this operation, which represents one side of San Francisco politics (the side that doesn't support redistribution of wealth and power) thinks he's a better candidate than his leading opponent, Tony Kelly.
The same goes for Gordon Mar and Jessica Ho. The Big Money clearly prefers Ho to Mar.
Salesforce, which has put itself in the forefront of the campaign for Prop. C, was in a strange place last week. The company put $50,000 into the IE for Jessica Ho in D4, but when CEO Mark Benioff learned that Ho is against Prop. C, the company asked for its money back. The tech industry – or, that segment, led by Benioff, that is willing to acknowledge that the tech boom has helped fuel the housing and homeless crisis and that the companies making the most money out of San Francisco should give back – is still in a learning curve.
There are two sides in SF politics, and Prop. C is defining them pretty clearly. The people who think that the free market will solve our problems and are willing to defer to the tech industry to set the agenda are on one side. The people who think that the wealthiest in the city should pay a small part of their excessive wealth to solve the problems they helped create are on the other side.
If you are looking for Election Night Parties, here's a partial list (if I haven't listed your party let me know and I will update).
SF Democratic Party's Red to Blue operation – along with quite a few other candidates – will be at The Oasis, 298 11thStreet.
Matt Haney for Supe will be right down the street at Calle 11, 1501 Folsom.
Tony Kelly for Supe will be at Thee Parkside, 1600 17thStreet.
 Shamann Walton for Supe will be at Laughing Monk Brewery, 1439 Egbert
Gordon Mar for Supe will be at the Irish Cultural Center, 2700 45thAvenue.
Jessica Ho for Supe will be at Hole in the Wall Pizza, 1825 Irving.
Yes on 10 will be at El Rio, 3158 Mission.
The Yes on C Party is At Roccapulco, 3140 Mission. I think Prop. C is going to win big, and this will be a party for the ages.