For more than four decades, Dance Brigade's co-founder and award-winning Artistic Director Krissy Keefer has been a voice in the wilderness, warning audiences around the country about the devastating effects of global warming.
Following the UN's recent announcement that humans have only 11 years to prevent irreversible damage from climate change, the dancer-activist — who in 2006 ran against Nancy Pelosi for Congress on a "Stop Global Warming" platform — is back at it with her new show, Butterfly Effect (opening Fri/24 at Dance Mission Theater).
Utilizing eight dancers, six drummers, and a live musical score by local composer Bruce Ghent, the mixed-media show, featuring athletic, high-energy dance, explosive Taiko drumming, art installations, video, and poetry, urges audiences to —once and for all — face the gravity of the climate crisis.
Drawing viewers into three dystopian worlds — a grotesque fashion show, a room filled with biodegradable packing peanuts, and a community lost in nuclear winter — Butterfly Effect demonstrates how people's actions today can have far-reaching consequences.
The show also makes a point to pay tribute to the many environmental activists like Berta Cáceres that have been brutally silenced after speaking truth to power, but whose words and actions have sparked global movements.
I spoke to Keefer about jolting audiences from their denial and complacency around climate change, two environmental campaigns she'd like to launch around her new show, and the link between environmentalism and feminism.
48 HILLS What makes a Dance Brigade show different than other experimental theatre shows around San Francisco?
KRISSY KEEFER We do a lot of work around very specific subjects and themes that are concerned with people who populate the left and gay, lesbian, and queer sensibilities and people with children. We have a broad reach and an unorthodox relationship to the situation because our audience is not fine art lovers. They come to see what's going on in the world reflected back to them, but in an entertaining way — using humor and several different forms from modern dance to hip hop to Taiko drumming to theatre.
The other thing is I'm really into the collective heartbeat of a performance when the audience gets on the same page, so that's what I strive for. I strive for people to coalesce intellectually and emotionally around one of the themes, and there's a "me too" moment where we're like, "Yes, we're all in this together," and we can try to figure out how to stay closely bonded and change the world.
48 HILLS Your new show, Butterfly Effect, addresses climate change, which you've been tackling for years now.
KRISSY KEEFER I'm from the early '70s where we were very aware of not only species extinction but that you shouldn't use plastic or take plastic bags when you shop for your vegetables. So I've had that sensibility and awareness about the environment and had to do pieces in those very early days about endangered species and had really tried to generate interest, enthusiasm, and love for the planet.
Then I read in 1996 that the polar ice caps were melting and I immediately went on a crusade to talk about it because I knew that once a system that phenomenal was going to crash, it would take many systems down with it. I would call it the sinkhole theory, that once one system starts to go down the drain, many systems start to go down the drain at the same time. And I harped on it in a way that I didn't necessarily win a lot of converts in my efforts to bring attention to the struggle. But I see now this is where we're at. The polar ice caps are melting and it's a dire problem for the planet; it's now the biggest problem that we have to face.
48 HILLS How are you choosing to address this cataclysmic crisis in your new show?
KRISSY KEEFER In the show, I'm trying to deal with the broad scope of the problem from a Western perspective, because I'm looking at some of the organizing coming out of England with Extinction Rebellion and speaking truth to power. But also trying to tie it into what happened in Honduras with Berta Cáceres getting assassinated defending her river and what really happens when people speak truth to power. They shut you down; they kill you.
But we have to look at how many climate activists have been murdered in the last 10 years all over the world for trying to defend their natural resources. These will be the great unsung martyrs, if there's a world at all, that we will look to as the saints. But at this point, there are just grieving families and dire situations for people of the planet.
48 HILLS In naming the show Butterfly Effect, is it your hope that viewers will change their actions and therefore impact others to change theirs?
KRISSY KEEFER Yes, the Butterfly Effect goes two ways. It goes the way of little Greta Thunberg and how the action of one child has blossomed into an international movement because she's bothered to speak truth to power. And there's the Butterfly Effect on the other end of those sinkholes that are going to happen when the polar ice caps melt, so it's the effect going back and forth.
48 HILLS In putting a show like this together for a San Francisco audience, aren't you preaching to the choir? How will you change the hearts and minds of conservatives?
KRISSY KEEFER Well, I think we need to get very clear that if people are still supporting Trump, there's no way my little show is going to change anyone's mind. So what we need to recognize is as much as all these people we think are like-minded, when I go out and start talking to people about climate change, they know and their eyes glaze over it at the same time. People don't know what to do and don't want to think about it if they don't have to, so I'm fine to jumpstart all the ones we think are like-minded. People are busy and drug themselves with being busy. I'm guilty of that myself.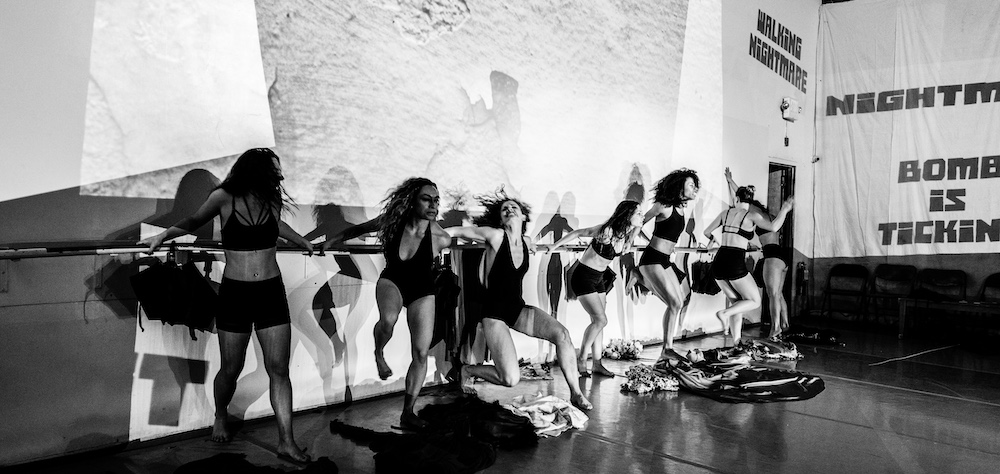 48 HILLS What should San Franciscans be doing to save the environment?
KRISSY KEEFER Now, I don't feel like I have any delusions about activating around this, but I would really think that everyone should put pressure on Gavin Newsom to limit the days that people can drive their cars. I think that's a no-brainer. I would also love to see free MUNI across San Francisco. So those are two campaigns we would love to launch before and after the show. We are trying to use the show as a real platform for changing people's minds. This isn't just catharsis. It's also trying to get people in the room and actually sign up to demonstrate or get arrested. It's amazing what the lackluster response out of San Francisco is these days. We used to be militant in this town. I don't see myself reflected here anymore.
You want to try to set up Friday demonstrations at City Hall, but it's really hard to be consistent. But why, though? We're in the throws of the end of the world and it's hard to go to City Hall and do a demonstration for an hour? That's what we're talking about. I would say most of our audience is not thinking they should be down at City Hall.
48 HILLS You've been infusing feminism into your performances since co-founding the Wallflower Order, the nation's first feminist dance company in 1975, and the feminist dance company Dance Brigade in 1984. How do you keep your activist feminist vision alive in a show about the climate crisis?
KRISSY KEEFER Well, I feel like I've been involved in this political thing since I was 22, so I have a 40-year history of not just creating works but being involved with the variety of political movements. My sensibility and understanding, especially in the '70s, '80s, and '90s, were women, especially lesbians, played a huge part in every social movement on the left.
So I've always felt that it's women standing strong and bonded around the environment, and the way that we treat the disenfranchised — women, children, transgender people — is the same way we treat the environment. If you can come into the current borders of the United States and kill all the Native American people here, you can easily pollute every river after it. It's interlinked that the destruction of Native people on this territory paved the way for the complete lack of concern of how we took care of our resources.
BUTTERFLY EFFECT
Fri/24 through February 9
$15-$40
Dance Mission Theater, SF.
More info here.