Soul of a Nation: Art in the Age of Black Power 1963–1983 was organized by London's Tate Museum and traveled to Arkansas, New York, and Los Angeles before coming to the de Young Museum. But Thomas Campbell, the director of the Fine Arts Museums of San Francisco made it a priority to bring the show to San Francisco.  
He did so because a show highlighting the artists inspired by the Civil Rights and Black Power movements and their influence on art seems so important now, says assistant curator of American art at the FAMSF, Lauren Palmor. She mentions something African American studies and art history Bridget Cooks said at the opening of the show at The Broad in Los Angeles. 
"She said, 'I have good news and bad news. This show has never been more relevant,'" Palmor said. 
The relevance of the artwork can be seen over and over in Soul of a Nation, Palmor said. "A work by Phillip Lindsay Mason, Manchild in the Promised Land was painted in 1968, but if you cover the label, it could be a reflection on Travon Martin," she said. "It's galling to see how little has changed. The perspective in the painting is you looking down on a red target on the boy's chest, like his body is a target for a potential aggressor."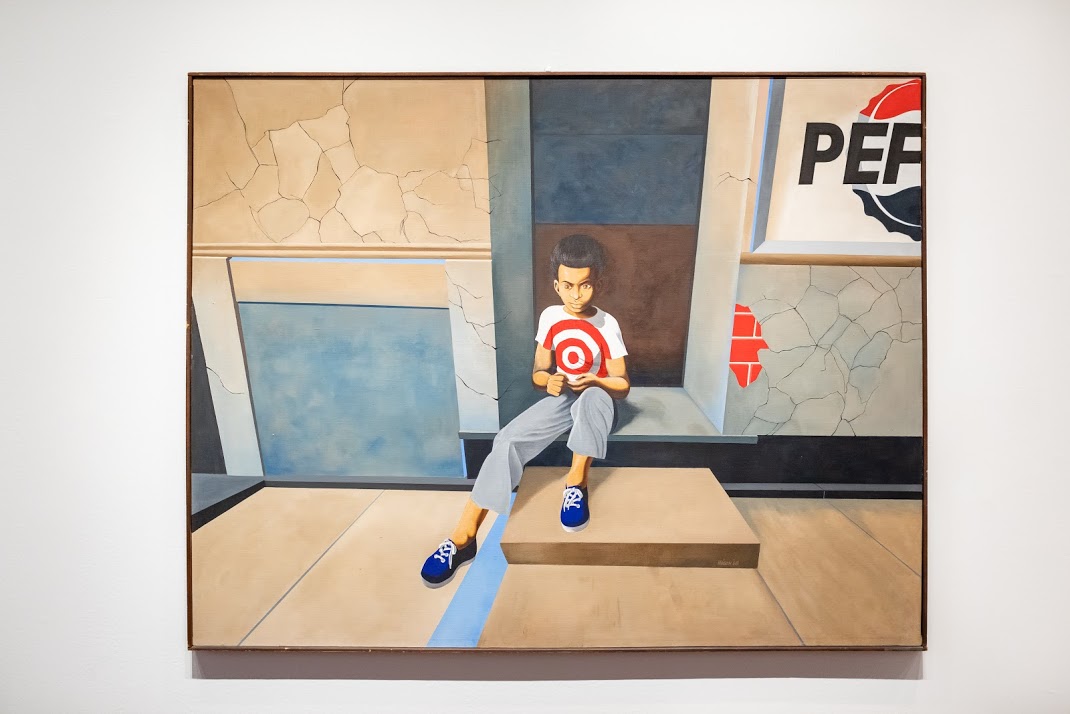 The show has the work of several art groups, beginning with the Spiral Group, a collective of New York African-American artists who organized in 1963 in direct response to the  March on Washington for Jobs and Freedom. Others include a group which started in Chicago, AfriCOBRA  (the African Commune of Bad Relevant Artists), and Just Above Midtown created in 1974 by Linda Goode Bryant.
Soul of a Nation includes figurative and abstract painting, prints, collage, sculpture, and photography. Photographers in the show include  Roy DeCarava who won a Guggenheim Fellowship, and Dawoud Bey, who has a retrospective, An American Project , opening at the San Francisco Museum of Modern Art on February 15.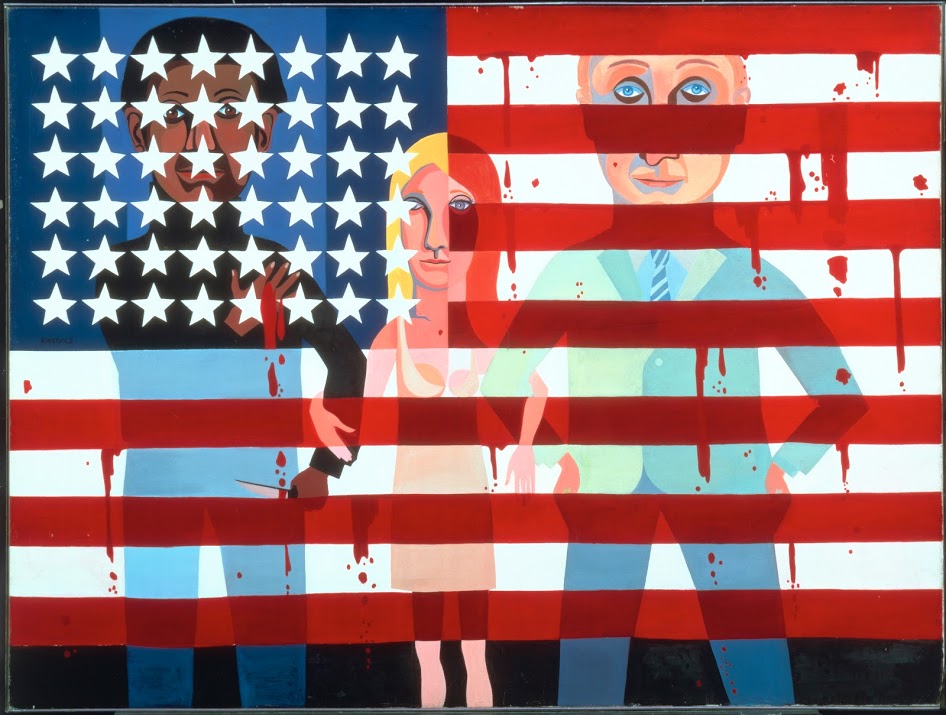 The de Young's presentation will also include an expanded selection of works by African American artists working in the San Francisco Bay Area or works with a Bay Area connection. These artworks have a seven-pointed star in rainbow colors on the label next to them, a reference to Rainbow Sign, a community center in Berkeley that served as an art gallery, concert venue, and restaurant, hosting writers such as James Baldwin and Maya Angelou, singers Nina Simone and Odetta, and politician Shirley Chisholm as well as visual artists.
Elizabeth Catlett's Black Unity, a mahogany sculpture of a giant raised fist, done as an homage to the raised Black Power fist at the 1968 Mexico City Olympics was shown at Rainbow Sign, as was one of Betye Saar's most famous pieces, The Liberation of Aunt Jemima, a mixed-media work featuring an "Aunt Jemima" mammy figure holding a broom and a rifle. Black Panther Party for Self-Defense leader Angela Davis said about The Liberation of Aunt Jemima, "This [work] is where Black feminism began."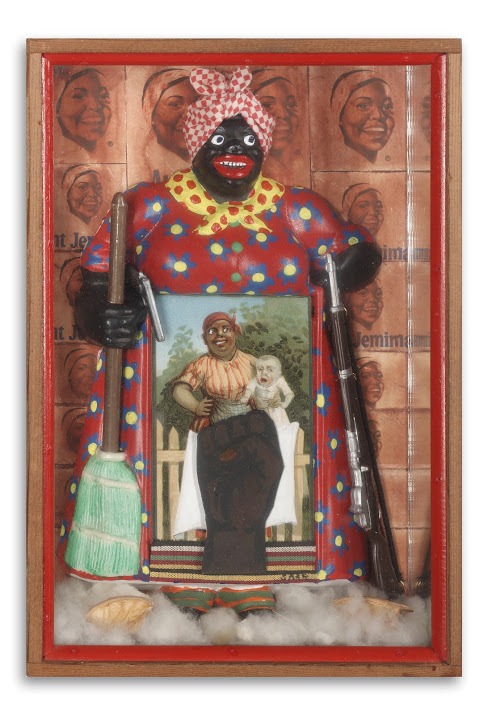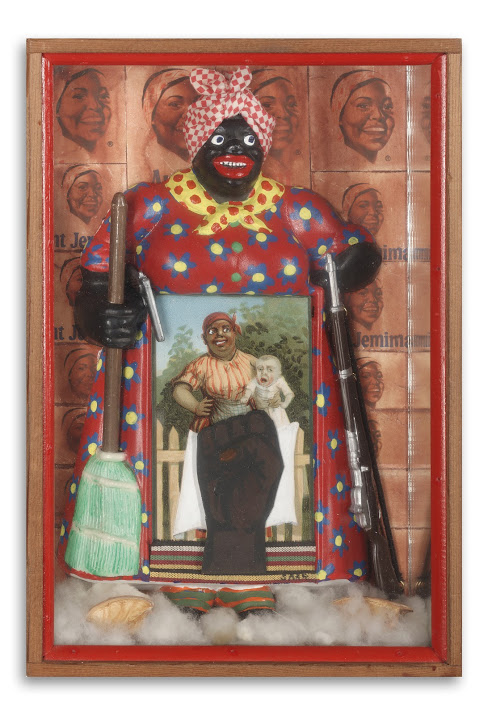 Another work with a rainbow star on its label is "Non-Violence" by Mike Henderson, who came from a small town in Missouri to attend the San Francisco Art Institute in 1965, and has been here ever since. Henderson, a film maker and blues musician who has played and spoken at several Soul of A Nation events, says he would work in the studios at SFAI until late at night, and walking home, police officers would stop him, sometimes more than once before he got to the Stockton Tunnel. "Non-Violence," which shows a police officer with a swastika on his arm, holding a machete and about to attack an already wounded animal, was painted in response to that.
"I was very passionate about that issue when I did that painting," Henderson said. "Where I came from there was no venue to talk about that. It was football and baseball and whatever was in the barber shop. It was the Bible Belt, and men didn't talk about art and music—men played football and they fished."
Henderson says when he came out here, he was moved to see people, like the Black Panthers, trying to make a difference. He didn't want to be a person who just observed change, he said. He wanted to be part of it. It was after a demonstration when Martin Luther King, Jr was killed that Henderson decided to make movies.
"I was walking home thinking, 'How can I make my paintings more powerful?'" he said. "I decided I could make them move." (Some of Henderson's experimental films are at the Haines Gallery with a show of his paintings until March 28). 
For Henderson, it's wonderful to see all the art engaging visitors at Soul of a Nation.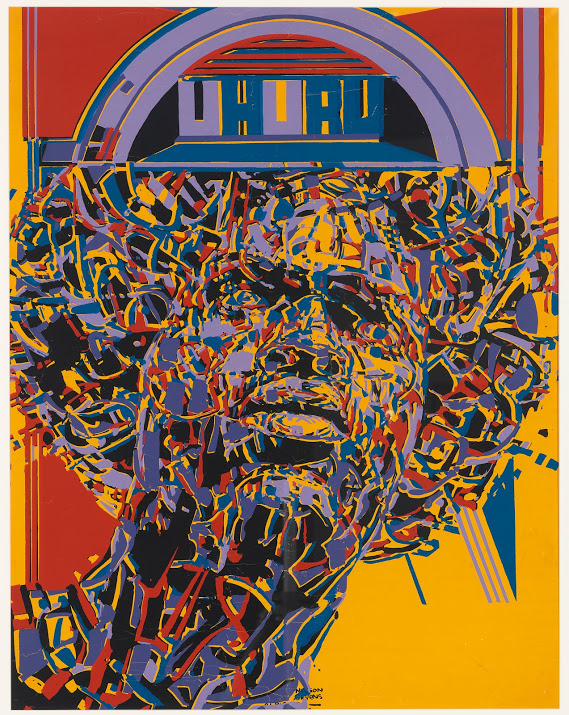 "I really applaud the curators for doing the show," he said. "For me, one of the great moments at the show was meeting this young kid from CCA who was there with his grandmother and mother. He was this young African American guy probably just out of high school, and I thought, 'Wow this is fantastic!' and I gave him my contact information. That show has had some free days for people to come and it's reaching out to an audience that is silently hungry for the fine arts."
Along with free days, the museum has scheduled many events to go along with Soul of a Nation. Upcoming: Jahi, from Public Enemy (radio) talking about hip hop and education on Feb. 22, and on March 14, poet, rapper, activist and filmmaker Boots Riley (Sorry to Bother You) will be there for the closing weekend. 
SOUL OF A NATION
Through March 15
de Young Museum, SF
Tickets and more info here.