It's raining cats and dogs with the more family-friendly film events of the week. One is the new 20th Century Fox Animation/Disney live action version of Jack London's Call of the Wild, which stars Harrison Ford and other actual sentient beings in the much-filmed tale of a Gold Rush era sled dog's life and times. But judging from the trailer, this is "live action" in the same sense as Disney's recent remakes of its animated classics, with the critter protagonists very obviously computer-generated. It sure doesn't look like the comparatively faithful version of London I was hoping for, and which we haven't gotten even once in over a century now.
A corrective to all that expensively expressive canine cuteness will be the Roxie's hosting on Sat/22 of the annual Catvideofest, in which man's best acquaintance ("friend" would be presumptuous, even if that title weren't already claimed) cavorts in amateur shorts, as well as music videos, cartoons, viral vids, and so forth. The show reprises on Mon/24, and also plays other venues around the Bay Area this week. More info here.
We'll just make the assumption that there are at least a few felines and puppy dogs involved in the 12th annual Bay Area International Children's Festival, which opens Thurs/20 at the Grand Lake in Oakland with a preview screening of the new Peter Pan spin Wendy. It then continues Sat/22-Sun/23 at Chabot Space & Science Center with sixty films around from the world, plus animation workshops for kids, guests from Pixar, and more. Full program and ticket info here.
About a child, but not exactly for children, is Brahms: The Boy II, William Brent Bell's sequel to his 2016 original, in which a "babysitter" entrusted to care for a creepy older couple's "child"—a male doll—began finding it a little too lifelike for comfort. That film was enough of a sleeper hit that this followup features a name star (Katie Holmes), though otherwise it sounds like more of the same. It opens wide at theaters nationwide.
There's also horror of a much less mainstream variety to be found at the Alamo Drafthouse on Sun/23, as a "J-Horror Bloodbath" bill excavates two obscure, sub-feature-length Japanese gorefests made for the video market in the high VHS era. 1985's Demon Within finds a journalist and his photographer infested with "ghoul larva" after they investigate a "Hitodama" or devouring spirit. The slick hour-long film goes from mixing Gremlins and Alien to a prolonged climax more indebted to Trilogy of Terror. The next year's even shorter, sillier Biotherapy is a hysterical excuse for mayhem as the staff of a medical research laboratory are nastily slain one by one by a mysterious stranger seeking a developmental serum. This stuff is lurid trash—but it's better trash than the equivalent that was being made in the U.S. at the time. More info here.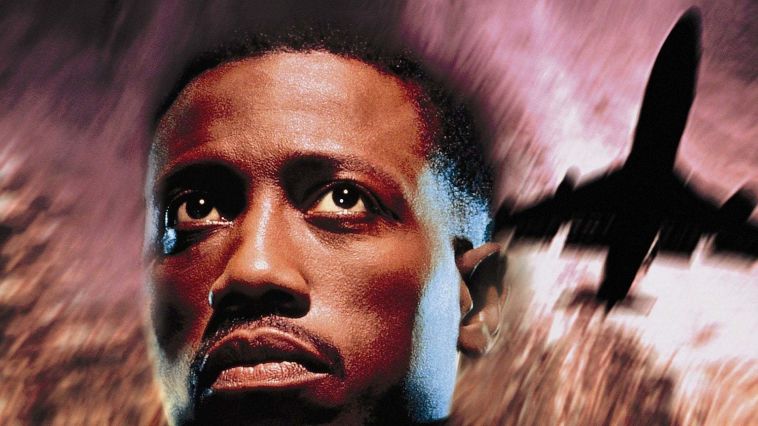 We can't tell you what the trash-to-class ratio will be the prior day at the Alamo, as it presents Stars and Snipes Forever: The Wesley Snipes Mystery Marathon. Starting at 11 am, with between-film breaks, you're promised at least eight hours of entertainment starring "Orlando, Florida's greatest cultural export," whose major status in the 1990s was toppled by some serious tax-evasion issues and others of an…er, "artistic temperament" nature. For a while there he was reduced to making cheesy grade-B action movies in places like Romania and Bulgaria, but lately he's had a bit of a comeback, notably in last year's Eddie Murphy vehicle Dolomite Is My Name.
The Alamo isn't revealing all-35mm program's contents in advance, but I'd place money on at least one Blade installment, plus maybe one of his films with Woody Harrelson (White Man Can't Jump, Money Train), maybe a Spike Lee joint, and how about The Fan, in which he's a major league baller terrorized by Robert DeNiro? More info here.
Stardom of a different sort is explored in the SF-shot Kamikaze Hearts, Juliet Bashore's sole directorial feature, which the Alamo is showing this Friday and Saturday in a new 4K restoration. Seldom seen since its original 1986 release, this neglected piece of 80s Amerindie cinema muddies the line between "truth or fiction" (an earlier title) as porn luminaries Sharon Mitchell and Tigr carry on their offscreen love affair on and off the set of a new XXX opus loosely inspired by Bizet's Carmen.
"Mitch" is the dominating personality, always "on," claiming "I'm always in character," and that ""Things aren't worth doing unless there's someone there to watch it." She's the compulsive exhibitionist to mullet-haired Tigr's comparative introvert. Theirs is not a particularly healthy relationship, even without the fillip that they're both using heroin. Featuring both additional adult industry players and some miscellaneous local scenesters (like Jennifer Blowdryer), Kamikaze Hearts remains queasy viewing, with its very meta self-consciousness and variably self-destructive lead characters. Strangely, no one here mentions AIDS, even though they're bisexuals living at the epicenter of the epidemic. More info here.
It's also a good week for animation fans, as the never-ending Roxie wellspring of new anime features brings Masaaki Yuasa's surf-and-turf romance Ride Your Wave, from the director of cult favorite Mind Game. (More info here.) Playing at ATA on Saturday night alone Other Cinema hosts a program of Experimental Animation featuring works by Janie Geiser, Salise Hughes, Bill Plympton, Martha Colburn, Art Clokey, the late great Sally Cruikshank and more, plus live multimedia performance by Tommy Becker. More info here.
Friday openings of particular note:
From Russia (and former territories) With Trepidation: Beanpole, And Then We Danced
It's rare enough that we get one new theatrical release from former Soviet territories, but this week brings two. Kantemir Balagov's Cannes prize-winning Beanpole is set in Leningrad (now Saint Petersburg again) just after the end of 1945, as surviving soldiers return and the nation begins transitioning back to peacetime. The very tall blonde Iya (Viktoria Miroshnichenko) is a nurse at a hospital for the wounded, a soothing presence despite her occasional seizures due to a concussion. She's raising a child that isn't her own—it's her friend Masha's (Vasilisa Perelgina). But when the latter returns from the front, the boy has died in an accident. Consumed with the need to have a another child, as well as to exact some kind of revenge, now-sterile Masha forces the hopelessly loyal, possibly-smitten Iya into increasingly alarming situations to conceive a "replacement."
A very bleak film somewhat incongruously served up in a rich, warm color palette, Beanpole is at core about a poisonous bond between two damaged people. I found it a distinctive but perverse, often alienating work that piles up abuses with rather gloating satisfaction. It is impressive in many ways, but hard to recommend with much enthusiasm. Opera Plaza, Shattuck Cinemas. More info here. 
Another discordant love story of sorts, but a far more engaging one, is offered in Levin Akin's Swedish-Georgian-French coproduction And Then We Danced. Merab (Levan Gelbakhiani) is a third-generation traditional Georgian dancer struggling for a place in the professional corps of the nation's leading folk performance ensemble when newcomer Irakli (Bachi Valishvili) shows up, cocky and ingratiating—a potential rival, but also a possible romantic interest.
While while gay members and relationships might be a given in most western dance companies, that is apparently still taboo here. Not only is Merab closeted (he even has a semi-girlfriend who's just about given up on ever losing her virginity to him), but when there's a vacancy in the main company, it's precisely because a star dancer has been "outed." Once the duo finally cave to their emotions, the stakes are high.
Warmly shot, with a mood variously ebullient and wary, this is a sensitive, non-preachy dramatic reminder that there remain plenty of places where being gay can still cost one a career, a family, a whole community. It gains psychological complexity as well as stylistic bravado as it goes on, until by the end And Then We Danced is a clear early entry for 2020's year-end best lists. Embarcadero, Shattuck Cinemas. More info here.
Ordinary Love
There's also trouble in relationship-land in this very fine Irish drama by directors Lisa Barros D'Sa and Glenn Leyburn. Lesley Manville and Liam Neeson play a retired couple whose affectionately sparring dynamic is tested when she finds a lump in one breast. Upon getting it checked out, the news is not good. Much of Belfast playwright Owen McCafferty's economical, incisive script is about the endless waiting and debilitating drudgery of one required medical appointment after another, even before the grueling eventualities of surgery, chemotherapy, and so forth. These two imperfect characters, who've already lost a daughter, stick together through the ordeal because they must. Yet neither of them necessarily behaves in any ideal "noble sacrifice" fashion, each buckling under pressure in their own way.
Without being gratuitously unpleasant (or medically graphic), Ordinary Love approaches something very ordinary indeed—the specter of possibly-terminal illness late in life—with a candor rare in movies. It has plenty of room for compassion, but none for easy sentimentality. Needless to say, these two actors are fully up to the task: Manville is expectedly fine, but it's a particular pleasure to see Neeson doing something worthy of his talent, rather than yet another routine revenge thriller. Embarcadero, Shattuck Cinemas. More info here.
Two Indie Comedies
If you're looking for something off the beaten path, but not so far off it involves breast cancer, homophobia, or sadistic psychological manipulation in Leningrad, two pleasant new indie comedies are conveniently opening this Friday.
In Matt Ratner's Standing Up, Falling Down, Ben Schwartz plays a 30ish Long Island native who comes crawling home in defeat after his comedy career has failed to take off. Family members shrug, thinking he's overdue for a "real" adult life anyway.. More encouraging is Marty (Billy Crystal), an alcoholic, twice-widowed dermatologist met by accident, whose self-destructive ways don't stop him from being nonetheless a rather supportive new pal.
Peter Hoare's screenplay doesn't quite come up with the depth needed for this story to resonate as it means to at the end. Yet it's a polished, likable movie with some very good performances—especially that by Crystal, who's terrific. Roxie. More info here. 
Jeremy Teicher's Olympic Dreams has a novel hook: It's the first fictive film allowed to shoot at an Olympic "village" (the one for the 2018 Pyongyang winter games). That setting provides a whole lot of background color and spectacle for what's otherwise a modest romance between two visiting Americans.
Penelope (Alexi Pappas) is a cross-country skier facing the discomfiting fact that the thing she's trained and waited her entire life for is about to happen—and then it's over, being one of the first events scheduled after the opening ceremonies. Ezra (Nick Kroll) is a dentist volunteering at the athletes' medical center. He's here for an exotic semi-working vacation, but also to think about something other than the longtime relationship he's currently having a "break" from, none too willingly.
Needless to say, these two cross paths, and sparks fly. Well, sorta. If Dreams doesn't make a memorable final impression, that's in part because the lead actors (who co-wrote the script with Teicher) don't have any special chemistry together. Still, it's a nicely crafted little tale, and the chance to glimpse how Olympic competitors spend their non-competing time on site is quite fascinating. Opera Plaza. More info here.