While the supervisors and the mayor are engaged in a critical, and bitter, debate about moving homeless people into hotels, the Planning Department is moving forward a plan to eliminate 68 low-cost rent-controlled residential hotel rooms in Soma and convert them to tourist rooms.
This proposal has been around for a few years, and in the past, the planners haven't been terribly supportive. But now it's back, and while Mayor London Breed has told the department to prioritize projects that promote housing and help small businesses, this one appears to be the opposite.
It was on the Planning Commission agenda for May 7, but will likely be continued to June. Still: It's a serious proposal – and it's pretty strange.
The idea is to let the owners of the Mosser Hotel, on 4thStreet, convert 68 mostly empty SRO units into tourist hotel rooms.
The rest of the Mosser is already tourist rooms.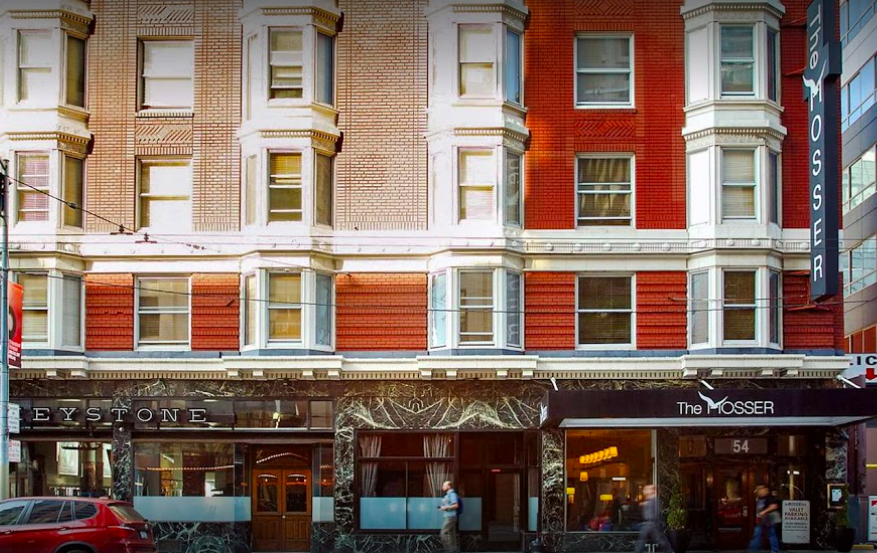 City law is pretty strict on SRO conversions; developers aren't allowed to do them unless the units are replaced, one-for-one. But the actual language allows a developer to pay a fee that covers 80 percent of the cost of replacement.
Meaning the city has to find the other 20 percent – and these days, that's a lot of money.
But the larger question is simple: Tourism isn't coming back on any scale for a while, and the smaller hotels will be largely empty for maybe a year or so, maybe more. Why take away rent-controlled affordable units and replace them with what will almost certainly be empty beds (unless the city decides to take them over)?
The place hasn't been sold in decades, and according to the Recorder's Office, is assessed at about $16.5 million, which means the owner is paying very little in property taxes.
I could argue that instead of taking away affordable housing the city should be talking to the owner about selling or long-term leasing the place.
BTW: Did you catch Matier on Sunday saying (as I have heard over and over for many years) that San Francisco has become a "magnet" for homeless people?He actually talks about the city's being "charitable with the homeless."
Which is entirely inconsistent with what actually happens on the streets.
What "data" do we have here? A comment from the fire chief, two anonymous sources, and one interview:
Nicholson said that up to 75% of the estimated 100 campers living in tents along the Fulton Street side of the Asian Art Museum appear to have come to the city with the hope of getting a hotel room.

"It would be better than living with this crap," said Cordell, a recent arrival from Stockton who didn't give his last name, as he swept up around his tent at the Fulton camp Thursday.
First: In every census count, the data shows that more than 70 percent of the people who are homeless in San Francisco used to have a home in San Francisco.
Second: Governor Newsom has already signed a deal to lease 15,000 hotel rooms statewide, and there's no reason that SF shouldn't work with him to have outreach workers identify people who are eligible for rooms under the state program.
Oh, and other counties, including some far from SF, are also offering hotel rooms to homeless people.
There are other issues on the agenda this week. The Board of Supes Government Audit and Oversight Committee will consider Thursday/7a measure directing the Department of Elections to make it easier for local residents to vote by mail in the fall. Right now, anyone who fills out a form and requests a mail ballot gets one – but why not make it simple? Why not send out a ballot to every registered voter in the city? People who don't send their ballots back could still vote at an Election Day polling place, but given the real possibility that the COVID crisis will still be lingering in the fall, and that the city may have fewer volunteers and fewer open polling places, VBM makes perfect sense.
The Land Use and Transportation Committee will finally address Monday/4 the concept of limiting office use in what are called Urban Mixed-Use districts, including the Mission.
And the full board will take on Sup. Aaron Peskin's rules to limit intermediate-occupancy housing.