In an important State Capitol legislative shift, on Thursday Berkeley Assemblymember Nancy Skinner agreed to amend her controversial housing bill, AB1085.
She said she will delete the section of that legislation which would have blocked $50 million of Inclusionary Affordable Housing fee payments from the 35 pending San Francisco market-rate housing developments that intend to take advantage of the State Housing Density Bonus law. That bonus allows them to increase their projects' size by up to 35 percent.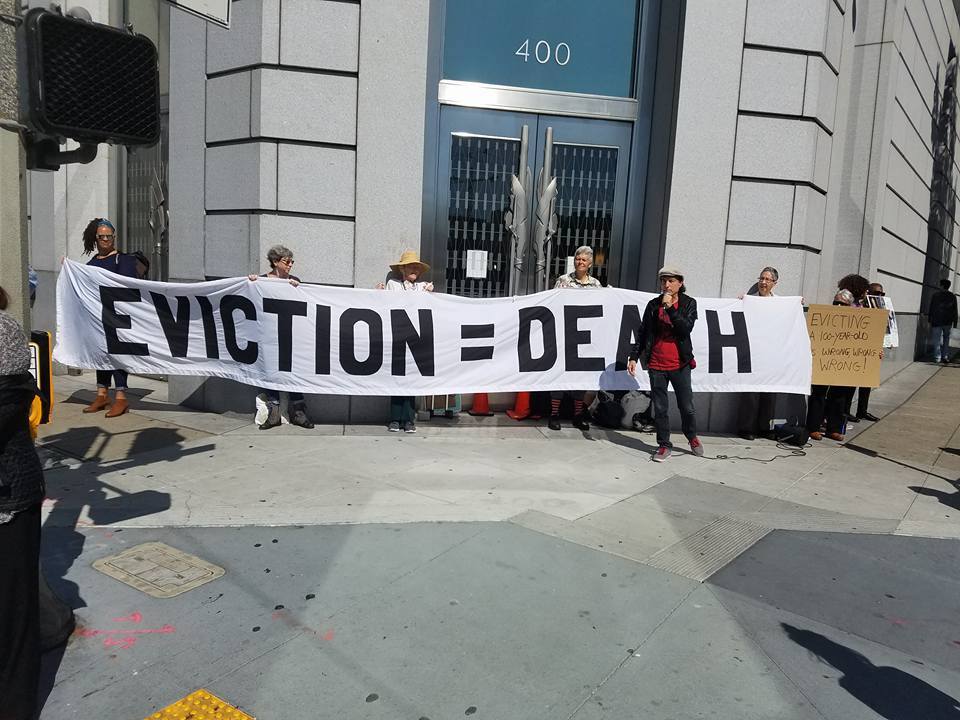 The change came in the wake of unanimous opposition to that provision of the bill by the Board of Supervisors, the Council of Community Housing Organizations, and affordable housing advocates citywide. San Francisco Assemblyman David Chui became a co-sponsor earlier this month, and this amendment was just accepted.
But there is still one last much bigger and much more fateful battle underway in Sacramento right now that will come to a showdown vote next week – Chiu's own AB1436.
AB1436 would protect potentially millions of California renters from eviction due to falling behind in the rent because they lost jobs or income in the COVID pandemic.
The bill would stop those evictions until 90 days after the California COVID-19 State of Emergency is over. The bill does not eliminate unpaid rents – tenants will still owe the money. But this statewide "renters stay of execution" will provide the time needed to get past the pandemic, get people back to their jobs, and find a permanent solution for the unpaid rents that work for both the renters and the landlords.
And to protect rental property owners from foreclosures due to the resulting loss of rental income, AB1436 would also require mortgage lenders to "forbear" missed mortgage payments due to these COVID-19 impacts for up to six months as well.
Chiu told the Los Angeles Times on Thursday: "California is facing a tsunami of evictions and foreclosures if we do not act … This bill is a balanced approach to ensure we avoid mass displacement and increased homelessness during the pandemic." He cited a Census Bureau survey from last month that showed 4.3 million renters in California reported "little to no confidence" in their ability to pay rent in August.
AB1436 has extraordinary support from more than125 organizations statewide. They include the official sponsors, and organizations representing labor and business, faith based, housing development and tenant rights, law and legal aid, environmental/economic/and transit justice, community health and anti-poverty, and racial justice and political advocacy constituencies. They all signed and submitted an extraordinary support letter last week before the Senate Finance Committee hearing.
But despite that, AB1436 is facing fierce opposition from the California Apartment Owners Association and the California State Chamber of Commerce – and many politically powerful landlords statewide. It passed out of that committee earlier this week, but with only six out of nine votes, with three abstentions. Its fate when it comes up for a vote on the Senate floor next week is up in the air.
And there is no more time to try again. The California State Judicial Council has held up all tenant eviction proceedings since April. But that "eviction hold" will come to end at the end of August – just 10 days from now.
Crucially, several key players are still not committed to passing an eviction protection bill yet – especially Governor Gavin Newsom. Newsom is reportedly seeking to broker some compromise. But time is running out.
This moment in this unprecedented year of 2020 once again demonstrates a great and fundamental flaw of American "democracy" – a flaw written into our very Constitution itself 230 years ago: Property rights are more important than people. And because property is the most ancient foundation of wealth, then protection of the wealth of property owners is more important than protecting the welfare of the people. And so … here we are today.
It's plainly sheer madness to throw millions of Californians – and nationally tens of millions of Americans – out of their homes due to a sudden pandemic crisis. It is an ultimate reductio ad absurdum outcome of Market Capitalism. Our entire society will be ripped apart, at great human cost and suffering. And even wealth itself will suffer due to the enormous national economic impacts of that distress and desperation. An unstoppable chain reaction of dislocation and default can be triggered. A bad Recession of a year or two will become a deep Depression of a decade.
But … Greed Hath No Goal But Greed Itself.