Oakland Mayor Libby Schaaf's decision to request aid from the California Highway Patrol in local traffic enforcement has been controversial, to say the least. While some communities have lauded Schaff's decision, others are enraged at Schaff, saying that the move runs counter to nationwide movements calling for police reform, as well as Oakland's local history of killings by CHP officers, including Erik Salgado, an unarmed man who was shot and killed in East Oakland at the intersection of 96th Avenue and Cherry Street on June 9 last year.
Community members sharply criticized Schaaf's decision to partner with the CHP, saying that CHP officers patrolling Oakland's streets endangers the lives of Oakland residents, particularly those of people of color, during a press conference Monday, held at the intersection were Salgado was killed.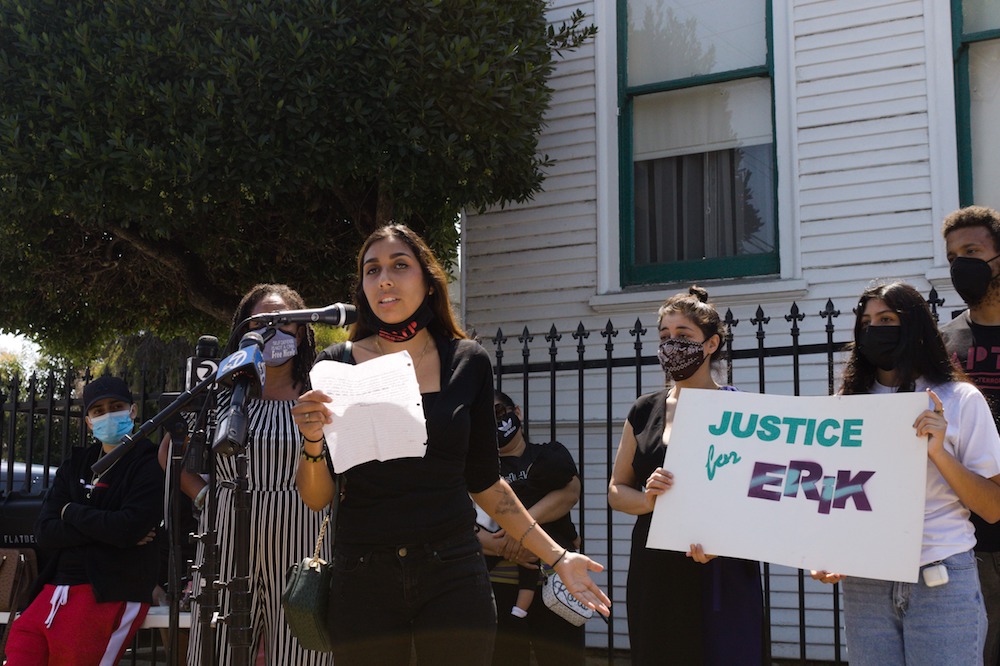 Amanda Blanco, Salgado's sister, said that the past year of trying to learn more details about her brother's death, and attempts by law enforcement to obfuscate them, has fomented a deep distrust in her of law enforcement, and convinced her that increasing the number of officers in neighborhoods will result in more deadly shootings by law enforcement.
"I'm here a year later, still fighting for answers in my brother's case…there is no compassion, remorse, or an explanation from [Oakland Police Department], CHP, or Libby Schaaf. I'm confused about why the request was for more CHP presence, when they have blood already on their hands," said Blanco.
"Even if it says on paper that CHP should enforce speeding, robberies, sideshows, it does not mean CHP will hold themselves with integrity and morals when they pull somebody over."
Schaaf had requested aid with local traffic enforcement from the CHP in hopes of freeing up police officers to focus on addressing a recent uptick in violent crimes—there have been 78 homicides in Oakland as of August this year, compared to 54 in August last year—and on Friday, Newsom agreed to Schaaf's request to send CHP officers to Oakland. Schaaf's office said that there are no available details regarding how many officers will be deployed and where, but reinforced that the community at large wants an increase police presence to bolster public safety.
"The request for assistance from the CHP came from the community," said Justin Berton, Schaaf's spokesman.
Cat Brooks, co-founder of the Anti Police Terror Project, criticized Schaaf in pursing the local partnership with CHP, saying that Schaaf circumvented the City Council in making a plea to Newsom directly, rather than facilitating a decision-making process more considerate of public will.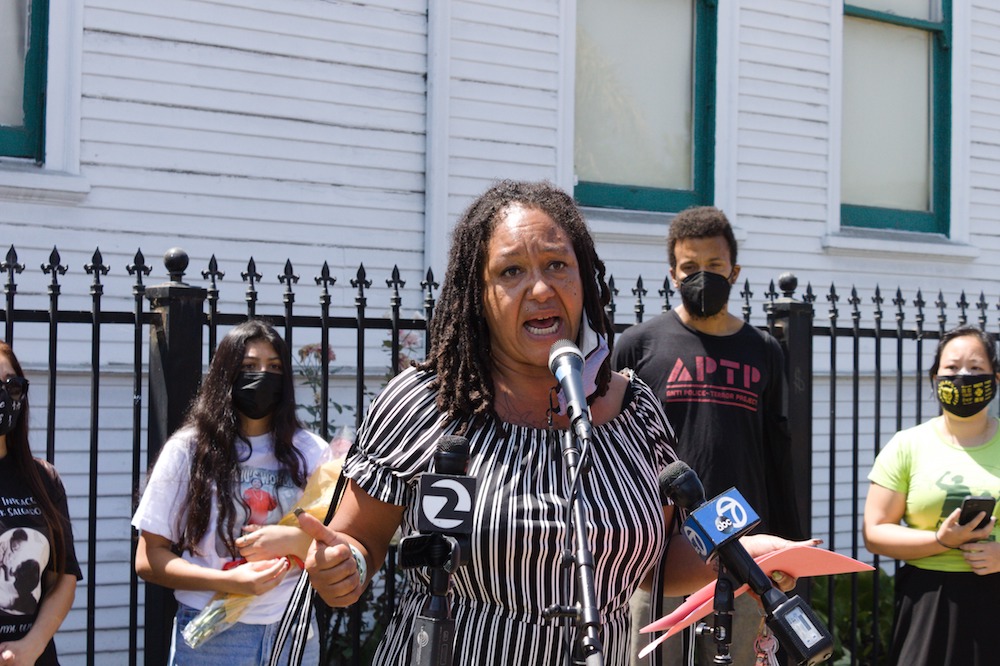 "Libby Schaaf did this in a vacuum. She did this with a phone call to her homeboy Gavin, in a way that circumvented the power of duly elected officials," said Brooks.
Some in Oakland, however, have called for more police; Carl Chan, president of the Oakland Chinatown Chamber of Commerce, called on Newsom to send CHP officers to Oakland and to declare a state of emergency. Many in Oakland have grown increasing fearful during a spate of high-profile violent crimes, including an August 9 shooting of two bystanders who attempted to prevent a woman from being robbed in Chinatown, as well as a July 27 attack on former state senator Barbara Boxer near Jack London Square, where she was pushed to the ground before having her cell phone stolen.
"Governor Newsom, we want you to do this. Declare a State of Emergency for the city of Oakland. We want you to bring in the California Highway Patrol. I am not only asking for patrolling Chinatown. I am asking to send the police, the CHP to the city of Oakland. All areas. We need your help," said Chan during an August 10 press conference.
Chan could not be reached for an interview.
City Council President Nikki Fortunato Bas, who represents District 2, which includes Chinatown, argues that rather than having CHP patrol streets, authority over non-violent crimes, including traffic enforcement should fall to the Department of Transportation and the Fire Department rather than the police as a means to prevent violent altercations. But she said that she was willing to collaborate with CHP and other outside law enforcement in addressing violent crime.
"We must effectively transition nonviolent and non-criminal issues to our Fire Department and Department of Transportation and away from our Police Department so that our officers can focus on solving serious and violent crimes," said Fortunato Bas in an email statement. "Any additional law-enforcement that comes to Oakland must serve our community with the highest standards of respect and collaboration. We must work together at the local, state, and federal level to get illegal guns off our streets, solve serious and violent crime, and to address the root causes of poverty and violence that lead to crime by providing stronger access to good jobs, affordable housing, quality healthcare and strong education."
AAPI activists present said they disagreed with the notion that more policing will make their communities safer. Alvina Wong, campaign and organizing director at the Asian Pacific Environmental Network, said that the Bay Area's AAPI community is not a monolith, and that Chan's call for more police does not reflect the will of all Asian Americans in the Bay Area in response to rising hate crimes.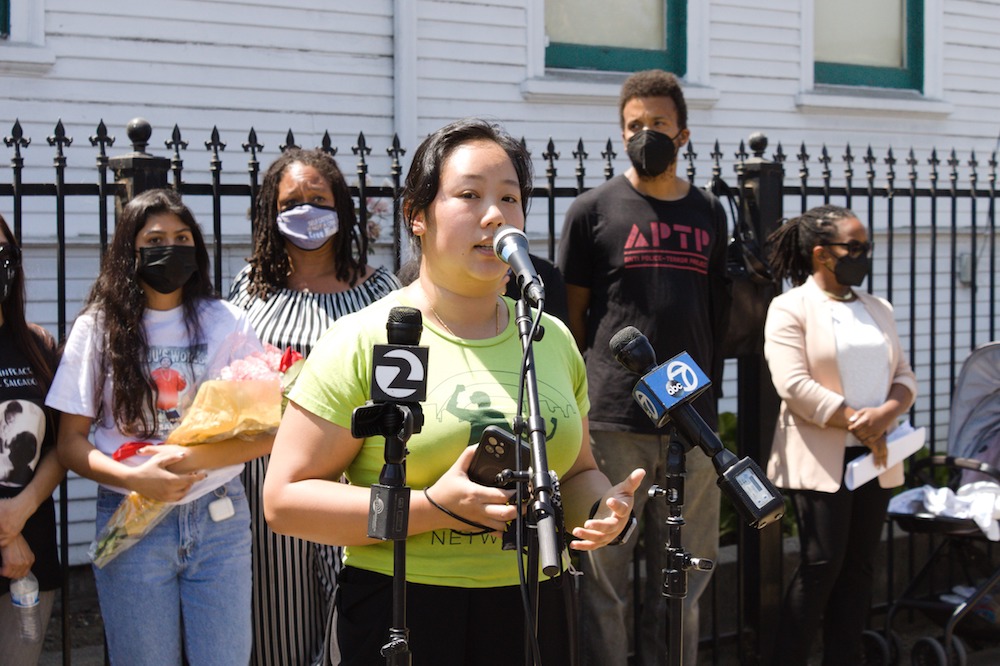 "There's a lot going around saying 'Chinatown wants this', but Chinatown is a very diverse neighborhood," said Wong. "When we talk about our Asian American communities hurting, it's not just Chinese folks, it's our Southeast Asian folks, it's our Pacific Islander family, it's our South Asian family, and we live all over the place. When we have certain representatives who claim that this is what Chinatown wants, without consulting with other Chinatown folks and organizations, that's problematic."
Specifically, Wong said that Oakland should invest in nonviolent civilian-led intervention programs such as the recently-debuted Community Ambassadors Program, where community members engage in outreach and foster relationships with merchants to residents as a way to prevent crime. The program was launched July 29 by Family Bridges, an Oakland social services organization, with future plans to expand from six ambassadors to a total of 60 across 10 teams.
"We want services, we want investments in our community, more affordable housing, youth programming, investments in our parks, that's what the Asian American community wants, that's what Chinatown wants, not more policing," said Wong. "Chinese and Asian Americans live all throughout Oakland, and many of them live in the flatlands alongside Black and Brown and indigenous community members, so when there's a threat to our neighborhoods there, there's a threat to all of us."