The international-media-magnet film festivals of the season—Toronto, Venice, Telluride etc.—are now over, allowing those concerned with such things to start drawing up early Oscar betting pools, and lament the decreased red-carpet presence of celebrities due to the Hollywood strikes. But in the Bay Area, fall festivals are just getting warmed up. This week brings the return of two annual favorites with particular multinational focuses.
The 15th edition of Cine+Mas' San Francisco Latino Film Festival is a bit smaller-scaled than some prior ones, but it still offers a wide range of programming—some sixty films from fifteen countries. Several highlighted selections have an LGBTQ thematic focus, starting with opening night feature Moe at the Roxie this Thurs/28.
Reminiscent of It's My Party and the Meryl Streep/Ed Harris section in The Hours (though based on an acclaimed stage play by Evelina Fernandez), Jose Luis Valenzuela's film has Sal Lopez as a theater artist with AIDS who hopes to take his last curtain call amidst family and friends. But even this bittersweet farewell wouldn't be characteristic of mercurial Moe without some high drama, whether it's the axe-grinding grievances of his exes (Danny De La Paz, Fernandez) or in the form of the singing drag alter ego (Richard Coca) he imagines observing these tempests. After the screening, there will be a reception at Amado's on Valencia.
Several other features available for preview sported a further diversity of queer content. In Mexico-Spain coproduction Santa Barbara, Anabel Castanon plays a woman approaching 40 who's lived in Barcelona the last 12 years—playing on a soccer team, dating female teammates, paying the bills with janitorial work, sending money home to the grandmother who's raising her children by a prior marriage. But all that gets upended with the arrival of 15-year-old Ulises (Alberto Silva), whom her ma claims she can no longer handle. It's a very awkward forced reunion between a re-closeted parent who attempts to reinforce maternal authority, and a resistant, resentful son who flatly tells her "You don't know me." Writer-director Anais Pareto Onghena's feature is a low-key but insightful drama.
Considerably more antic is Dan Levy Dagerman's You, Me & Her, wherein a yuppie couple growing stale after a decade together experience some disruptions that might sink or resuscitate their marriage. Mexican American Mags (screenwriter Selina Ringel) and Indian American Ash (Ritesh Rajan) are drifting apart, despite the binding factor of a toddler offspring. So they try to rekindle the magic at an eco-resort near Puerto Vallarta, where they meet yoga instructor and all-around free spirit Angela (Sydney Park)—who awakens Mags' not-strictly-heterosexual desires, and Ash's aspirational "three-way" ones. What looks to be a raunchy sex comedy eventually turns into something more substantial, as Ringel's nuanced script finds surprising depth as well as humor in a strained domesticity nearing the breaking point.
The walk on the wild side that those characters kinda-sorta take (they balk at an early encounter with some outright swingers) is rather more fully embraced in Amber Bay Bemak's 100 Ways to Cross the Border. Its subject has spent his life pushing the envelope: Guillermo Gómez-Peña, who's frequently performed in the Bay Area over recent decades, is a performance artist whose work is anti-imperialist, sex-positive, gender-fluid, multimedia, ritualistic, subverting of cultural and historical stereotypes, et al.
Complete with myriad archival clips and some collage animation, the documentary itself is a sort of collage, something more freeform than a conventional career-overview portrait of an artist. A few among his myriad collaborators are given ample screentime; he argues with the director on-camera. It's a suitably idiosyncratic tribute to an unclassifiable sensibility whose complex political art has never stopped evolving.
Other highlights in this year's Latino Fest include Alejandro Quiroga's contrastingly stark, quiet Bolivian drama The Ones From Below, whose mulish rural protagonist (Fernanzo Arze Echalar) has an uphill struggle to irrigate his once-prosperous family's property. A visit from Colombia's Mercedes Gaviria on Sun/1 will see her introducing two films: Her father Victor Gaviria's 1998 The Rose Seller, a shocking portrait of Medellin street youth utilizing non-professional actors; and her own 2020 documentary The Calm After the Storm, which explores the often-stormy relationship between famous-director parent and daughter as she returns from foreign studies to assist on his new film.
There's a lot more as well, including numerous shorts programs, panels, and an online component in addition to in-person events at the Roxie, Opera Plaza, YBCA, and Mission Cultural Center. The 2023 SF Latino Fest runs Thurs/28 through Oct. 15; a full schedule with ticket and other info can be found here.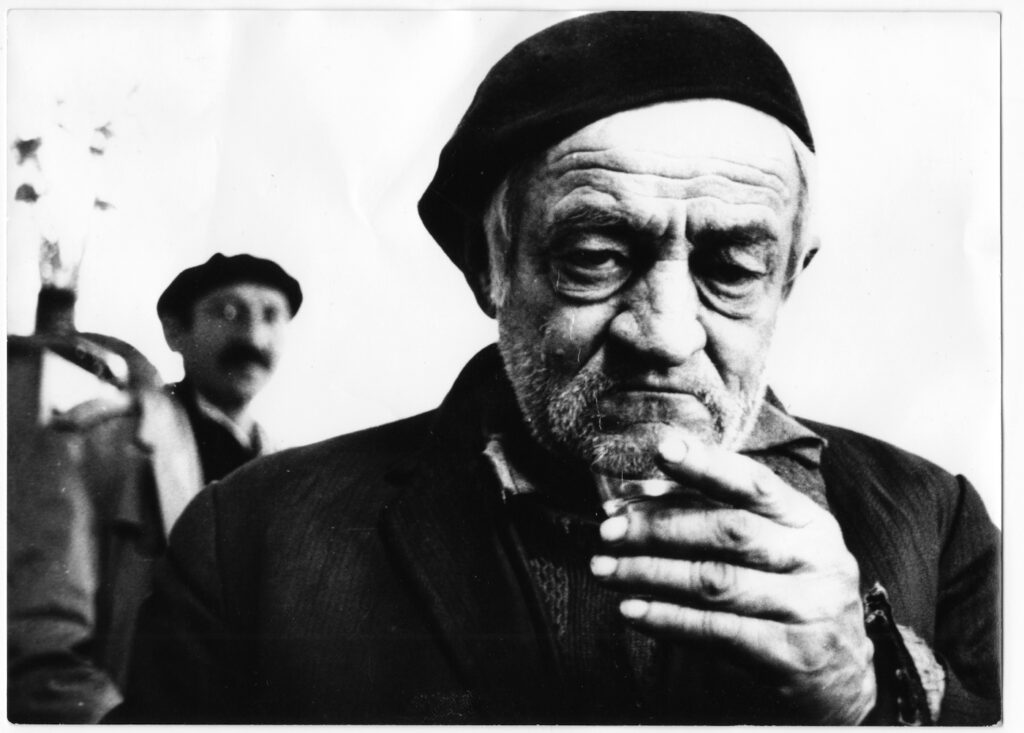 BAMPFA in Berkeley is also kicking off a couple globe-trotting series this week. Unavailable for preview were selections from "The People Are Present: Films of Zelimir Zilnik," which runs just this Thurs/28-Fri/29 with the filmmaker present both evenings. Now in his early 80s, he's a Serbian filmmaker—born in a Gestapo concentration camp, his parents executed by Nazis—who became part of the Yugoslav "Black Wave" movement of the 1960s.
While many of the oinematic talents it birthed either moved abroad, compromised their work, or quit entirely amid subsequent political upheavals, Zilnik has remained a stubbornly independent voice. His films were often criticized by the authorities—those of several regimes. The Pacific Film Archive shows will include 1989's Oldtimer, made just before Yugoslavia's dissolution and subsequent regional wars; 2013's Pirika on Film, about another prickly survivor of radically changing times; and several shorts dating as far back as 1971. Details here.
Sprawling over six weeks and more than one continent at the same venue is the return of the annual African Film Festival, a traveling showcase that has been visiting BAMPFA for many years. It begins this Sun/1 with a diverse narrative shorts program ranging from snapshots of diaspora life in London (Precious Hair & Beauty) and the US (Frieda) to a Nigerian homecoming (Masquerade), plus two from South Africa: Botlhale addresses attitudes towards and treatment of the mentally ill, while Mother of Moeketsi dramatizes the tragic outcome of a real-life platinum miners' strike a decade ago.
Features later in the series (which runs through Nov. 16) include Ousmane Zorome Samassekou's poetic documentary The Last Shelter, about a "welcome center" in the outskirts of Malian city Gao. For its variably long- or short-term guests, the Caritas House of Migrants is a stop in the journey to or from Europe. That odyssey is often frustrated—by financial failure, by bandits, by the deadly challenges of the Sahara Desert they will shortly have to cross. Other documentaries focus on a notable African-American abstract artist (With Peter Bradley), ruinous colonial economic legacies (Money, Freedom: A Story of the CFA Franc) and remembered independence struggles (Colette and Justin), while dramatic features encompass entries from Democratic Republic of the Congo (Juwaa), Tanzania (Tug of War).
There's also an archival rarity in Ama: An African Voyage of Discovery (playing Nov. 5), in which a Ghanian uncle's visit to well-off relatives in England triggers various crises of identity in the westernized family. Kwesi Owusu and Nii Kwate Owoo's newly restored 1991 UK film, originally made for Channel 4 broadcast, is a playful My Beautiful Laundrette-like pulse-taking of emigre roots exploration/disconnection against a backdrop of mainstream societal racism. It leaves no stone unturned, throwing in everything from a supernatural ancestral visions to music performances and a fashion show. More on the entire African Film Festival here.