I mean, first of all, come to the 48 Hills 10th Annual Gala on Thursday! It won't be scary, unless someone gets overenthusiastic at the open bar. Did we mention there is an open bar? Also: Chulita Vinyl Club DJs, Ricky's Grupo Afro Nativo plays live, yummy food from Bissap Baobab, emcee Marga Gomez, and more more more.
Second of all, Castro Halloween is rising from the dead, kind of. Actually, the biggest, worst kept secret in the world is that it never went away, really, and crowds have continued amassing in the neighborhood all these years since it was officially canceled due to violence. Now, it's officially back as a two-day "storefront activation" celebration from Castro Merchants and the (ugh, worst name) Civic Joy Fund, and sounds appropriately terrifying! I have no idea of all what's involved, but here's a map of where all the goodies will be, Sat/28 and Sun/29. I'm sure some lively queer souls will make sure it's a good time.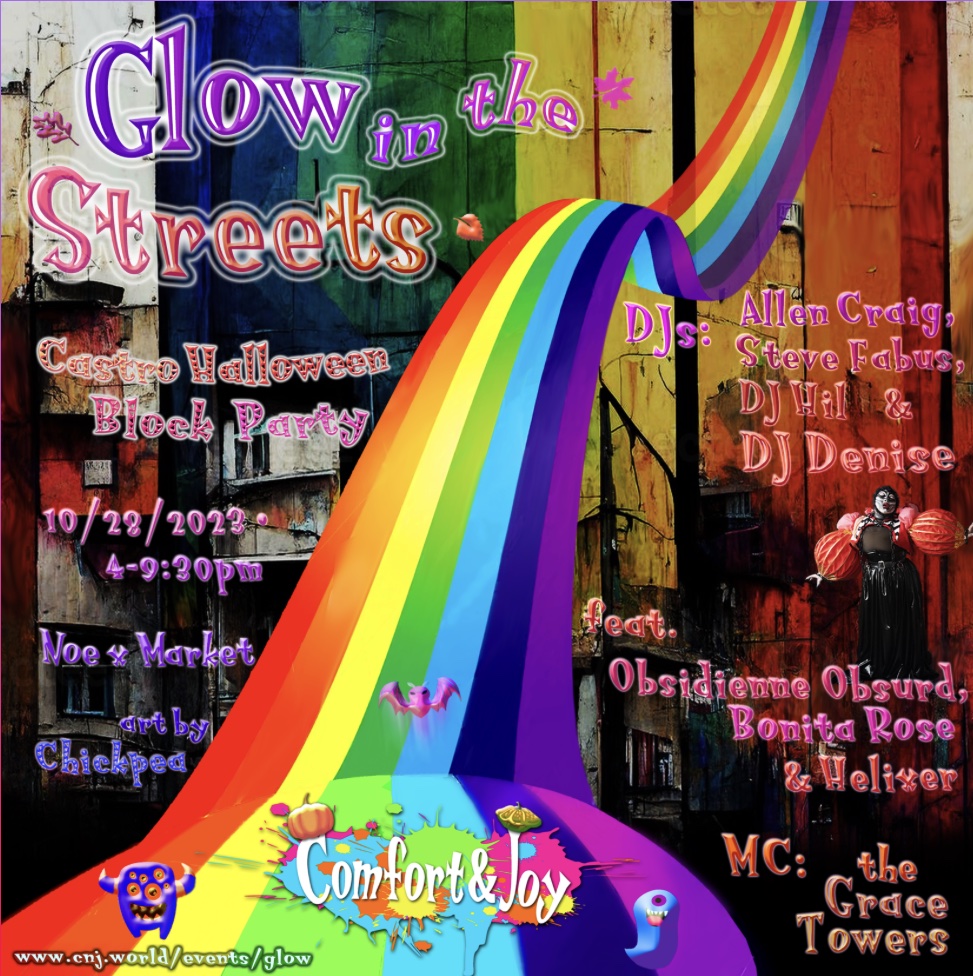 Also in the Castro: On Sat/28, 1pm-midnight, enjoy a slate of scary-ish movies at the Castro Theatre, plus a costume contest judged by those glamorous ghouls The Sisters of Perpetual Indulgence. And that same day (Sat/28) there is one of my favorite outdoor events, Glow in the Streets, 4pm-9:30pm, an evening block party at Noe and Market from queer burners Comfort & Joy (including incredible neon artist Chickpea), that dazzles with family-friendly entertainment, drag performances, DJs, dancing, and all sorts of Radical Faerie dust.
A friend who just landed from Portland observed that Halloween in SF is like New Year's Eve. They are absolutely correct, and there are a zillion parties everywhere. I've gathered into my pumpkin bucket a dozen below, from small to big, but really just walk around and you'll run into some ghastly fun.
HALLOWEEN PARTIES OF NOTE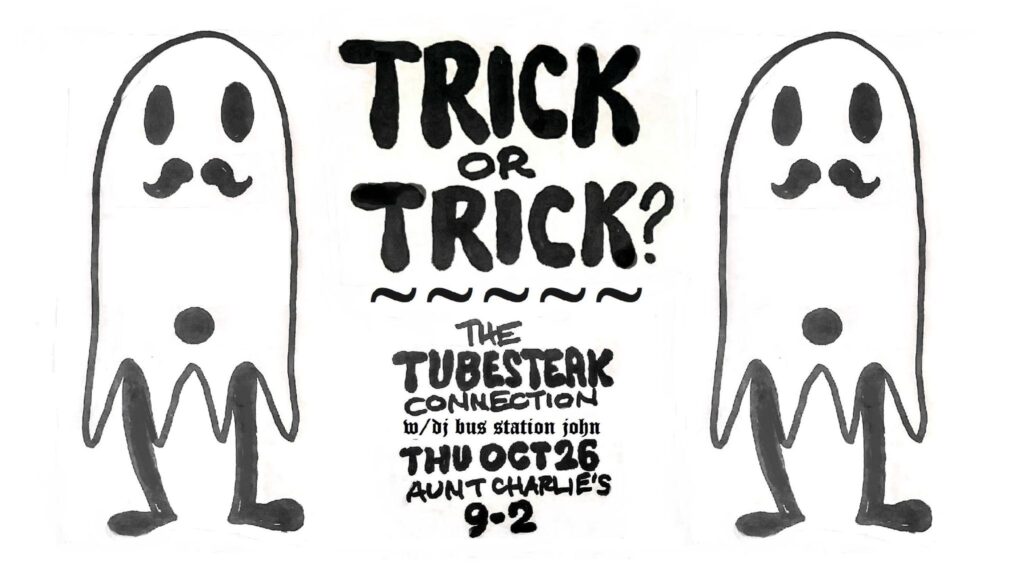 THU/26: THE TUBESTEAK CONNECTION KICKS OFF HALLOWEEN What could be more supernatural than leaping back in time to the care-free gay disco and cruising days of the 1970s and early '80s? DJ Bus Station John sets the mood with tunes that sound perfect on the carpeted dance floor of Aunt Charlie's in the Tenderloin. 9pm-2am, Aunt Charlie's, SF. More info here.
FRI/27: WORMHOLE W/ KOAN SOUND The Wormhole techno parties at Public Works are dedicated to psychedelic visuals and slippy-slidey, booming bass music. Add in an appearance from wonky British production duo Koan Sound and you're all set for a perfect Halloween trip through the sonic portal. 9pm-3am, Public Works, SF. More info here.
FRI/27: MONARCH HALLOWEEN MONSTER MASH BASH Go get graveyard smashed with the musical minds behind the nightclub (and snag $500 at the costume contest) as Sleight Of Hands, Combover, Anderson Chase, Discotoshi, DJ Marlowe get the laboratory popping. 9:30pm-2:30pm, Monarch, SF. More info here.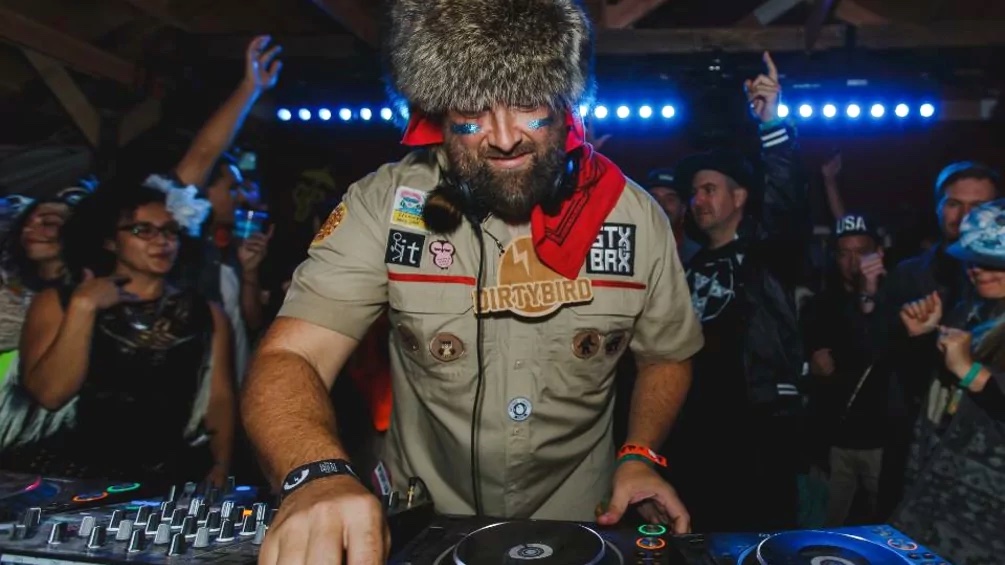 FRI/27: CLAUDE VON STROKE Dirtybird label founder and quacker-jack DJ Claude Von Stroke is a hometown hero; you can always tell where he is by the bird squawks and elephant roars riding the bouncing bass. He'll scare up some dance floor thrills with DH E-Clyps and Joanna Magik. 9:30pm-2am, Audio, SF. More info here.
FRI/27: HALLOWEEN BASH AT ST. MARY'S PUB Aw, we love a good party at a merry old bar full of regulars and cute newbies. DJ Toph One pulls out the ska, punk, shockabilly, and more on vinyl, and you get a strong pour or two from some of the best bartenders in the biz. 8pm-2am, St. Mary's Pub, SF. More info here.
FRI/27-TUE/31: HELL HOLE No one does Halloween like drag queens, and these scary sisters are ready to frighten your wig off for three full nights of WTF. "RuPaul's Drag Race" star Willam and Dragula winner Vander Von Odd head up a killer lineup of performers at Oasis, but the real draw is the writhing-in-inferno decor and production from genius Tito Soto and co. Oasis, SF. More info here.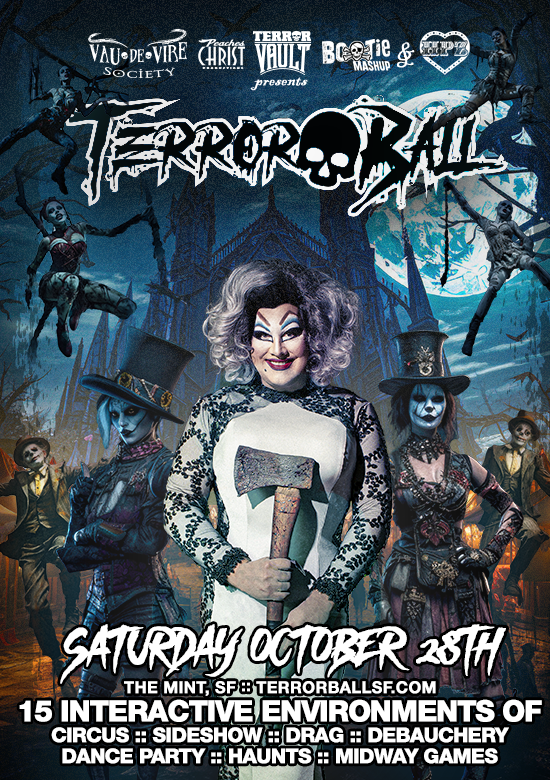 SAT/28: TERROR BALL The haunted Old Mint, host to the terrifying immersive Terror Vault experience, goes gonzo with this party featuring Val de Vire Society, Peaches Christ, Bootie Mashup, a Heavy Petting Zoo and a haunting array of SF icons and creative freaks. (Me and some fabulous Stud queens are helping to judge the costume contest.) 9:30pm-late. Old Mint, SF. More info here.
SAT/28: QUEERBAIT HALLOWEEN The Squish x Fake and Gay party collaboration continues to yield sweet, sticky fruit. Brilliant UK DJs Josey Rebelle and Bok Bok join river moon (nyc), club chow (chicago), plus residents Adam Kraft, Beverly Chills, likeholywine, and nonsuit for a wild musical ride. 9:30pm-4am, F8, SF. More info here.
SAT/28: FOUR TET AT COW PALACE I absolutely love that one of the smartest people in electronic music, the UK's Kieran Hebdan, has reached a giant audience with his shuffling, mesmerizing beats and incredible skills. He'll DJ all night at the Cow Palace, turning the giant space into a huge rave—and best of all bringing in the psychedelic immersive environment of Do Lab, who made his Lightning in a Bottle appearance legendary. 9pm-late, Cow Palace, Daly City. More info here.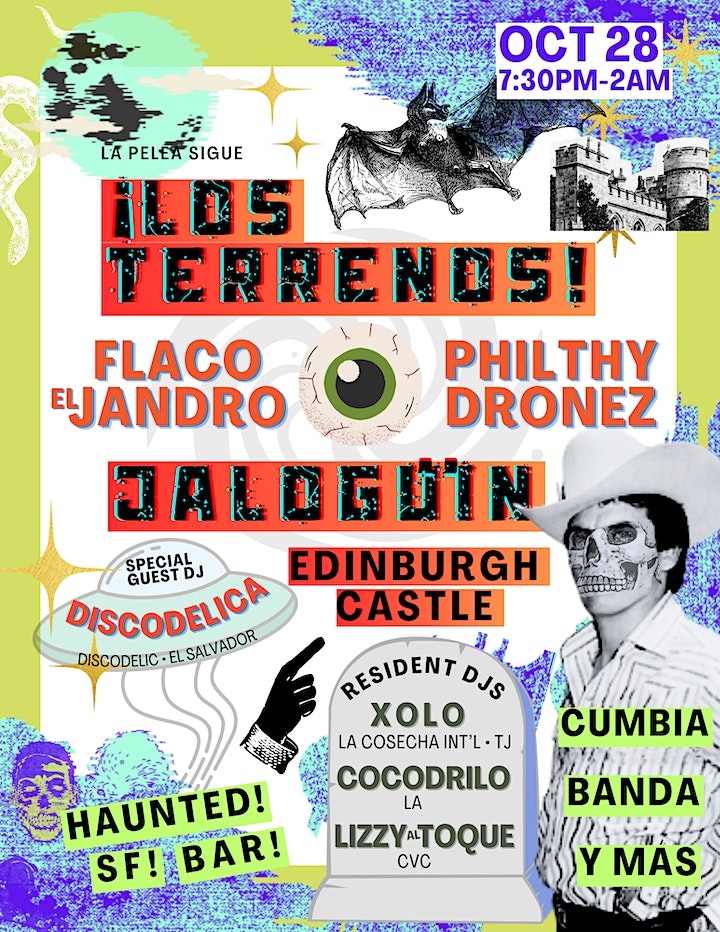 SAT/28: LOS TERRENOS 2: JALOGÜIN Vinyl crew Los Terrenos livens up the haunted Edinburgh Castle pub with cumbia, corridos, y más, festuring live performances by Flaco el Jandro (Rockmanticas, cumbia) and Philthy Dronez (West coast cumbia), plus special guest DJ Discodelica. 7:30pm-2am, Edinburgh Castle, SF. More info here.
SUN/29: SUNSET FULL MOON HALLOWEEN BOAT PARTY The Sunset crew are one of our original rave crews so they know how to throw down—on a boat, even when it's not actually the full moon. This lineup is absolutely killer, with NYC's Wrecked crew, the Hard French DJs, an ambient salon with Xosar, Spacetime Continuum, and Cahl Sel—and of course (of curse?) Sunset's own Solar and Galen. (Then hit up the after party at Great Northern with the great Jennifer Cardini and Werd crew.) 6pm-11pm, The Hornblower, SF. More info here.
MON/30: DEATH GUILD HALLOWEEN You bet your sweet skeleton that the city's decades-old Goth club turns it out on Halloween. Actually, check out all of the offerings this weekend at DNA Lounge, including several all ages events—the space goes guts out for the holiday. 9:30pm-2:30am, DNA Lounge, SF. More info here.
TUE/31: A CLUB CALLED RHONDA ON HALLOWEEN NIGHT Dance with the polymorphous, polyamorous devil known as Rhonda on high Hallow's Eve, with a headlining set from UK electronic producer Planningtorock, the DAD SF disco crew, and a performance by San Francisco drag legend Juanita More. She's stalking the night! 9:30pm-3am, Great Northern, SF. More info here.