The San Francisco Police Commission will discuss Wednesday/1 the astonishing racial inequality in the department's use of force.
Data that the commission requested, based on information buried in an earlier report, shows that police in San Francisco use force against Black people 21 times as often as white people.
That figure has barely changed since 2016, the last time the use-of-force policy was updated.
The department, in a presentation prepared for the commission meeting, lists a variety of things that it's trying to do to address the issue, including expanded stop data, diversity in recruitment efforts, and "educational civil rights tours for newly graduated recruits."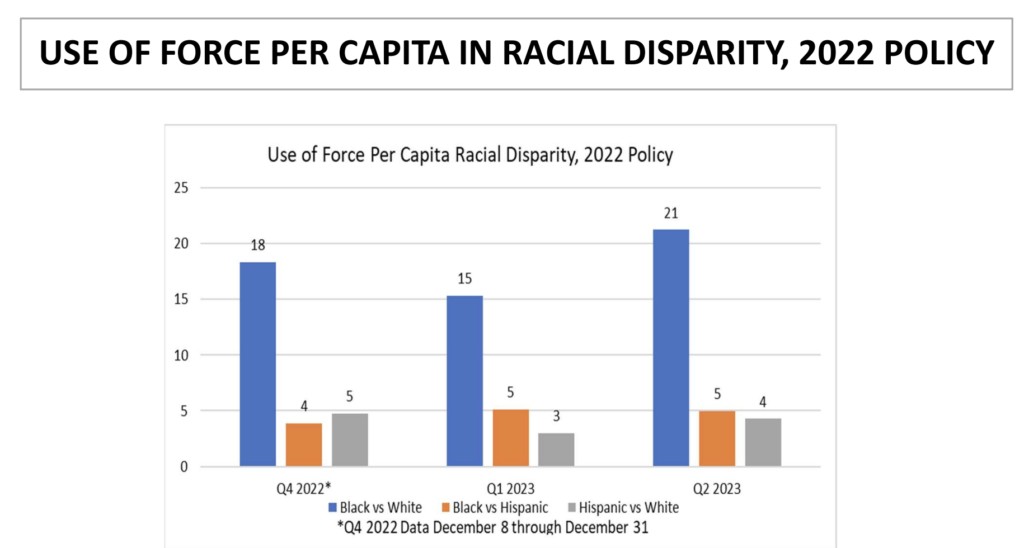 None of that seems to be making much of a difference.
Meanwhile, Mayor London Breed's new proposals for the Police Department would make it even harder to track this sort of bias: She is asking that cops be freed from filling out as many forms and doing as many reports, so they can spend more time on the streets.
The mayor's appointees have a 4-3 majority on the Police Commission, but some of them, particularly Max Carter-Oberstone, have pushed for a reform agenda and more transparency—and infuriated Breed in the process.
That meeting starts at 5pm.
I'm getting used to this, but it's still a bit disturbing: On the Planning Commission's Consent Calendar, which included matters that are "considered to be routine," there are once again a bunch of conditional-use authorizations that would allow rental housing to be turned into "intermediate length occupancy" units.
ILOs are apartments that are rented out of more than 30 days but typically less than a year. They're used, in some cases, by visiting artists and musicians who are, say, in town for three months for the run of a play, or are joining the symphony for a season. That's all fine, and the supes have agreed that there's a need for some—some—of this type of housing in the city.
But all too often, landlords take advantage of the system to create what are in effect corporate condos.
When the supes approved ILO housing, they required landlords to go before the Planning Commission to get a CU—meaning neighbors could come to a hearing and object.
But the commission never holds these hearings; instead, all of the ILO approvals are "routine."
This week, seven: three on Van Ness, one on California, one on 18th Street.
Maybe they're all legit. But every time the commission approves one, the city loses an apartment that could be rented to long-term residents. And since (despite new state laws that are very generous to developers) nobody is building right now, we are continuing to lose rental housing.
All without a single hearing or any investigation into what these units will ultimately become.
That hearing starts at noon.
The full Board of Supes is starting to consider measures for the March ballot, and while a charter amendment that would lock in funding for more cops is set to be continued until next week, a measure that would require mayoral approval for Muni fare hikes and increased parking meters is on the Tuesday/31 agenda.
Sups. Aaron Peskin and Ahsha Safai want more direct accountability for decisions now made by the director of the San Francisco Municipal Transportation Agency. That would force Breed, in this case, to say she supports longer hours of enforcement at parking meters and more meters in residential neighborhoods—something that small businesses and neighborhood groups all over the city tend to oppose. The mayor would also have to sign off on fare hikes—again, something that is almost always unpopular.
(When I moved to SF, the fare for Muni was 25 cents, although Mayor Dianne Feinstein was moving it to 50 cents. Adjusted for inflation, that would be 88 cents today. The current fare is $2.50.)
Sup. Matt Dorsey, an ally of the mayor, voted against the measure in committee, saying that he didn't want to politicize Muni.
In fact, the mayor already appoints all the members of the SFMTA Board, and the director. But she can avoid responsibility for fare hikes and more parking meters by leaving it up to that agency.
It takes six votes to put a charter amendment before the voters. The supes full board meeting starts at 2pm.