A fortnight's worth of choice nightlife and dance floor affairs, Feb. 19-March 2, 2015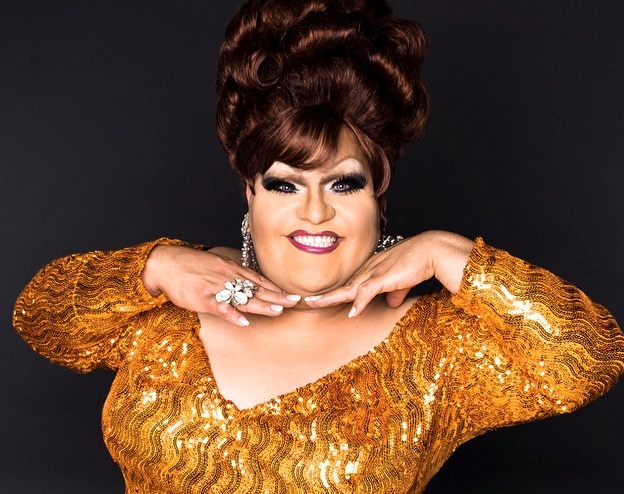 By Marke B. 
PARTY RADAR Aloha! I'm off to Honolulu to swim with the fabled humuhumu-nukunuku-apua'a fishes (and drink at famously shabby gay bar Hula's, goddess help me). So you get a doubleshot of Party Radar: two weeks of dance floor WTF picks.
Go forth in your festive muumuu and get lei'd.
FRIDAY 20 
>> DAI BURGER The Day-Glo rap queen from Queens, NY lights up ever-awesome queer hip-hop affair Swagger Like Us, now at its new home at Oasis. Fri/20, 10pm-3am, $10. Oasis SF. Tickets and more info here. 
>> NOISE POP The sprawling, lively indie music + film + party + everything else festival crashes into town for its 23rd year. There is soooo much to do and see over its two week run (I'm stoked for Caribou, Owen Pallett, Flight Facilities, Dan Deacon, Thao and the Get Down Stay Down, and a zillion more) that you'll just have to look here to see it all: www.noisepop.com/2015. Go do some things!
>> KOLOMBO Cute baldie from Belgium brings those tech house cuts for bopping' around to. At the lovely Modular party with Pedro Arbulu and Matt Hubert. Fri/20, 9:30-late, $20. Tickets and more info here.     
>> SOME THING: BIG, BAD, AND BEAUTIFUL There's much more to love at this weekly art-drag free-for-all, when sweet queen Dulce De Leche takes over with a bevy of big-boned beauties who'll "wow you with their beauty, their talents and their largesse." Fri/20, 10pm, $7. The Stud, SF. More info here. 
 SATURDAY 21
>> GUILLAUME AND THE COUTU DUMONTS One of my absolute favorite DJs is coming to play a party called "The Super Silly Circus Birthday Bash: Part Duex" — I don't know abut all that, but I do know the Guillaume (there are no actual Coutu Dumonts) will get the place jumping with delectable live effects and a driving, jazzy style. Sat/21, 10pm-late, $20. Monarch, SF. Tickets and more info here. 
>> JAY DANIEL Good ol' Detroit keeps the music flowing, with  yet another new wave of young, sophisticated techno-house innovators. (Don't forget the jazz, too — check out this rad mix.) Jay follows in the footsteps of his awesome mentor Kyle Hall (who was a delight when I saw him here a couple years ago at an As You Like It party) and his mother Naomi, who was the voice on several seminal early '90s Planet E records. Sat/21, 10pm, $5-$15. UndergroundSF.  Tickets and more info here.  
>>NON STOP BHANGRA The best gosh-darn bhangra party in the Bay will have you snapping your fingers and twirling around with glee. The dholrhythms dancers show you how to do it, with a mind-boggling array of DJs and artists on hand (including rapper Lyrics Born!). Sat/21, 9pm, $15-$20. Public Works, SF. Tickets and more info here.
>> BEAT PIG One of my favorite gay bacchanals, brought to us by Walter Gomez, Juanita More, Sidekick, and a cast of dancing beards. This month's "Bare Bones" edition benefits the Transgender Law Center. Sat/21, 9pm, $5. Powerhouse, SF. More info here.  
>> MARDI GRAS CARNAVAL Burning Man plus Carnaval plus giant LED dinosaurs — what could go wrong? Deep house and electro stylings by a bevy of cute DJs. Throw on an equally cute costume, please! Sat/21, 10pm-4am, $10-$20. Public Works, SF. Tickets and more info here.  
SUNDAY 22 
>> AFTERNOON DELIGHT I'm DJing at this really cool monthly patio party in Oakland, with Allen Craig and Olga T! Fun times in the sunshine. Sun/22, 3pm-8pm, free. The New Parish, Oakland. More info here.  
FRIDAY 27
>> KRAFT KUTS Insane classic breaks DJ brings a UK jungle vibe (plus some good ol' dance floor bangers) to Monarch. Fri/27, 10pm, $20. Monarch, SF. Tickets and more info here. 
>> LIGHTS DOWN LOW 9th ANNIVERSARY Holy crap, one of SF's most consistently whackadoodle party crews is blowing up its ninth with this incredible line-up: Detroit techno founder Kevin Saunderson, tech house heartthrob Cyril Hahn, UK garage hero MJ Cole, New Jersey house chopper Todd Edwards, so many more. It'll be a thing. Fri/27, 9pm-4am, $25-$30. Public Works, SF. Tickets and more info here.
>> SILENT SERVANT Industrial tinged techno with a deep, dark, delicious vibe from the LA master (and servant). This party is presented by the awesome RS94109 record store in the Polk, and will be full of interesting music peeps. Fri/27, 10pm, $15. f8, SF. Tickets and more info here. 
SATURDAY 28
>> LIL LOUIS The house legend's career was jeopardized last month when an idiot promoter blew an air horn in his ear — this party, celebrating the classic house-lovin' Mighty Real crew's fourth anniversary, will be his first time playing out after the accident. Expect full support and lots of love. Sat/28, 10pm-4am, $20. Mighty, SF. Tickets and more info here.  
>> DJ PIERRE The Chicago Afro-Acid leader is in town to celebrate party crew Night Moves' third anniversary and slap a smile on your face with his classic (and smoking hot new) tunes. Sat/27, 9:30pm-4am, $20. Monarch, SF. Tickets and more info here. 
>> OBJEKT The most interesting composer in techno last year is playing a party.
SUNDAY, MARCH 1 
>> A CELEBRATION OF COOKIE DOUGH'S LIFE Beloved drag queen Cookie Dough passed away a couple weeks ago. This start-studded celebration of her life will pack the Victoria Theater with aptly kooky drag performances and a true SF family spirit. Sun/1, 6pm, free. Victoria Theater, SF. More info here.