Proposed regulations put onus on builders to disclose nearby nightlife venues to prospective tenants.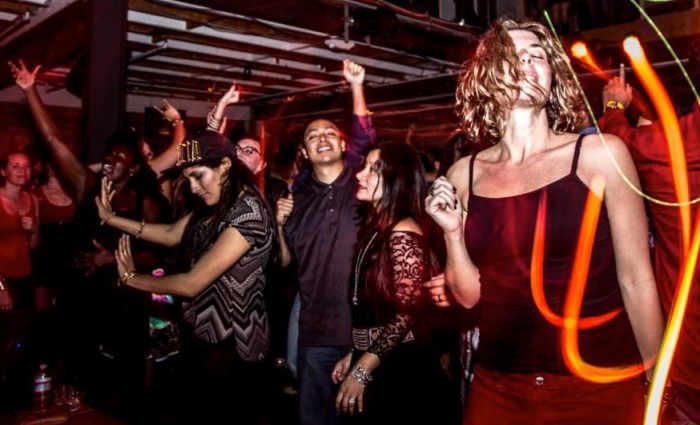 By Marke B.
MARCH 24, 2015 — Last week, about 50 nightlife mavens showed up at City Hall (hey, it was noon on a Thursday, give us some credit) to testify before the Planning Commission in support of legislation that would give nightlife venues another layer of protection against nuisance complaints — especially with all those new condos now going up in popular nightlife areas, soon to be filled with first-time urbanites and their unaccustomed earholes.
The Planning Commission voted unanimously in favor, and now the legislation goes to the Land Use Commission and then to the full Board of Supervisors, where it is expected to pass.
"Basically, this levels the playing field for nightlife venues that are facing the possibility of litigation, fines, or closure due to complaints from new neighbors," Terrance Alan of the Entertainment Commission told me.
"As it is now, even nightlife venues that conform to noise ordinance regulations are wide open to damages and possible closure due to complaints from just one upset neighbor. Just look at what happened with Slim's a few years ago. The legal deck is stacked against venues from the start. This legislation will help venues have equal access to certain protections that were previously unavailable. Now we can say, 'Hey, you knew what you were getting into.'"
The legislation, proposed by London Breed and Scott Wiener and developed with the Entertainment Commission, has been gaining traction as nightlife venues like the Independent, Cafe du Nord, and the Elbo Room have come under threat or closed down completely in the face of the recent development frenzy.
The nightlife industry provides 48,000 local jobs and generates $4.2 billion a year — when street festivals and exclusively live music venues are added, those numbers pretty much double — which may be why Breed and Wiener, two of the more conservative board members whose districts nonetheless contain many nightclubs, have pushed for the legislation. ("Nightlife makes strange bedfellows," Alan joked.)
The legislation mandates the following:
1)  An amendment to the code protecting a Place of Entertainment (POE) so that it shall not become a nuisance because of new development;  
2)  Gives the Entertainment Commission authority to hold a hearing on a proposed residential use near a POE and require the sponsor's participation in the hearing;   
3)  Authorizes the Entertainment Commission to measure noise at the site and make recommendations regarding noise mitigation; and
4)  Requires residential property owners to disclose to buyers and tenants potential noise and other inconveniences associated with nearby POEs.
The first and fourth points would basically put the legal onus on builders and owners to tell prospective tenants that there are nightlife venues nearby, thereby negating any claims of innocence if tenants complain. They also protect venues from being automatically classified as a potential nuisance due to new development nearby.
The second and third point would give the Entertainment Commission more say in mitigation cases, and potentially a hand in the development approval process itself.
"We've been urging changes like this ever since the Late Night Coalition, which is what the Entertainment Commisson grew out of, was fighting for nightlife's survival during the first Web Boom — when they were throwing up all those ugly live-work shacks in SoMa," Alan said. "I can't believe we're facing this crap all over again, but at least we're moving things in a positive direction for nightlife. And building materials have advanced so much in the last 15 years in terms of soundproofing, there's really no reason for informed tenants to go running to the city anymore."
"Nightlife still gets such a bad rap, entire clubs can get shut down due to a few troublemakers — no one dares suggest shutting down an entire store because someone shoplifted. Yet people would be shocked to see how much of the police force is assigned to monitor the mall compared to nightlife. If we could view nightlife as the cultural heritage of the city and an economic engine, rather than as a law enforcement issue, things would look a lot different."
Here's the rub, though: Despite the legislation's potential positive impact at a local level, it's still the state-run ABC liquor board that pulls licenses and causes the shutdown of many bars and clubs due to complaints. San Francisco's ordinances can do nothing on a state level to protect its own venues from the wrath of the ABC.
"Once the legislation is hopefully passed, CMAC [nightlife lobbying group California Music and Culture Association] will take it to Sacramento to see if we can get something done on a state level," Alan said.
Whether the state at large will care about a clubs vs condos debate remains in doubt — with the mainstreaming of electronic dance music, it's at least a recognizable issue, and at this point in history, everyone has an aunt or grandparent who's gone to a disco or arena concert at least once in their life.
"Nightlife isn't going away anytime soon," Alan said. "Now it's up to legislators to recognize that reality and begin to deal with it in a practical way."