Mirkarimi tried to tell the press what actually happened. You can guess how that went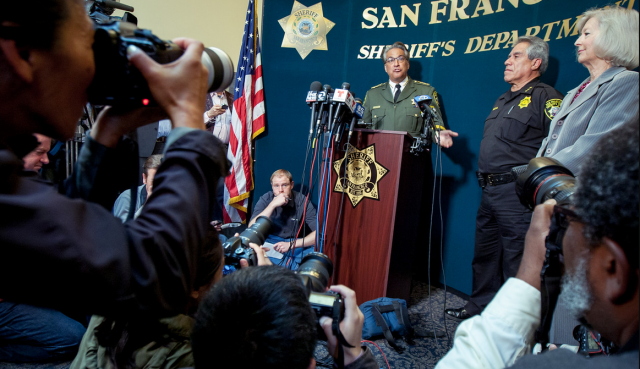 By Alexis Terrazas
JULY 13, 2015 — As the saga of whether or not San Francisco erred in releasing an undocumented Mexican national who allegedly fatally shot a 32-year-old white woman continues its downward spiral into the various depths of news media hell, San Francisco Sheriff Ross Mirkarimi on Friday tried to defend his departments' position of following the law.
"I find it incredibly sad and incomprehensible that this tragedy is being used as a platform for political gain," Mirkarimi said at the beginning of the press conference on Friday June 10. "We want to set the record straight."
Of that he had little success.
As the sheriff, who is up for reelection this November, was grilled by roughly a dozen local, regional and national reporters, Mirkarimi detailed the sheriff department's chronology of events involving Juan Francisco Lopez-Sanchez, the undocumented immigrant felon who allegedly killed Kathryn Steinle at Pier 14 on July 1.
Various Media pundits, journalists, politicians and police agencies have used the killing as ammunition in their attack of San Francisco's "Sanctuary City" and Due Process for All ordinances, blaming it for Steinle's death. U.S. Sen. Dianne Feinstein blasted Mayor Ed Lee and Mirkarimi for releasing a convicted, yet nonviolent, felon who had a detainer request from Immigration Customs Enforcement. Lee countered by passing off the blame with his own statement, calling into questions the "common sense" of the sheriff's department for their lack of communication with other law enforcement agencies.
"The mayor is throwing his own law under the buss, simply trying to walk or run away from the very ordinance he signed into effect," Mirkarimi said, adding that the mayor is "playing politics with public safety" and being "disingenuous."
The city's Sanctuary Ordinance, which was established in 1989 and reaffirmed in 2007 by then-mayor Gavin Newsom, prohibits city employees from aiding Immigration and Customs Enforcement agents in arresting or investigating undocumented immigrants. The Due Process for All Ordinance, which was passed by the Board of Supervisors unanimously and signed into law by Mayor Lee in Oct. 2013, prohibits law enforcement officials from detaining individuals on the basis of a civil immigration detainer after they become eligible for release from custody. The ordinance however doesn't apply to individuals who have previously been convicted of a violent felony within a certain period of time, who are currently charged with a violent felony, or those who may pose a public safety risk.
Fifty out of the 58 counties in California have laws similar to San Francisco's. And despite being a multiple felon who had been deported five times, none of Lopez-Sanchez's felonies were violent, a fact that seemed irrelevant to the pool of reporters at the conference.
Lopez-Sanchez Timeline
Here is what actually happened in this case:
San Francisco court issued a bench warrant for the arrest of Juan Francisco Lopez-Sanchez on December 11, 1995, for failing to appear on felony drug charges for possession and sale of marijuana, with a bail set for $5,000. Mirkarimi said that between 1998 and 2011, Lopez-Sanchez was sentenced to federal custody four times, while ICE reported that he has been deported five times.
Mirkarimi said that his office received a phone call on March 23, 2015, from the Federal Bureau of Prisons in Victorville requesting confirmation of the outstanding 1995 felony warrant. Following established protocol, the sheriff's department was obligated to transport Lopez-Sanchez from federal prison to the county jail on March 26 so he could appear in San Francisco Superior Court.
He was booked on the 20-year bench warrant, but there was no active ICE warrant or judicial order, which would be needed to turn him over to ICE. ICE did have a request for a detainer, which has been deemed unconstitutional. Zero detainers have been honored in the first six months of 2015, said Mirkarimi.
In court a day later, the district attorney moved to dismiss the charges against Lopez-Sanchez, which were dismissed.
Between March 27 and April 14, San Francisco deputy sheriffs communicated back and forth with Victorville Federal Prison and confirmed Lopez-Sanchez's identity and the fact that he had completed his federal sentence and that he had no outstanding warrants or judicial orders. Mirkarimi also noted that ICE on March 26 didn't provide the sheriff's department with the necessary warrant or judicial order to hold Lopez-Sanchez for proceedings. The San Francisco Sheriff's department subsequently, and legally, released Lopez-Sanchez on April 15.
"Mr. Lopez-Sanchez met ICE's highest priority due to previous felony convictions and prior deportations," Mirkarimi said. "However as I contend, and will continue to do so, ICE failed to obtain and provide a warrant or judicial order for such deportation proceedings."
That explanation, however, was greeted with a series of hypothetical scenarios and "what if's" from reporters.
Why wasn't state law used? Why was common sense not used in releasing a convicted felon back into the 'wild?' Could he have done anything to prevent the death of Kate? If you could go back in time, knowing what you know now, would you have picked up the phone and call ICE and say this guy is being released?
To that final question, Mirkarimi said: "One step even better, I would go down to their office on Sansome Street and say 'do your job.' Because we've been telling them that for 18 months leading up to this very event."
Mirkarimi noted that ICE may not have the necessary resources and staff to pursue court orders or warrants. "If that's true, it's unfortunate for us to be testing the erosion of the constitution."
Mirkarimi proposed a series of recommendations to avoid something similar from occurring again. One of those recommendations involved exploring the use of an Administrative Law Judge for judicial oversight in ensuring that the Fourth Amendment isn't violated when dealing with ICE. Another included the possible purging of warrants – as of July 1, 2015, the city has 12,440 outstanding warrants. Mirkarimi expressed seeking help from the mayor and the board when dealing with conflicts between local, state and federal law, and said he was open to amendments.
"I don't think that Mayor Lee or Donald Trump can waive the constitution. Our policy will continue to reflect the spirit and letter of the law," Mirkarimi said. "Again, we would honor deportation, we would have to. But a warrant and court order is what helps facilitate that deportation, as ICE firmly knows because they've deported him so many times before."