Plus: Danny Glover stops by the Mission to promote Mirkarimi, Yes on I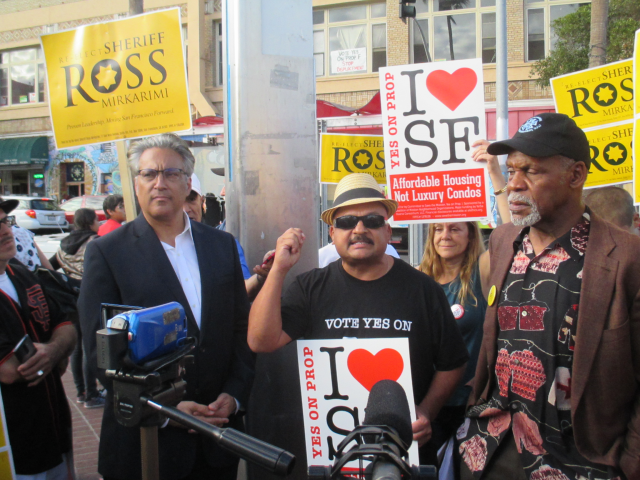 By Tim Redmond
NOVEMBER 2, 2015 – Tomorrow, we will see whether big tech money can dominate and control a San Francisco election.
The mind-boggling influx of cash from Airbnb, which will almost certainly set the record for the most spending by one corporation on a single issue in San Francisco history, is seeking to swamp Prop. F, which seeks to make the short-term rental platform limit its listings to legally registered units.
In fact, when all the money is counted, Airbnb will probably spend almost as much money on this election as it brags it spends on local taxes every year.
Why? Because the company is worried sick about the prospect that real regulation could pass in San Francisco and spread to other cities. As we've said in the past, the Airbnb business plan, as it currently exists, doesn't work unless a large number of hosts routinely violate local laws.
At a certain point, it has to be overkill – I got five mailers from Airbnb in the past few days, and I'm not sure how many people will respond to that kind of blast. But it's really, really, hard to beat an $8 million campaign.
The fact that Airbnb is still sending out mailers at this point, and paying for TV ads, suggests one of two things:
The company sees the election as still competitive. TV is a really expensive way to send a message in San Francisco (you pay to show an ad to a lot of people who aren't local voters) but apparently money isn't a problem.
Or Airbnb wants to crush Prop. F so badly that it will send a message that San Franciscans don't want further regulations on short-term rentals.
But I'm not sure that's the message we will see. The Airbnb campaign focused entirely on two elements of Prop. F that were, and are, the least important parts of the measure: The limit on renting in-law units and the private right of action that could, in theory, have "neighbors suing neighbors."
The real issue here is enforcement, and that's what Airbnb hates. Prop. F would ban the company, and any others like it, from listing places that don't have a legal registration number. That would instantly eliminate all of the thousands of illegal units – and cost Airbnb a huge amount of money. And if SF did that, other cities would follow.
Airbnb would still have a role, and a business plan, as a facilitator for occasional short-term rentals of owner-occupied or tenant-occupied units. But its stock valuation would drop overwhelmingly, instantly.
That's what all the money's about. And if Prop. F goes down, and Aaron Peskin wins, it's a fair chance that the crux of the law – the mandate of legal registration – will be back before the Board of Supervisors next year.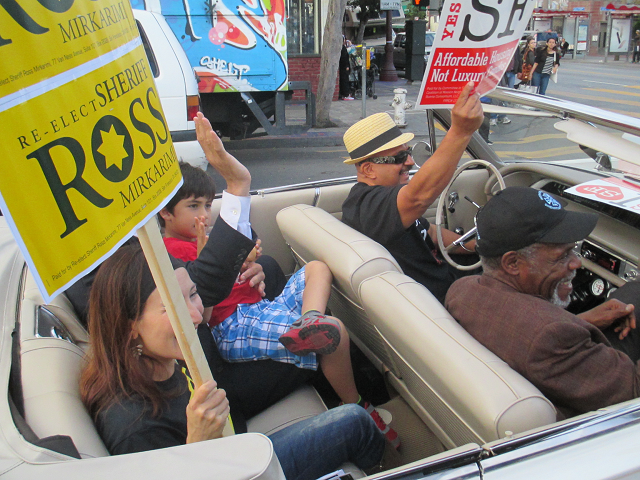 Danny Glover, who needs no introduction around here, stopped by 24h and Mission Sunday to go for a cruise in a low-rider parade – and to make a strong pitch for Yes on I and Mirkarimi for Sheriff.
Glover's a San Franciscan, who still lives in the Western Addition, who worked in the Mission in the 1970s, and who remains active in the community. I'd never met him before, although I knew he was friends with Mirkarimi, so I ran down there for the 3pm rally (that didn't really start until about 3:30).
Glover told me that he was there because Mirkarimi "is the most progressive sheriff in the country." He said he works in the county jail with friends who are trying to promote restorative justice, "and who do I see in there? The sheriff himself, helping with the circles. He understands."
Prop. I, Glover told me, "is a no-brainer. I remember this neighborhood when it was a sanctuary for people from the wars in Central America, a vibrant neighborhood. Now I'm distressed — those of us who were born here can't afford to live here."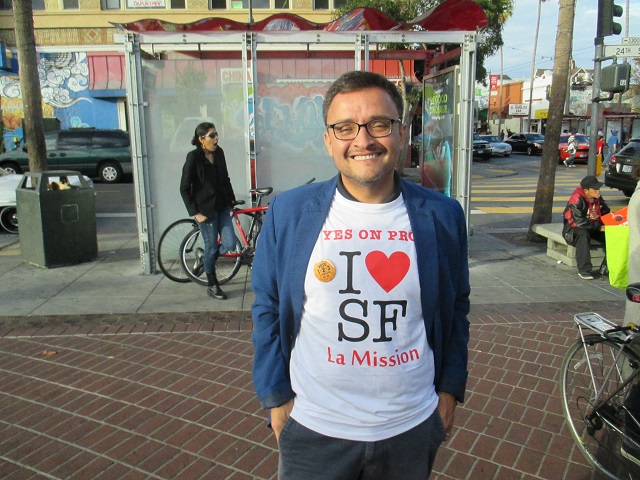 Campos told the crowd that the Mission community tried repeatedly to get City Hall to listen, and to slow the development that causes displacement in the neighborhood. "But City Hall has been taken over by real-estate interests, and the only way forward is to have the voters send a clear message that the city is not for sale."
The money against Prop. I is also boggling, for a measure that would impact only one neighborhood. The developers are hoping again for a crushing defeat that would slow down any effort to slow down development-driven displacement.
The Battle for the Mission, though, is not going away, and if I fails, then every single project will be fought at City Hall and in the streets.
And then there's D3, where the big tech and real-estate money is pouring in to stop Peskin.
The election is still anyone's to win: Even in D3, where there's been massive voter communication and GOTV efforts, only 30 percent of the people who received an absentee ballot have voted (as of Oct. 27). Citywide, it's about 23 percent (with the Republicans ahead at 28 percent).
The campaigns that can get their voters to the polls by Tuesday night will win. It's that simple.
We will be watching the results, and coming to you live on Election Night with early updates and analysis.
And while everyone is watching the election, there's a critical vote Tuesday/3 at the Board of Supervisors on a new way of calculating the impacts that office and housing developments have on transit.
We have been following this for months. In essence, the legislation is a billion-dollar handout to developers, a law that allows them to pay only a fraction of the costs of the impacts they create. It will lead to more crowded buses, worse Muni service all around, and high profits for the real-estate industry.
The Planning Commission ducked the real question. The mayor defends his position.
I wonder if anyone at the board will ask why we're charging developers about 20 percent of what we know they cost the city – and whether we ought to keep building if it keeps costing us more money.