…. and the city after a campaign for office
By Tom Temprano
DECEMBER 6, 2015 — Helllllllllo 48 Hills! Did you miss me? I missed you! It seems like forever ago that Tom's Town went on hiatus to make way for my City College Board campaign but I'm back and we have so much catching up to do.
The last six months on the campaign trail have been incredible. I laughed, I cried, I walked up at least a million flights of stairs and though the election may not have gone my way (or any of the ways I wanted outside of Supervisor Peskin) I wouldn't give up the experience for anything.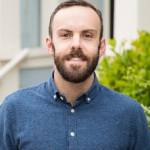 At the end of the day nearly 40,000 San Francisco voters thought that I was the right person to help move City College forward and I owe each and every one of you a huge and incredible thanks. So please be sure to leave your address in the comments so I can send you one of the 40,000 holiday fruitcakes I baked.
Though every single moment was a learning experience I decided that, since the Internet LOVES a list, I should distill all I learned into my top five campaign lessons.
San Francisco loves City College… but has no idea what's going on there. It seemed as if almost everyone I spoke to was a past, present or prospective student at City College. With an enrollment of 80,000 that's no surprise. What was a surprise is that many of those past, present and prospective students thought that that college was about to shut down – some even thought it already had closed. City College definitely has some issues, but none seem to be greater than the crisis of misinformation about the college's accreditation.
Mornings are nice. As a bar owner/tender and nightlife denizen, mornings were a complete mystery to me. I pretty much refused to believe people who told me the sun rose in the East. The East!? After waking up early every day for months to talk to voters at BART and MUNI stops I'm surprised to say that mornings aren't that bad. In fact, they're kind of nice!
Homophobia is alive and well. Despite being in one of the bubbliest bubbles around, being a (very) openly gay man on the campaign trail wasn't a breeze. From being spat at and called a fag by one especially lovely morning commuter to having political insiders decide that post-marriage American means LGBT representation doesn't matter, there were some real eye openers about how some people really feel about all of us gays in the Bay.
People love Tom Ammiano. I mean, obviously. But being out there with big signs that say "TOM" prompted dozens and dozens of "I love Tom Ammiano" responses. I hated to disappoint people and let them know that I was, in fact, his less handsome friend who nonetheless had his endorsement.
San Franciscans are pissed off – and ready to do something about it. I was completely overwhelmed by the huge number of volunteers for my campaign who turned out because they wanted to do something to help save the city they love. This election – and not just my campaign but the campaigns of Broke-Ass Stuart, Aaron Peskin and Prop's F & I brought dozens and dozens of people off of the sidelines for the first time. One of my friends remarked after the election that he didn't know what a precinct was before my campaign but now he's walked five of them. We're going to need to keep these folks off the sidelines and get even more to join them if we're going to win back City Hall/beat back AirBnB/etc. in 2016.
Fuck guns. Sorry – there's no delicate way to put it. Fuck guns, the people who use them to murder others and the politicians who enable those people to be murdered by being more afraid of a lobbyist organization once led by a man whose biggest claim to fame was getting his ass kicked by a bunch of monkeys in a movie than the reality that their spouse, child or parent could be the next to be killed.
From Colorado Springs to San Bernardino to the streets of San Francisco where this week a 26-year-old man lost his life at the hands of police, America has a gun problem that is tearing our country apart. As we gear up for local and national elections in the coming year, we owe it to all who have been lost to gun violence to make their lives the campaign issue in 2016.
MOVIE TIME!
For those who don't remember, or have never read before, this column is loosely inspired by Willie Brown's weekly Willie's World column in the Chronicle. The most inspiring part of that column is Willie's weekly reviews of whatever the hell he happened to see in the theatres. It is in that spirit that I do my best to review a movie (or TV show, or youtube video, or hilarious gif if we're really short on time) every week myself.
This week – Spectre. My big takeaway from this film is that Daniel Craig is definitely the hottest James Bond yet. There was an old Pierce Brosnan Bond movie on TV this week that I flipped through and all I could think was "how did we ever settle for this?"
Aside from Daniel Craig being ridiculously good looking there wasn't a whole lot keeping me interested. There were huge scenes of mass chaos and destruction at the beginning and end that were pretty decent but everything else was a snoozefest. I may have actually slept through 80 percent of the movie, which was a good call on my part.
TOM'S TOP TWO THINGS TO DO THIS WEEKEND
1) Eat at Roosevelt Tamale Parlor. I am SO bummed to hear that local 100-year-old staple Roosevelt Tamale Parlor will be closing its doors after this weekend. Not only because it was my go-to brunch secret while everyone waited forever at St. Francis but because its delicious, currently queer owned, and will allow me to get a side of chilequiles with my tamales. I already have plans to eat here Saturday and Sunday so I'll see you there.
2) Emerge Kickoff @ Temple 6:30-8:30pm. Emerge has helped shape an entire generation of women leaders in politics and I'm especially excited to celebrate this year's fantastic class of Emerge trainees. I have lots of friends who will be joining this great program but want to give some huge love to my friend Mia Satya aka Mia Tu Much who is the first transwoman to ever be accepted to Emerge California.