I've often wondered how much housing San Francisco is building for international criminals. And now it appears the feds are asking the same question.
A federal agency is now demanding access to the real names of cash-only buyers of luxury properties in cities that include New York, Miami, and now San Francisco and LA:
"We are seeking to understand the risk that corrupt foreign officials, or transnational criminals, may be using premium U.S. real estate to secretly invest millions in dirty money," FinCEN director Jennifer Shasky Calvery said when rolling out the program in Manhattan and Miami in January.
We know that many of the new market-rate high-rise buildings in San Francisco have been sold to people who don't live there. Many of us have suspected that some of the more pricey units are getting snapped up by people who want to, in the words of the feds, "secretly invest millions in dirty money."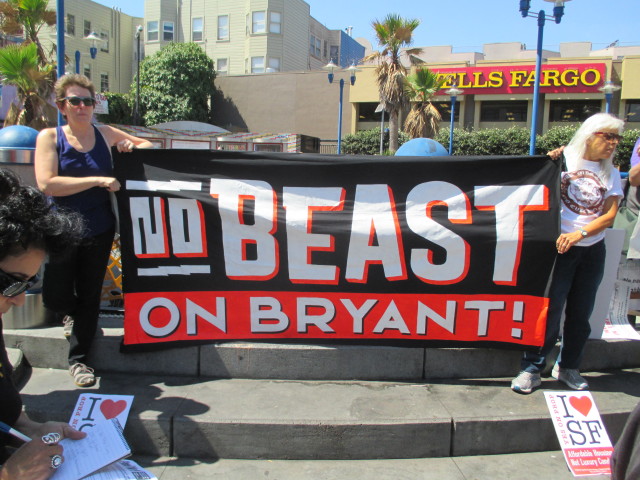 So now will that information be made public? Because this mayor's housing policy involves building a whole lot of units that most people who work in this city can never afford. And maybe our housing policy is supporting money-laundering. Because nobody at City Hall seems to be tracking whether those new highrise buildings are housing San Franciscans, new arrivals – or anyone at all.
The Board of Supes goes into a recess after Tuesday/2. The November ballot is all set – while much of the news media and the conservative supes were whining about a lack of civility, that progressives actually got some things done.
So there will be a Charter amendment to create the Office of the Public Advocate, there will be a tax on high-end property sales which could pay for free City College, there will be there will be a measure to allow non-citizens to vote in School Board elections, the street-tree problem will be solved, and there will be improvements in the Office of Citizen Complaints. Among many other things.
So what's still left? For one thing, a measure that would require a conditional use hearing for any project that removed production, distribution, and repair space or community arts space – and an appeal of the Beast on Bryant project, which does both.
The Planning Commission approved the massive Mission development 5-2, and community activists have appealed. They are technically appealing the planners' determination that the plan doesn't need an environmental impact report and the conditional-use exemption. The supes very rarely overturn the Planning Department on these appeals, and the case may wind up in court.
At the same time, the supes have to decide whether to require a (separate) CU for a project like this that has a huge impact on PDR and arts space. If that measure passes, and this project is delayed by the board, or by a lawsuit, the process could in essence start all over again – and the developer's offer of a deal to the city might not matter.
The builder, Nick Podell, initially wanted to build 276 units of housing, with only 16 percent affordable. About 50,000 square feet of PDR space, including the venerable Cell Space arts center, were evicted last year and most of that would be, and still will be, lost.
By the time the community made a huge fuss, Podell offered another plan (message here, particularly as we discuss "by right" development: No developer ever, ever comes forward with the best offer up front, and community opposition almost always leads to a better project). He cut the number of market-rate units to 199, and offered to give a third of the site to the city, which would then pay to build about 136 affordable units. He's agreed to restore some of the PDR – but not necessarily at the lower rents that allowed places like Cell Space to thrive.
So it's still a Beast, that will transform a part of the Mission that was once affordable not just to residents but to businesses that provided decent jobs to people who don't have computer-science degrees. The attack on PDR space continues, unabated – and the displacement impact of new market-rate housing in working-class neighborhoods remains a profound issue in the Mission. While those won't be the technical issues before the board, they will be the background under which this appeal will be considered.
Meanwhile: More PDR space is on the chopping block every week, including Thursday/4, when the commission looks at (and will probably continue) another plan to replace 20,000 square feet of PDR with more luxury housing, which maybe will provide places for people to live and maybe will provide places for very bad actors to park their money.
Oh, and by the way: We had that bit of a mystery last week when Sup. Malia Cohen appeared to be shaking down a developer in the middle of an EIR hearing — and the developer didn't seem either surprised or disturbed and made an offer to up his community benefits by $800,000.
Just FYI, it doesn't appear that Cohen and the developers are generally at odds; in fact, the two of them, Josh Smith of Walden Development and Dan Safier of Prado Group (who jointly run Potrero Partners LLC, the 901 16th Street project were on hand to celebrate at a Cohen fundraiser in 2013. Here they are: