ALL EARS Smoked Out Soul is a dance party for people who like their funk with a side of exquisitely choreographed chaos. At its most stripped-down, Smoked Out Soul (or, cleverly, S.O.S.) is two DJ/instrumentalists with live drums and percussion. That would be enough to distinguish it among DJ parties, but those are just the core members of a collective that includes trumpet, sax, and guitar, and adds guest DJs and musicians to the stew every Thursday night. It's a recipe that keeps you, not just grooving, but whirling around to see what new treat has jumped onstage, until you find yourself out 'til 2am on a weeknight, again.
48 Hills joined DJs Zebuel and Will Magid and drummer Paul Oliphant at Monarch – during the multi-hour "labor of love" that is setting up a show with so many moving pieces – to find the magic glue that holds it all together. (The prolific Mr. Magid also offered a preview of his Alligator Spacewalk project's upcoming album release, Fri/22 at SF JAZZ.)
S.O.S. began with some technical wizardry in the woods, and it involves a fair amount of mind-reading (as evidenced by Zebuel and Magid's tendency to finish each other's sentences). But the collective's success ultimately comes down to an earthly kind of special sauce: a real community that is as much about mixing people together as it is about mashing up styles of music.
48 HILLS Zebuel, do you remember how you first fell in love with funk and soul music?
ZEBUEL I grew up right outside of Memphis, and I got way into the music from where I grew up, but not until I moved to Alaska. I remember the day I went into a record store, and they were playing Muddy Waters, and I just got chill bumps. It hit me, like, "Holy fuck. This shit was recorded 30 miles from where I was born!" Then when I moved back to Memphis, I started working in blues clubs, saw blues music every night of the week, and just became kind of obsessed.
48 HILLS How did Smoked Out Soul begin?
ZEBUEL Smoked Out Soul started as a mixtape that I made. The whole concept was: I love funk and soul music, but at the time, I was kind of a bass music DJ, and I wanted to fuse those two worlds. The name has a Memphis tie too: this hip-hop group Three 6 Mafia, they're always talking 'bout "smoked out this" and "smoked out that." People really liked the mixtape, so I started DJing that style to bring soul music into the bass world.
48 HILLS When did Will enter the picture?
ZEBUEL I first met Will –
WILL MAGID The origin story of our love is hilarious.
ZEBUEL At a crazy music festival.
TOGETHER Wood Womp.
ZEBUEL He was DJing and playing trumpet, and you had a drummer too –
WILL MAGID I love that festival and everyone that puts it together, but they were not set up for live music. We had cables that wouldn't fit into whatever inputs they had. We were waiting for the sound guy – there was no sound guy. And Zeb showed up out of the woods. He's like, "You guys doin' alright?" I'm like, "No!" I'm freaking out! He's all calm, cool, collected. He's like, "Here's a beer. I'll figure it out." And he has some adapters, and plugs things in, and he's like, "You guys are good to go." I'm like, "Who is this guy?"
I'm forever indebted to you for that.
48 HILLS One of the things that really distinguishes this party is that it has live drummers and percussionists. Paul, can you describe your approach to drumming when you're working with a DJ?
PAUL OLIPHANT If you're playing along to a track, the track is the ruler, so I have to mold to what the DJ is doing. A lot of drummers – myself included, a long time ago – their approach is to solo a little bit more, do more busy stuff. My approach to drumming in general is more of a groove-based approach: match them [the beats in the track] and accentuate them a little bit, as opposed to playing around them.
48 HILLS How many drummers are regularly part of S.O.S. at this point?
WILL MAGID We're at a point where, a couple weeks ago, I looked over at the stage: you had Enrique Padilla, Brandon Lee, Diamond Vibes from Afrolicious – like four or five of my favorite percussionists – and Paul onstage playing. It made me so happy.
48 HILLS You also have a lot of guest DJs. It's cool to be able to go to your regular party and also expect to see an awesome DJ who you haven't seen before. How do you find the people you bring in?
ZEBUEL A lot of times it's people who we're way into their music, like Captain Planet, who does the Mixtape Riot blog, and Jeremy Sole, another L.A. guy. mALaRkEy, who does the jUkE jOiNt party in Sebastopol and does an electro-funk kind of thing.
A lot of DJs don't have the opportunity to play with live musicians, so it's fun to bring in DJs who are just in the DJ scene, and then we have our musician buddies who aren't really in the DJ scene. And everyone gets to mingle.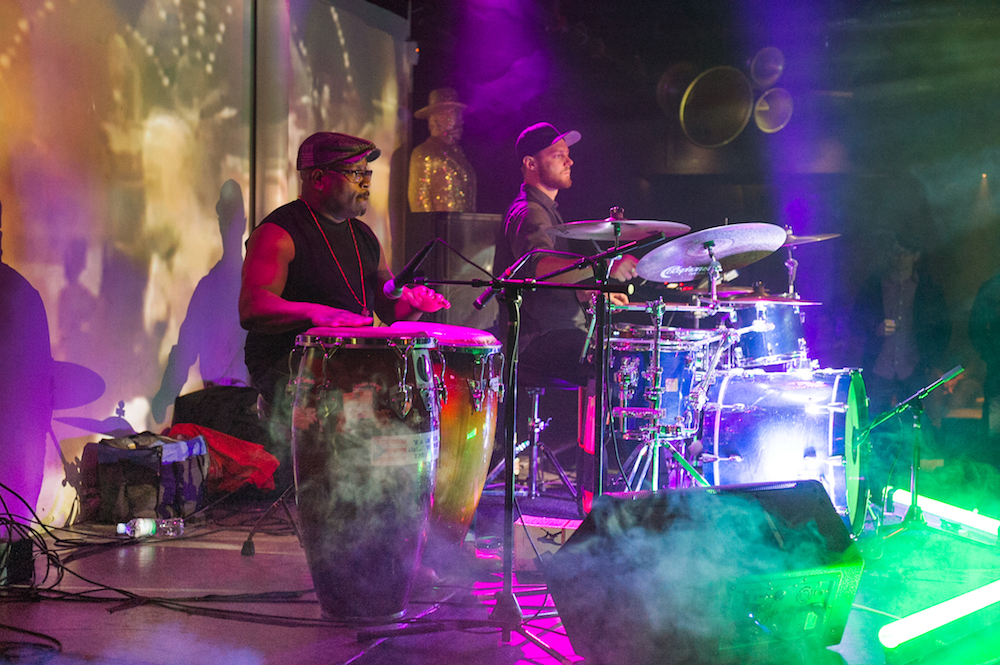 WILL MAGID I think that's such a big part of this project. It started off as a mixtape, and the whole point of a mixtape is to put different things you're listening to together, and then people might be attracted to one song and discover a new song. That's how this party is with people.
48 HILLS There are so many musicians who rotate in and out throughout the night. Half those people are guests, and there's no set list, so nobody has any idea what's about to happen. How does that work?
WILL MAGID The fact that we've all known each other for a long time is really important for that. Beyond just the mechanics of it working, it's open and can blossom because of that.
ZEBUEL There's an unspoken connection thing. I can tell by the look on his face if he's not feeling that song, and then you can just mix another tune.
WILL MAGID Also, mechanically speaking, having a steady beat and keeping the key consistent, sometimes, is a big part of what makes it work. If there's a horn player up there [soloing] and we're in [the key of] F, I'm gonna play something in F in the same tempo. Even if he doesn't notice that the song's changing, whatever he's doing will kind of work.
At its core, even though we're playing dance music, it's like an art project because there's this risk associated with it. There's always the chance that something bad or amazing will happen.
ZEBUEL And the visual aspect too. Gotta give a shot-out to Johnny Diamond for crushing the visuals.
WILL MAGID And he's always really thoughtful: When a guest is up, he puts their logo on the wall. Sometimes those little things make you perform better.
48 HILLS What are the trickiest parts of your party for musicians who haven't played with you before?
WILL MAGID Songs don't really begin, or end – that's the biggest thing. When you learn how to play music, those are the two most important moments, and that goes out the window with this because songs just flow into each other. It's more of a continuously evolving collage.
Also, a lot of great musicians came up playing jazz, and in jazz you can just rip. There's certainly a time and place for that here. But then there's other times: when Aretha Franklin's singing, you don't really need to play right now. She's got it.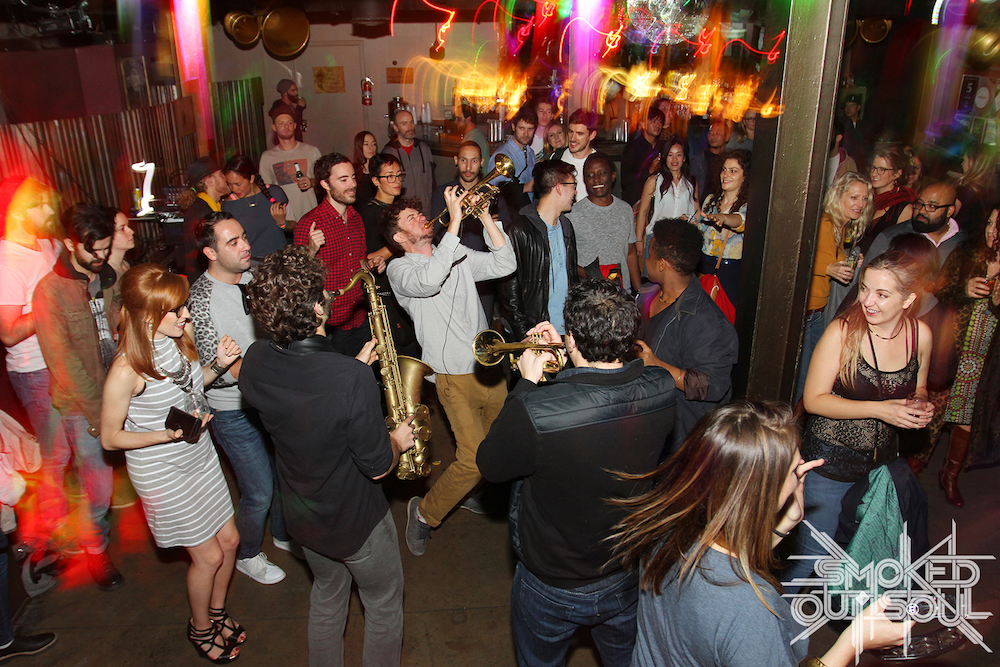 48 HILLS Have you ever had a guest who you'd never worked with before, who just got it immediately and nailed it?
WILL MAGID One time a woman named Iva Lamkum showed up, and she wanted to sing, but we didn't know her. The two hardest instruments to do well with a DJ are bass and vocals. So she's super-nice, but in the back of our minds is, "This person may be a terrible singer, and in their mind they're going to be singing tonight." And then she started singing, and she was a mind-blowingly good singer.
ZEBUEL It turns out she's pretty well-known. She's from New Zealand.
48 HILLS What was the most epic night at S.O.S. for each of you?
ZEBUEL Bonobo horns were probably my favorite. Those guys just fucking crushed it hard. They had a blast.
WILL MAGID Nice pun. This was the horn section that was playing with Bonobo when he was in town last year. They're friends of mine, so I invited them. It was a surprise too: two amazing horn players just pop out of nowhere and lit the place up.
My favorite night was probably the Poldoore night.
ZEBUEL Oh, shit! That was a good one.
WILL MAGID He's a producer from Belgium. We were playing his shit all the time at our party, not even knowing who he is. Then I went out to Belgium and did some shows with him, and he came to the States and we got in the studio together while he was in town [Zeb and Poldoore later released the song "Hangover Blues" from those sessions], which culminated in a performance at S.O.S. It was his first U.S. date.
ZEBUEL And his first time playing with a full band, too.
WILL MAGID I just love that about music: people that live on opposite sides of the world, you're all attracted to the same wavelength, and then you can actually connect your wavelengths together and make new things, in front of people who also are on that wavelength.
48 HILLS What's next for S.O.S.? What else do you have up your sleeve?
WILL MAGID We're putting out a compilation record real soon – sometime this fall. It's gonna be a benefit for the ACLU. And it's largely people that have played this party, many of which we didn't know two years ago, when this was started.
ZEBUEL Smoked Out Soul is crazy because it started out as a mixtape and then ended up as the party, and then we got booked for Guitarfish [music festival] a few years ago, and then it was like, "Oh, shit. I guess we're a band now."
48 HILLS Will, you're also releasing new music with Alligator Spacewalk at SFJAZZ this weekend. How does that project compare to Smoked Out Soul?
WILL MAGID Alligator Spacewalk is taking the Smoked Out Soul concept, but with three string players and three horn players – a ten-piece group – and with all original compositions. The DJ side of my personality is really satisfied, so Alligator Spacewalk has become an outlet for orchestrating and exploring these more wild artistic concepts.
48 HILLS Tell me about the composer of the piece you'll be performing.
WILL MAGID Teddy Raven may be the only person who intersects with all these different things from my musical universe: Balkan music and funk and jazz and also electronic music a little bit, and is a really good composer. He plays sax with Midtown Social, different Jazz Mafia projects, Inspector Gadje, and studied Bulgarian flute on a Fulbright fellowship.
So Teddy wrote this piece called the Lunar Conquest Suite [commissioned by the Yerba Buena Gardens Festival]. It's five movements, each about a different time period of what culminates in the U.S. moon landing in 1969. The first movement is after WWII, when the Soviet Union and the United States were fighting over Nazi scientists, one of which was the main guy that made the rocket ship that landed on the moon. It's this bizarre part of U.S. history told through music.
And it's also a two-part record. After Trump was elected, I just felt this deep sorrow, and meanwhile I'm really inspired by Teddy's composing, so I wrote all this other music. It's a double-disk: Resistance Rising and the Lunar Conquest Suite.
SMOKED OUT SOUL
Every Thursday, 10pm to close, $5-$10
Monarch, SF
Weekly lineups and advance tickets here.
ALLIGATOR SPACEWALK PRESENTS THE LUNAR CONQUEST SUITE
Friday, September 22, 7pm and 8:30pm, $25
SFJAZZ
Tickets and more info here.