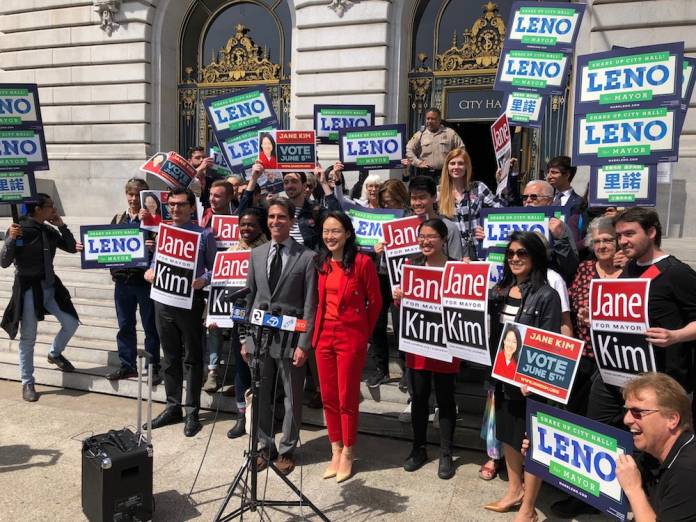 For the first time in history, two major San Francisco mayoral candidates are running a serious, all-out ranked-choice voting strategy—and the outcome of the election will test whether that system works.
In a press conference this morning, and a newly released ad, the two candidates appeared together to call for a fundamental change at City Hall.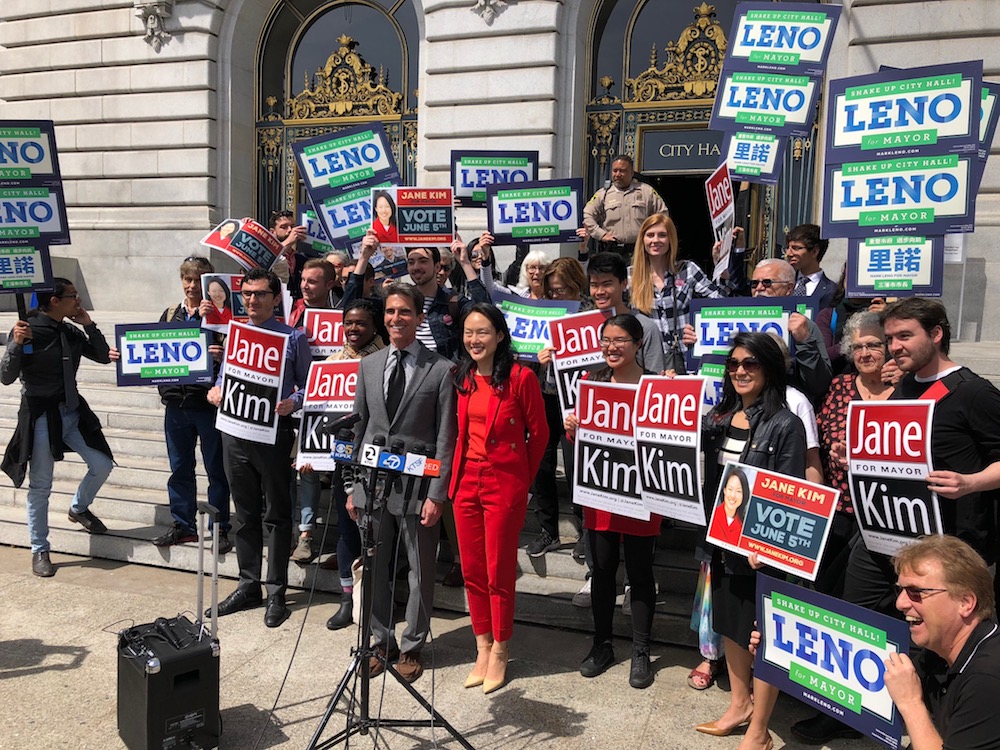 "This is an historic moment," Kim said. "We need to stand together if we believe in change."
The two candidates also denounced the attacks coming from superPACs supporting London Breed.
Although Breed would not agree to join Leno and Kim in the "clean money pledge" to reject independent-expenditure money, she did promise to denounce any attacks on other candidates.
"But we have not heard from Sup. Breed," Leno said.
Leno noted that so much superPAC money has come in for Breed that the spending caps have been lifted for all the candidates. "We didn't put in place campaign finance reform to spend more money," he said.
The Big Tech and Big Real Estate folks who are funding the pro-Breed campaigns "are investors, making investments for favorable treatment at City Hall," he said.
In the ad, Kim and Leno say they are opponents – but agree that "you should choose the next mayor, not the billionaires."
It's no secret that RCV could determine the next mayor; in fact, it's likely that the second-place votes of the third-place candidate will decide the election.
The Chron, just hours after the press conference, posted an apoplectic editorial charging that Kim and Leno are "gaming the system" and that their alliance "projects an element of desperation." (The editorial also complains that ranked-choice voting prevented Don Perata from becoming mayor of Oakland – and if anyone thinks that was a bad outcome, just read this.)
The Chron's argument is beyond bogus: This is the way RCV is supposed to work. It used to be called "instant runoff voting," which is a good description: Without RCV, if Breed came in first and either Leno or Kim came in second, there would be a runoff among the top two. And if Leno was in the runoff, Kim would endorse him; if Kim was in the runoff, Leno would endorse her. It's just that under this system, you have to do that in advance of the election.
The Chron, which seems to be willing to say and do almost anything to get London Breed elected mayor, may not like RCV. But what Kim and Leno are doing isn't "gaming the system;" they are playing by the rules, and doing what the system was designed to do.
London Breed's allies are doing the same thing: State Sen. Scott Wiener has endorsed both Leno and Breed.And I know the Breed has reached out to other candidates in the race looking for similar endorsements – as she should. If, for example, Angela Alioto endorsed Breed and Breed endorsed Alioto, it would help both candidates.
The level of craziness at the Chron is starting to reach high tide. What's going on? Maybe Ron Conway's ties to the Hearst Corporation are in play here.
Hearst, of course, owns the Chronicle — which has Conway on the board of its VisionSF program.
Conway is a huge supporter of London Breed. He's also known as a bit of a bully who tries to push people around.
The Police Officers Association has a new mailer out urging support for Prop. H, the mandatory Taser measure, and it's full of remarkable claims that have little basis in fact.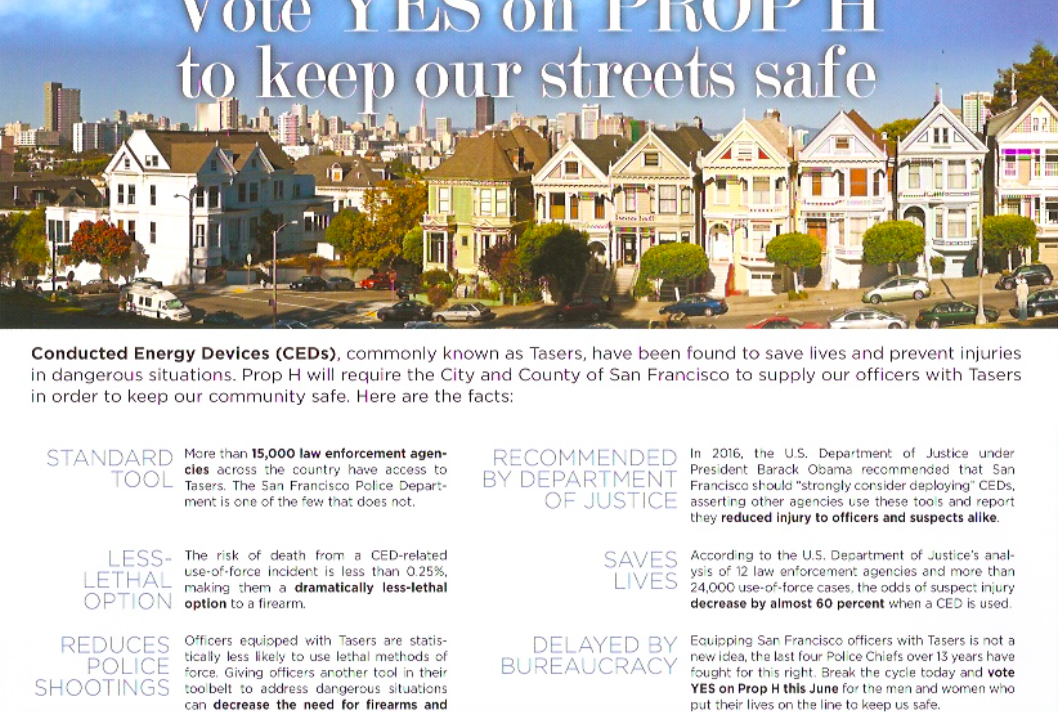 The mailer, which claims the stun-guns will help "to keep our streets safe," states that the weapons will "reduce police shootings … decrease the need for firearms and save lives in the process."
That's not even remotely true. This myth that cops will use a Taser instead of shooting someone defies both law and logic. The only time they might use a Taser instead of a gun is in a situation where they shouldn't be using a firearm in the first place.
Then it says that Tasers have been "delayed by bureaucracy: The last four police chiefs over 13 years have fought for this right. Break the cycle today."
Actually, the Police Commission has already voted to approve Tasers. And the current chief of police, Bill Scott, who wants Tasers for the force, is against Prop. H.
The most astonishing element of this ad: Wiener, and Sups. Jeff Sheehy and Catherine Stefani, have signed on as endorsers. You have to wonder if they have actually read the measure and have any idea what it's about – because nobody who is actually involved in managing the Police Department thinks this is a good idea.
Alioto has just tossed away whatever remnants of possible support she might have received from her one-time progressive base. She announced today that she's going to push for a ballot measure to block Sanctuary City protectionfor anyone who has been arrested on suspicion of a felony, or anyone with a felony conviction who is charged with a misdemeanor.
That's a huge number of people, many of whom will wind up not being convicted of anything at all, much less a felony.
From the Ex:
"The existing Sanctuary City Ordinance is a magnet for felons across America to come to the safe shores of our City," Alioto said in a statement. "It makes San Francisco a more violent and unsafe city."
Alioto declared her intent late Wednesday to collect the 9,485 signatures needed to place the measure on the ballot, criticizing San Francisco's current sanctuary city policy for allowing "murderers, rapists, child molesters and other felons safe harbor in our city."
Actually, we're not talking murders and rapists here: The SFPD has a habit of arresting people and booking them on the highest possible charges; often, those charges are dropped or reduced within days.
And there are all sorts of felonies that are not violent; Jose Ines Garcia Zaratehas a felony record – for crossing the border too many times. Under Alioto's proposal, if he was arrested for sleeping on the street, he could be turned over to ICE.
Combined with her support for Prop. H, and the endorsement of the SFPOA, Alioto is shifting strongly to the right, hoping, I guess, that the combination of her father's name (he was a pretty right-wing mayor) and her new politics will convince Republicans and conservative Democrats to forget that she once supported progressive issues, and vote for her as the most prominent conservative in the race.
But I'm not sure there are a lot of votes there.