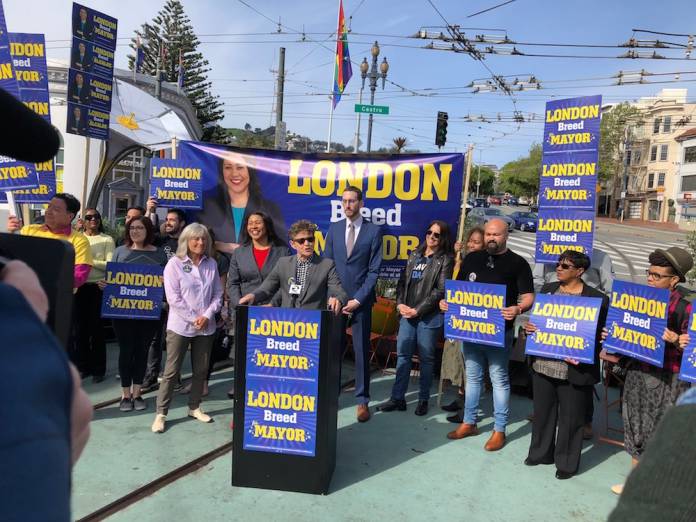 State Sen. Scott Wiener endorsed Sup. London Breed for mayor today, putting her squarely in the Yimby camp that supports SB 827 – and along the way, putting Wiener in the same camp a candidate whose allies are attacking his longtime mentor, Mark Leno.
The event took place right across the street from Leno's headquarters in the Castro.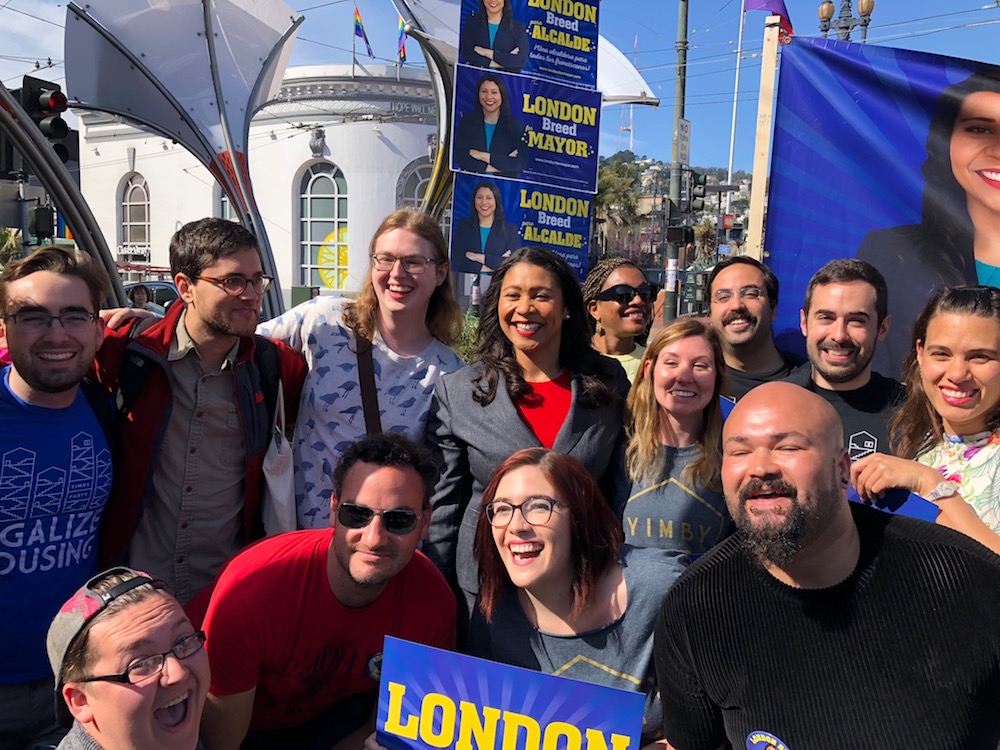 Wiener had previously endorsed Leno, but not with a major event like this, and while the senator has now endorsed both candidates, Breed is taking full advantage of her new alliance.
It's the first sign that she and her strategists are seriously working on a ranked-choice voting strategy and have decided the best way to get second-place votes is from the more moderate Leno voters – the ones who voted for Wiener over Sup. Jane Kim for state Senate.
Leno has not yet endorsed Kim as his second choice, although the two campaigns worked together to win a one-two endorsement at the Democratic County Central Committee.
Kim has endorsed Leno as her second pick.
Leno has always supported Wiener, even when the two disagree on policy, out of what he calls personal loyalty; Wiener has, until now, always been a strong supporter of Leno.
Breed may see this as a way to take second-place votes from Kim. But since Breed and Leno are competing for the same moderate votes, the dual endorsement could encourage Wiener voters to rank Breed first. It probably hurts Leno more than any other candidate. And it aligns Wiener with the supporters of Breed who are running an independent campaign that attacked Leno.
"I have known Mark Leno for 20 years, and I have known London Breed for 15 years," Wiener told me. "I support the two candidates who I think would be excellent mayors."
When I asked him if he thought his endorsement of Breed would hurt Leno, he said: "I don't want to overstate my importance. These endorsements can be over-rated."
Leno's office issued this statement: 
Senator Leno is proud to have State Senator Scott Wiener's endorsement in his campaign for Mayor. Senator Wiener is one of a number of elected leaders who have dual endorsed in this race, including: United States Senator Kamala Harris, San Francisco Supervisors Aaron Peskin, Hillary Ronen, Ahsha Safai, Sandra Lee Fewer, and Malia Cohen, Public Defender Jeff Adachi, and others. The real issue here is that Supervisor Breed is the only candidate in the race who does not have a rank choice strategy. 
Breed, echoing sentiments we've heard from Wiener, said that "we have to build more housing and get rid of the bureaucratic red tape." She talked about car break-ins and the need for more police officers. "We have to come together to address these issues," she said.
But the Kim campaign immediately responded by linking Breed to the Wiener real-estate measure that would upzone more than 90 percent of San Francisco.
In a press release, campaign manager Jon Golinger said that
Scott Wiener's endorsement of London Breed today just confirms what we already knew:  London Breed is the only Mayoral candidate who fully supports Wiener's massive giveaway to developers – Senate Bill 827 (SB 827).

SB 827 is strongly opposed by the Sierra Club, tenants' rights groups and neighborhood advocates because it will promote displacement of working families and it does not require developers to make any additional contributions to transit, affordable housing or neighborhood services.

Jane Kim knows that the Breed-Wiener SB 827 bill is exactly the wrong approach – San Francisco needs more affordable housing, not just more luxury housing working people can't afford.

I tried to ask Breed, who was posing after the even for a photo with the Yimby folks, what her current position is on SB 827. She never acknowledged or answered the question.
But Breed will have to take a stand on a bill that has become a major issue in this mayor's race: On Tuesday, a measure by Sup. Aaron Peskin that would put the city on record opposing the bill will come before the full board.
Peskin agreed to accept a compromise that watered down the measure to get it out of committee, but he told me today that he will seek to amend it at the board to clearly and unequivocally oppose SB 827.