ARTS FORECAST More housing is coming to Polk Street, and, despite a Peskin-led effort to preserve it in some fashion, belovedly scruffy rock spot Hemlock Tavern is closing in October. It all be demolished by the Dolmen Property group to make way for a 54-unit mixed-use condominium building, according to Curbed.
In an email sent out today and Facebook post entitled "HEMLOCK TAVERN SOLD AND WILL CLOSE IN EARLY OCTOBER 2018. BUILDING TO BE DEMOLISHED AND REPLACED BY CONDOS" the managers announced:
"The Hemlock Tavern, in its current physical and metaphysical configurations, will cease to exist after the first week of October 2018. We will be operating as usual and featuring a full schedule of live music from now through Sept. 30th, 2018. We will close for good after holding our 17th anniversary party on Saturday, October 6th.

The new owners of the Hemlock Tavern have not yet announced their plans for what will become of the business following the construction of the new building a few years down the road." 
As one Twitter user pointed out, "Thinking back to when I moved here, Polk Street was bursting with music and art. Hemlock, Kimo's, Red Devil Lounge, Space Gallery. All gone. What a brutal reminder of how this city has changed." (They also helpfully linked to this archive of Hemlock-recorded shows for your delectation.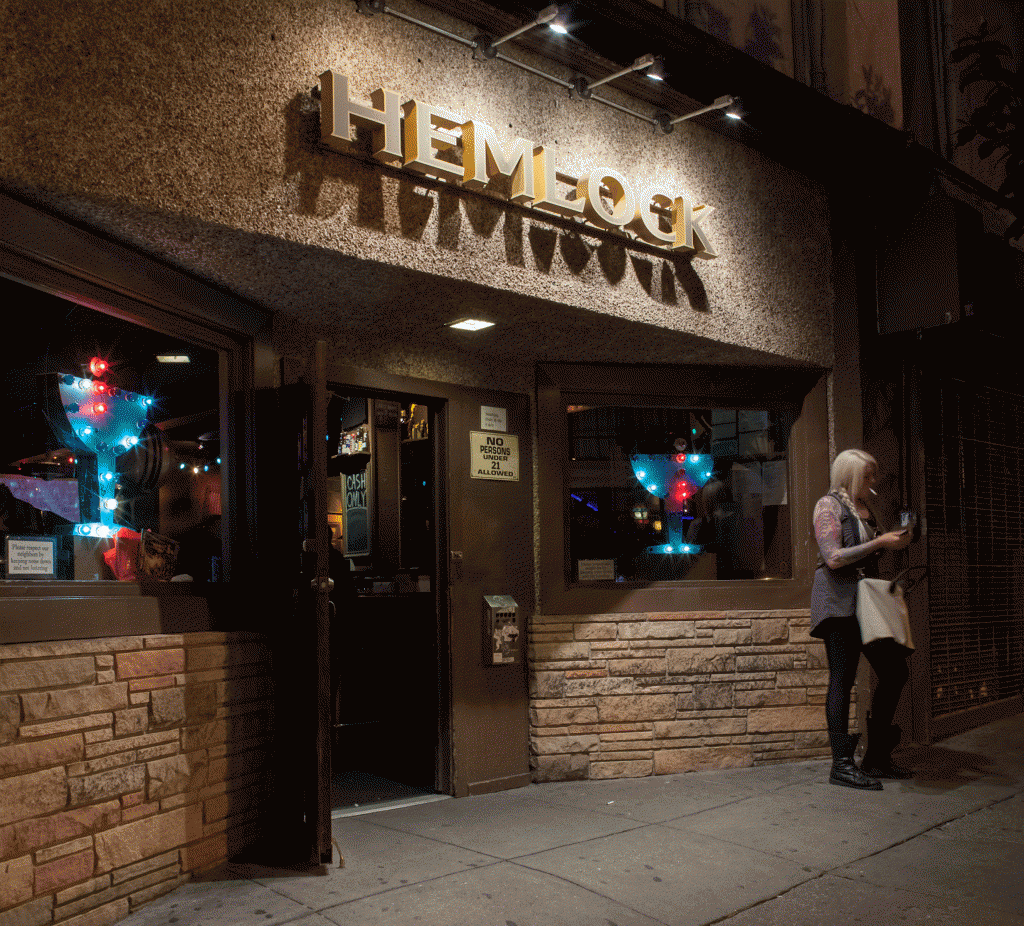 I can attest to a time even before the Hemlock, when it was still a suspiciously large and spectacularly seedy bar called The Giraffe, part of a queer infrastructure along Polk Gulch that has since completely vanished. I was relieved when the Giraffe became the Hemlock, because I like music, and for a long while the Hemlock hit that sweet, rare cultural spot where awesome-filthy indie rockers and gorgeous-filthy street queens (and vice versa) intermingled.
The Hemlock is one of the few live venues in SF that hasn't been swept up by Live Nation and other corporate behemoths. Until it shuts down, it's going strong, with shows from Roy Loney and Killer Whale this weekend. Here's the full schedule—go get some Hemlock before it's offed. 
UPCOMING EVENTS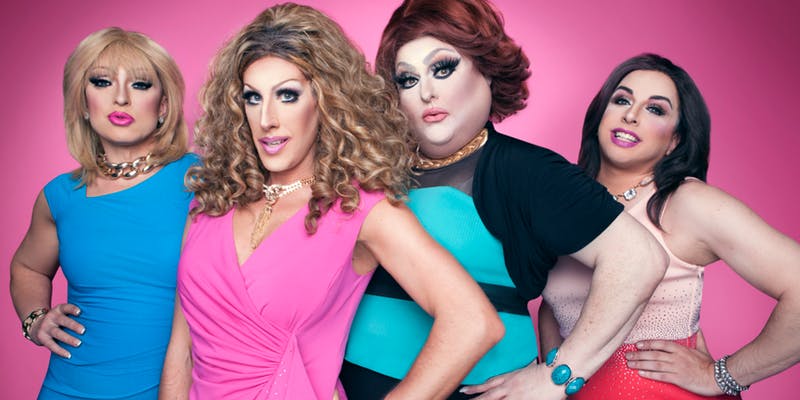 ONGOING STAGE SEX AND THE CITY LIVE!  The gals are back—in drag, of course, as D'Arcy Drollinger and her merry band of queens revive the joys, sorrows, and shopping trips of the fab foursome. $27.50, Oasis, SF. More info here. 
WED/15-FRI/17 MUSIC ERASURE The jaunty synthpop duo whose songs soundtracked contemporary gay lib return for three nights—will they bring the giant sequined snail from previous tours?—to support latest album World Beyond. 7pm, $44+. Masonic, SF. More info here. 
FRI/17 NIGHTLIFE CLOSING NIGHT PARTY AT NOB HILL THEATRE Another tragic closing: San Francisco is losing its only gay strip club. But it's going out with a "bang"! An all-star porn star cornucopia of waggling hotties—like "aerial performance artist pornstar Woody Fox"—will help Nob Hill sail off into the sunset. (If the party is sold out, but I know you, you can totally sneak through the backdoor.) Midnight, $30-$50 (splash zone seats!). Nob Hill Theatre, SF. More info here.  
FRI/17-SAT/18 FILM AKIRA The classic, brain-busting anime film paying on the big screen, at midnight? Light one up! 11:55pm, $10. Clay Theater, SF. More info here. 
FRI/17-SUN/19 FILM PANORAMA COLOMBIA The opening up of Colombia to tourists and commerce after its civil war has led to a huge cultural resurgence and appreciation of this spectacular country. Here's a great little film fest that shows off some of that artistic verve, showcasing some of the most stimulating works made by a new generation of emerging Colombian filmmakers. Roxie, SF. More info here. 
SAT/18 MUSIC BRAZIL IN THE GARDENS "No city in the Americas boasts a richer and deeper African cultural presence than Salvador da Bahia in northeastern Brazil, and vocalist Dandara Odara's ensemble Pragandaia serves as a conduit for sounds from this world-shaking musical hotbed." 1pm-2:30pm, free. Yerba Buebna Gardens, SF. More info here. 
SAT/18 MUSIC 20TH STREET BLOCK PARTY Love this free festival from the Noisepop festival, with food, fun, and frothy tunes from the likes of Empress Of, Jeff Rosenstock, The Marias, The She's, FAN, The Total Bettys and more. Noon-6pm, free ($10 suggested donation). 20th Street, SF. More info here. 
SAT/18-SUN/19 MUSIC POLK STREET BLUES FESTIVAL The eighth annual installment of this lively block party/music festival, put in by the same folks who do the Fillmore Jazz Fest and the North Beach Festival. Tons of performers, lots of food and vendors, and a little of that old polk Street soul. 10am-6pm, free. Polk between California and Post, SF. More info here. 
SAT/18 MUSIC GREGORY PORTER SINGS NAT KING COLE Yes! "For this exclusive performance at Davies Symphony Hall, two-time GRAMMY-winner Gregory Porter sings the timeless songs of his greatest influence, Nat "King" Cole, in fresh arrangements by GRAMMY winner Vince Mendoza, accompanied by the Magik*Magik Orchestra." 8pm, $45+. SFJAZZ. More info here. 
SUN/19 MUSIC BORIS Thunderous Japanese acid rock from these legends that will melt your feet to the floor. 7:30pm, $23-$25. The independent, SF. More info here.  
SUN/19 DESI COMEDY FEST CLOSING NIGHT A veritable bevy of South Asian comics provides the climax of this annual festival, which takes place all over Northern California but lands in SF tonight. With Abhay, Azhar Usman, Kiran Deol, and more. 7pm, $40-$50. Marines Memorial Theater, SF. More info here.