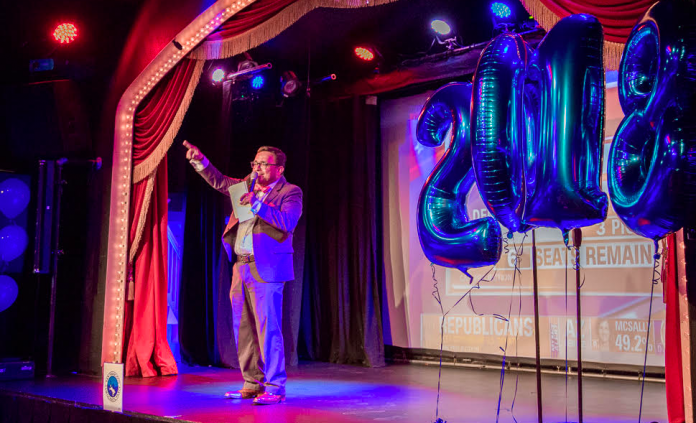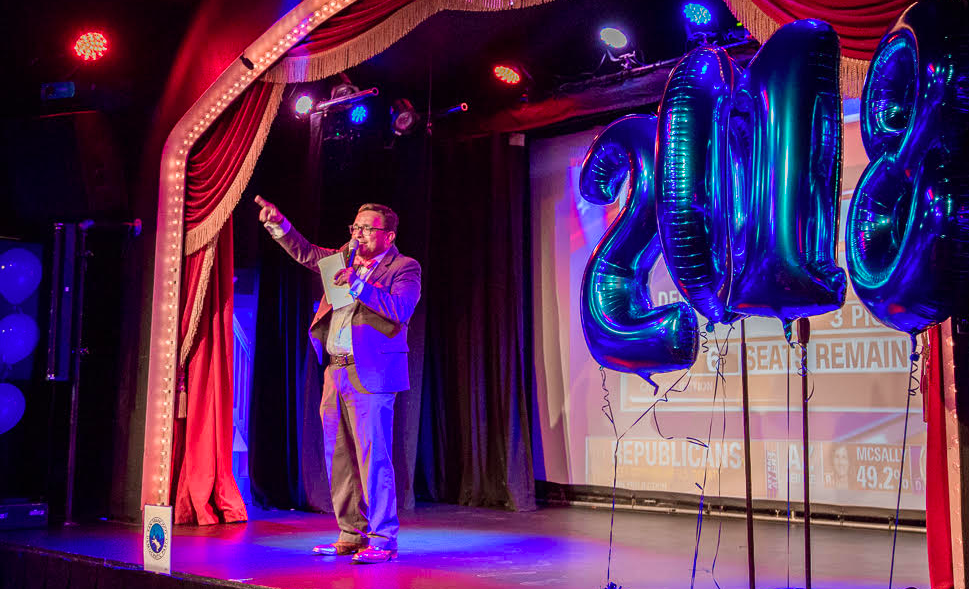 First, we don't really know anything for sure yet. There are, according to the Department of Elections, an astonishing 139,000 ballots still to be counted – which means there could be more than 12,000 votes (or more) remaining in each of the contested districts.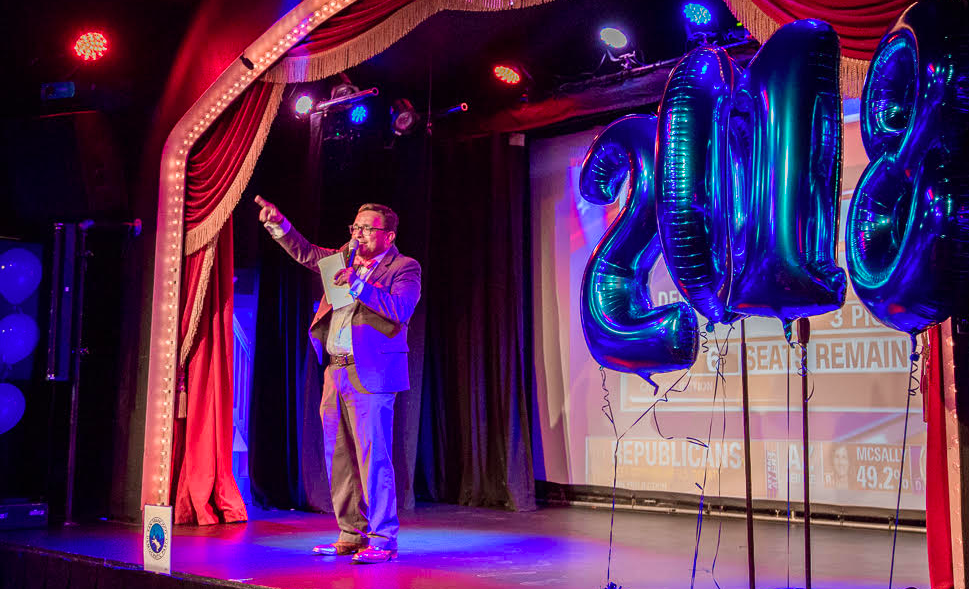 But based on the preliminary numbers, the results of the Nov. 6 local election were dramatic: Despite more than $1.3 million of Big Tech and Real Estate money, the progressives will maintain a majority on the Board of Supes. It might be a significant majority, if Gordon Mar, who is ahead in the votes, winds up winning – and if Shamann Walton, who won with the support of some of the progressives supes, winds up voting with them instead of the mayor on key issues.
The biggest loser of the night was Big Money. Nick Josefowitz poured hundreds of thousands of dollars into his own campaign in D2, and lost. Ron Conway's friends tried desperately to beat Matt Haney in D6, and got trounced. Whatever happens in D4, the fact that Mar was able to withstand a withering assault of more than $640,000 and come out ahead in the plurality vote suggests that the principle of district elections, where volunteers and retail politics can be Big Dark Money, is still alive in San Francisco.
Mayor Breed did not fare well. She opposed Prop. C, which passed with a strong mandate. She supported two candidates in D6 who lost badly. Not only will she have a board that is a check on her policies, the next board president could be a strong critic of the mayor.
If I had to count today, I would say that Hillary Ronen is in a strong position to be the next board president. She backed Haney, Mar, and Walton.
The Coalition on Homelessness was a huge winner: This small operation, which constantly struggles for funds, crafted Prop. C, got it on the ballot, and passed it over big-money opposition. The support of Mark Benioff was a huge help — but the Coalition and its allies and their ground campaign made the difference, from the first day. This campaign changed the way people think about homelessness.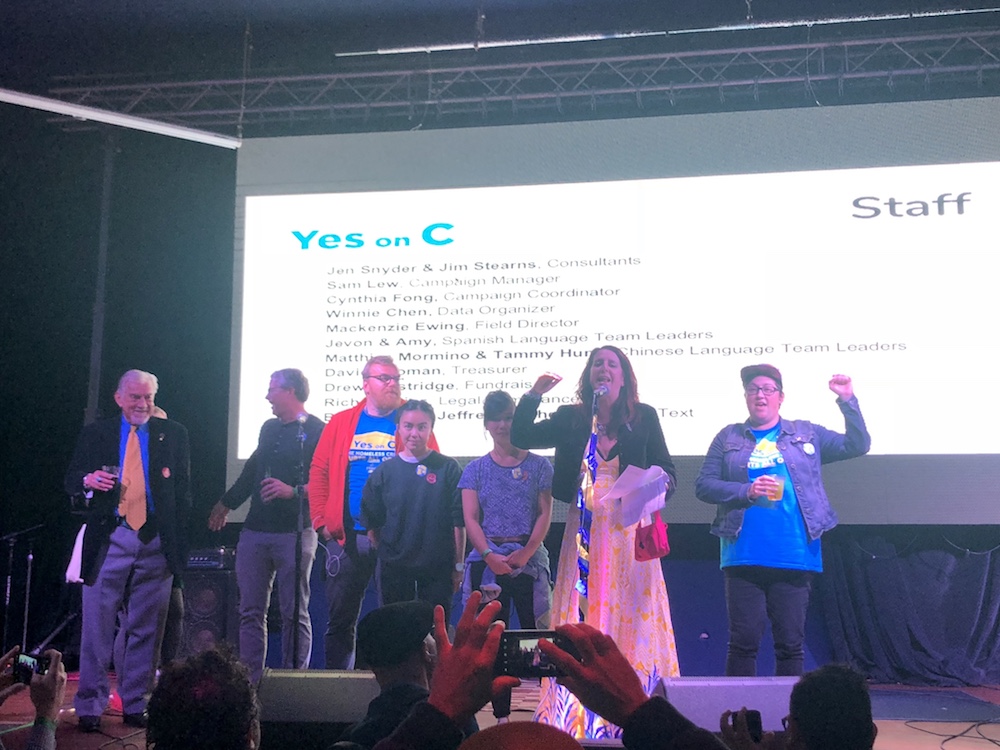 The other big winner, locally, is Democratic Party Chair David Campos. Campos worked closely with incoming House Speaker Nancy Pelosi to set up the Red to Blue headquarters that helped turn out local folks to campaign for Dems nationally. He supported Haney, Mar, and Walton. He led the party's endorsements — and it appears every supe candidate he backed is winning.
On Election Day, I almost felt as if we were watching the Mayor's Race again – Mark Leno and former Mayor Art Agnos were riding around on a cable car promoting Haney. Except this time, the mayor didn't win.
After elections, everyone tends to make nice, and Haney will be friendly with Breed. But he will remember, and so will Mar, that her allies spent vast sums of money on nasty, inaccurate hit pieces attacking them.
So that will help define the next two years.
The turnout, according to figures from DOE, appears to be extraordinarily high, over 70 percent. That's a record for a mid-term election. It reflects, in part, the overall desire in San Francisco to make a statement about Trump, even though it was clear that our Congressional districts and our Senate seat will remain Democratic.
It's also a factor of high awareness – even people who are not regular voters were getting texts from celebrities, there were political ads everywhere, and it was hard to miss the fact that a critical election was happening.
I think the grassroots efforts of the key campaigns also played a huge role. Prop. C and Prop. 10 had volunteers contacting voters; the field operations of Haney and Mar were key to getting voters to the polls.
Everyone in San Francisco cares about housing. Everyone knew that there were two major housing measures on the ballot. Even in districts where there was no race for supervisor, Props. C and 10 were a draw.
In D4, Prop. C may have been a defining issue. We won't know until we see the detailed precinct maps, but the campaigns were finding a lot of support for C even in the most conservative areas – and Mar supported C while Ho opposed it.
Mar is a progressive, but he also made the race about who would best represent the district – a longtime resident or someone who just moved there in March. Sing Tao Daily, which is not typically a progressive news outlet, endorsed Mar.
The Yimby agenda was also a big loser. Sonja Trauss, the Yimby candidate in D6, came in a weak third. She ran an RCV strategy with Christine Johnson, and it worked fairly well – 70 percent of the Trauss vote went to Johnson. But Haney had so many first-place votes that he will likely finish with more than 50 percent, so RCV isn't going to relevant in that race.
It was a good night for labor: Mar is a labor candidate, and labor worked for him.
We will see when the next round of votes comes out.
UPDATE: Only a few new votes counted in D4, but the trend is distinctly for Mar, who won an additional 273 votes to Ho's 181. That has him 60-40 over Ho. Trevor McNeil picked up only 84 more votes — and in the RCV results show Mar picking up more second-place votes from McNeil than Ho.
The 48hills election-night coverage was prepared by the University of San Francisco Journalism 1 research team: Tim Redmond, Ilyria Bitton, Jamie Brown, Megan-Marie Caruana, Claudia Cortez, Ezra Del Rosario, Michaela Duncanson, Abigail Glass, Alizee Jean Jacques, Haley Keizur, Lexie McNinch, Katherine Na, Ciarra Nean-Marzella, Georgia Rodger, Josine Torres, Isabelle Hallock, and Olivia Scott.